Derrick Webb, Staff Writer
WAVERLY — When Ava Little saw a shot fall on Monday, that's all she needed to catch fire.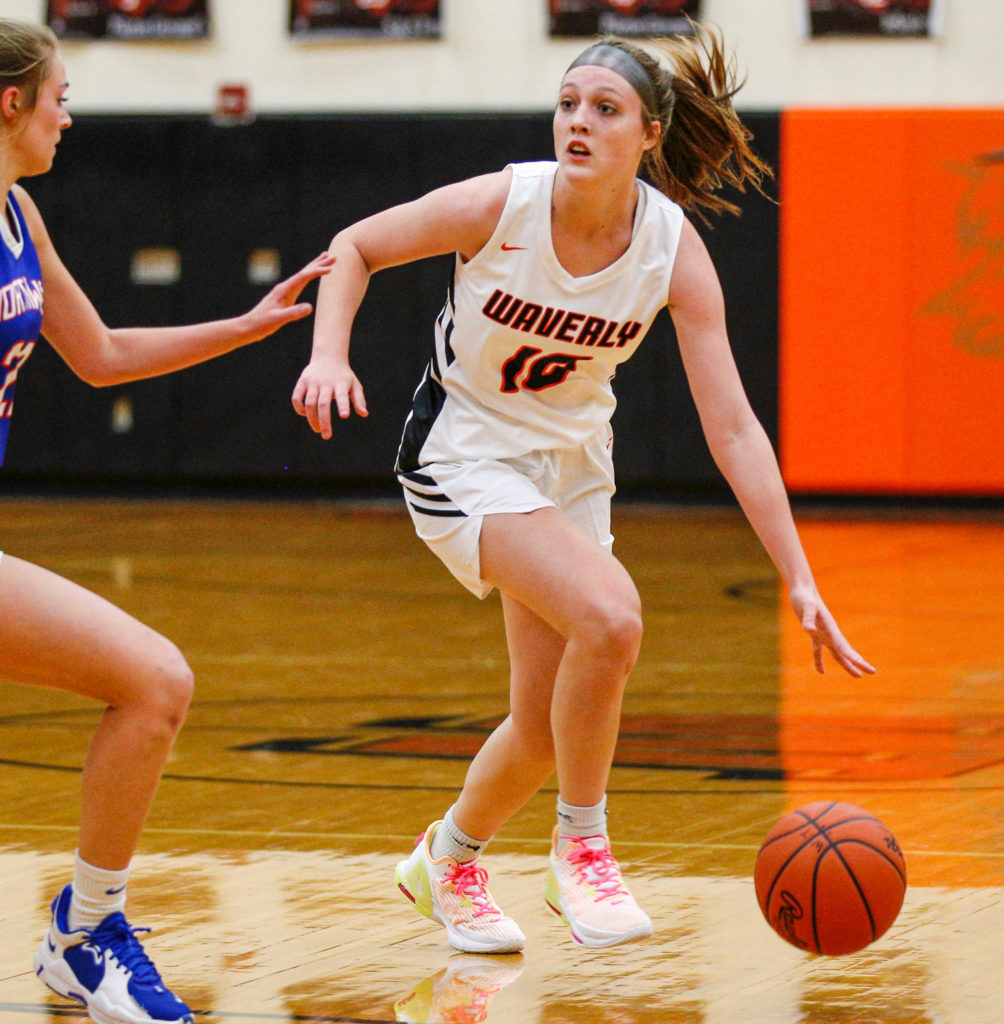 Waverly's senior shooting guard hit four second half triples to spark her team's offense while teammate Kelli Stewart played phenomenally in the paint.
Those two spearheaded a 53-38 win over Northwest in Southern Ohio Conference action — one where the Tigers (1-1, 1-1 SOC II) outscored the Mohawks by a 34-23 margin in the final two quarters.
"We were able to get some good looks," Waverly coach John Bonifield said. "Ava got us going with some big 3's and then Kelli got going in the second half as well. It's nice when we're playing together and you see good ball movement. Bailey [Vulgamore] did a good job of sharing the ball tonight as well. It was a team effort."
It came without usual starting center Sarah Thompson in the lineup, which allowed Northwest (1-2, 0-2 SOC II) to win the battle on the glass by a 40-20 margin.
While the second half flurry of buckets was enough to push the Tigers over the top, Bonifield noted that rebounding is something his team will have to work on to compete for an SOC II title.
"Rebounding was our biggest concern going in. Sarah is our best rebounder and we kind of rely on her when the ball goes in the air," Bonifield said. "We're just so used to her grabbing the rebounds. We talked about it before the game and said it was going to take all five. We did a decent job but we've always struggled to rebound. We switch out between zone and man [defenses] and zone is difficult to rebound in. But we work on it. We need to get better at it."
While rebounding may be a concern, there weren't many worries defensively. Waverly held Northwest to just 5-of-29 shooting in the first half and 17-of-56 throughout the night — a 30.3 shooting percentage. The Mohawks didn't hit a single 3 and worked for every bucket they got.
"Our mentality is to keep opponents under 40 points," Bonifield said. "We think, with our athleticism and changing our defenses, we're going to be able to do that. I thought we did a good job with that tonight."
---
---
Off the bat, Waverly jumped out to a 6-0 lead behind buckets from Delaney Tackett, Vulgamore and Stewart. Northwest got on the board with 4:26 left, thanks to Regan Lewis, before the Tigers took a 10-5 lead with 2:24 remaining in the first quarter.
Audrey Knittel cut the deficit to 10-7 at the 1:13 mark but an old-fashioned three-point play from Stewart gave Waverly a 13-7 lead after one.
After Waverly went ahead 15-9 in the second, Knittel and Ava Jenkins brought Northwest to within two points at 15-13. But Waverly's two-point lead would remain intact at halftime at 19-17.
After the break, Little was big-time.
She hit a 3 with 7:39 left before Vulgaore followed suit at the 4:57 mark, extending Waverly's lead to 25-20. Northwest, however, wouldn't go away and cut the lead to 25-24 behind baskets from Knittel and Daria Compton.
But moments later, with Waverly up 29-26, Stewart and Little hit back-to-back triples before a lay-in from Little finished a quick 8-2 run to put Waverly ahead 37-28 after three quarters.
"It's amazing how, when the ball goes through the basket, you play better defense and everything starts becoming easier," Bonifield said. "In the first half, we just struggled to get anything going offensively. [Northwest] did a good job. But in the second half, it was the defensive end. We started getting stops and got out in transition."
Following a bucket from Northwest's Kloe Montgomery to begin the fourth, Vulgamore and Stewart each scored to push Waverly's lead to 41-30. Little then hit her fourth 3 and Stewart followed with two breakaway scores, topping off a 9-0 run for a 48-30 advantage.
That was more than enough momentum to help the Tigers put away a 15-point victory.
Knittel led Northwest with 13 points and eight rebounds while Jenkins had 10 points, 10 rebounds and two assists. Montgomery ended with nine points and a game-high 15 rebounds.
Stewart led all scorers with 18 points alongside a team-high eight rebounds while Little followed with 14 points, four rebounds and a pair of assists. Vulgamore also helped out, totaling 12 points, four boards and four assists.
Waverly is back in action on Thursday at Minford while the Mohawks travel to West the same evening.
"It's always tough to win on the road in the SOC," Bonifield said. "[Minford] has some young height and some freshmen that can play. We're going to have to improve our rebounding or it's going to be a tall task. The good news is we have good junior and senior leadership we're relying on. That helps you early, especially on the road."
BOX SCORE
Northwest: 7-10-11-10 — 38
Waverly: 13-6-18-16 — 53
Northwest: 17-56 FG, 4-14 FT, 0-9 3pt., 40 rebounds (Montgomery 15), 21 turnovers, 6 assists (Jenkins 2). Scoring: Knittel 13, Jenkins 10, Montgomery 9, Lewis 2, Jewett 2, Compton 2.
Waverly: 20-45 FG, 7-12 FT, 6-15 3pt., 20 rebounds (Stewart 8), 14 turnovers, 11 assists (Vulgamore 4). Scoring: Stewart 18, Little 14, Vulgamore 12, Risner 4, Tackett 2, Fraley 2, Crabtree 1.