Derrick Webb, Staff Writer
Two state semifinalists, four district champions, and a handful of sectional title winners … needless to say, this past volleyball season was as successful as they come.
Southern Ohio Sports Authority was right there every step of the way, covering individual milestones, improbable feats and wins that changed history.
After a fun-filled year, take a look at our All-Area team, which consists of 30 area players who were at their best throughout the fall season.
**Bold, italicized statistics recognize team leader
Emily Allen | Senior | Middle | Zane Trace
2021 statistics: 187 kills, 28 aces, 80 blocks, 365 digs, 26 assists
If you like emotional players, Allen is your go-to. The Pioneers' middle thrived on momentum and as she went, her team went. Her statistics, which include 187 kills, a team-high 80 blocks and 365 digs, tell you everything you need to know. But the way she played shaped how her teammates around her played as they followed her lead. That is what ZT will miss the most.
Allison Basye | Senior | Middle | Huntington
2021 statistics: 460 kills, 28 aces, 55 blocks, 284 digs, 18 assists
Hops. Basye's got 'em. You don't want to be on the receiving end of a perfect set followed by a Basye swing. The powerful middle hitter logged a team-high 406 kills and 55 blocks at the net, upping her career totals to 1,173 kills and 164 blocks.While Basye is well-known for her basketball talent, she was feared on the volleyball court throughout her career.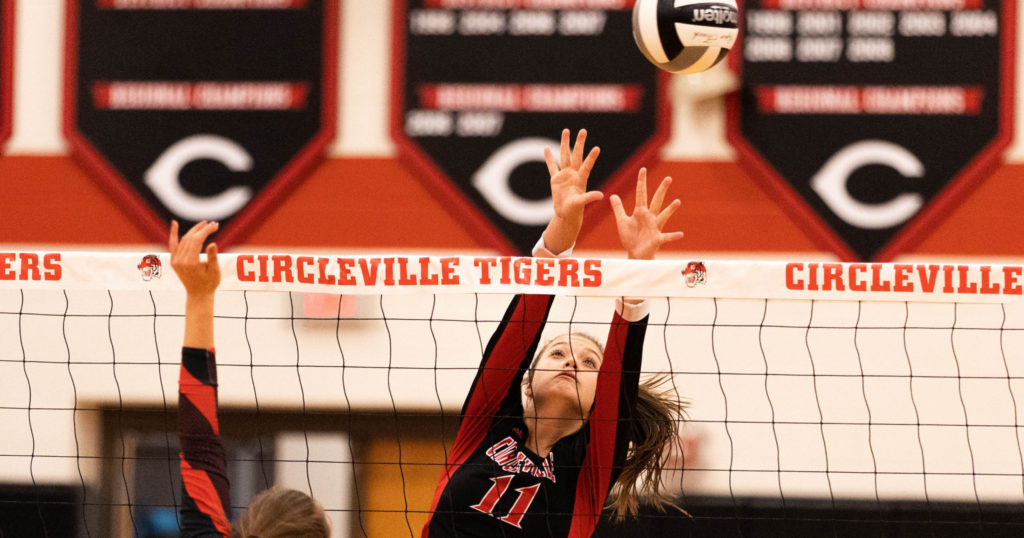 Morgan Blakeman | Junior | Middle | Circleville
2021 statistics: 379 kills, 31 aces, 72 blocks, 337 digs, 30 assists
Blakeman was a force at the net all season long, helping Circleville win 14 matches and win a sectional title. She led the Tigers in both kills and blocks with 379 and 72 in those categories while adding 337 digs to the mix. She has one more year to terrorize opposing defenses as well. She enters her senior season with career numbers of 728 kills and 653 digs.
Hannah Burns | Junior | Hitter | Adena
2021 statistics: 200 kills, 14 aces, 35 blocks, 87 digs, 3 assists
When she steps onto the court as a senior, Burns will already be one of the best, if not the best, hitters in the area. That's saying something, considering the talent that Southern Ohio features. Burns was one of the Warriors' go-to hitters this season, totaling 200 kills and showing a multitude of skills while doing so. She was a weapon and will continue to be next season.
Camryn Carroll | Senior | Libero | Adena
2021 statistics: 1 kill, 34 aces, 0 blocks, 377 digs, 16 assists
Adena has a long history of talented defensive specialists and Carroll is near the top of that list. She was the leader of a defense that lost just 11 sets all year long. She led the team with 377 digs and was instrumental in the team's tournament run, which ended in Dayton. Carroll ends her storied career at Adena with 1,540 digs and just 166 reception errors in 1,845 tries.
Bella Claxon | Sophomore | Setter | South Webster
2021 statistics: 84 kills, 53 aces, 38 blocks, 222 digs, 844 assists
Some setters don't ever reach 1,000 career assists. Claxon almost did it in one season. Just a sophomore, Claxon ran an offense that featured several experienced hitters. That formula took the SOC II champion Jeeps all the way to Dayton. Look for Bella to take on a larger role next fall as the Jeeps lose a talented senior class. She'll be up for the challenge.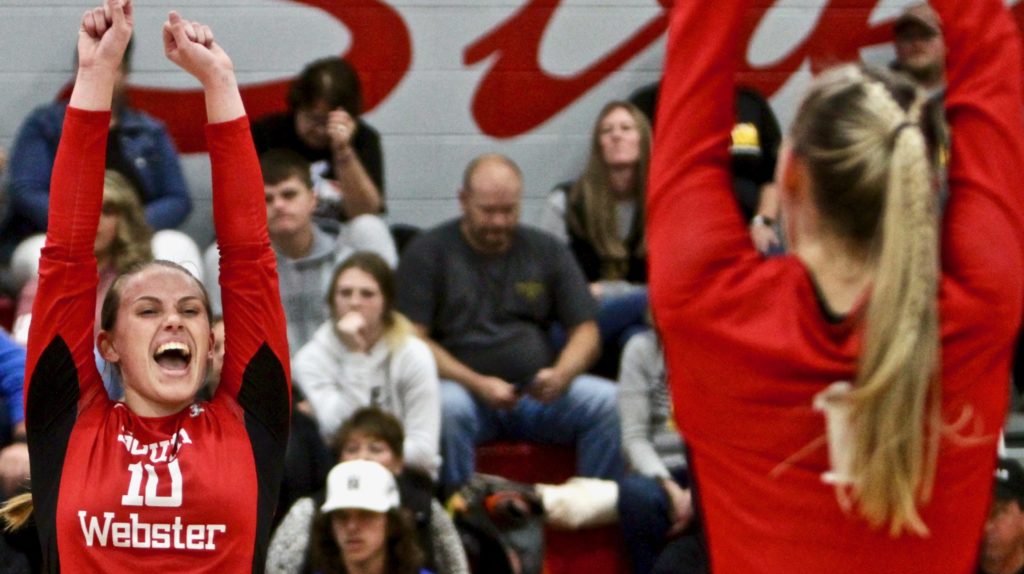 Bri Claxon | Senior | Hitter | South Webster
2021 statistics: 331 kills, 92 aces, 15 blocks, 295 digs, 5 assists
When Bri Claxon jumps, it looks like she has a springboard attached to her feet. Then comes the hit, a powerful swing that few defenders can get a read on. Claxon's 331 kills, team-high 92 aces and 295 digs were all imperative to the Jeeps' success this season. The senior led South Webster to a 25-2 mark this season and an overall mark of 83-18 during her four years.
Johanna Crawford | Senior | Setter | Chillicothe
2021 statistics: 99 kills, 61 aces, 11 blocks, 150 digs, 573 assists
After a year away from the top of the Frontier Athletic Conference mountain, the Cavaliers are back on top. Crawford spearheaded that movement with an impressive senior campaign. The FAC Player of the Year ran a smooth offense, tallying 573 assists and adding a team-high 61 aces, 99 kills and 150 digs to her totals. She ends her career with 1,127 assists.
Ava Eldridge | Senior | Setter | Unioto
2021 statistics: 36 kills, 16 aces, 4 blocks, 328 digs, 506 assists
Few players can boast of 2,000 career assists and 1,000 career digs. Eldridge is one of them. The senior hit both of those career milestones during a season where she totaled 328 digs and a team-high 506 digs — pushing her career totals to 1,021 digs and 2,131 assists. The Shermans will certainly miss Eldridge, because of her on-court talent and her leadership.
Kaiya Elsea | Senior | Libero | Logan Elm
2021 statistics: 8 kills, 40 aces, 0 blocks, 502 digs, 75 assists
Arguably, there wasn't a player in the MSL more important to her team's defense than Elsea. But that's nothing new. The senior has done that throughout her four years with Logan Elm. After three years where the Braves won a combined 19 games, Elsea helped the team finish 17-8 this fall. She ends her career with 1,506 digs and leaves huge shoes to fill in the back row.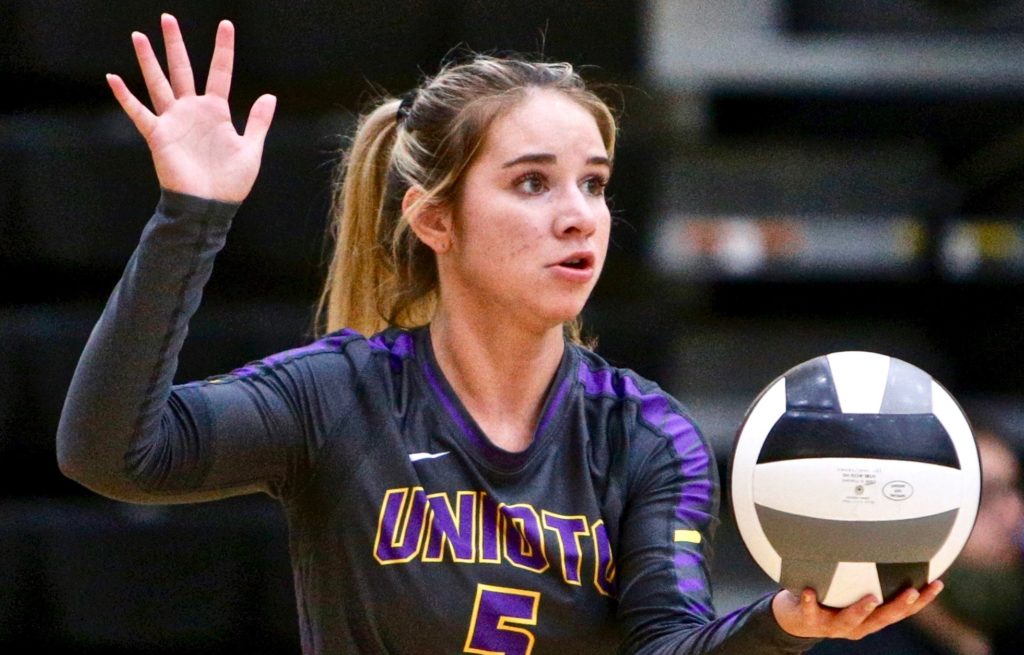 Ellie Harper | Senior | Hitter | Adena
2021 statistics: 238 kills, 15 aces, 21 blocks, 82 digs, 64 assists
When the Warriors needed a kill in the most dire situations, they called Harper's number. The senior led the team with 238 kills and was an offensive juggernaut all year long. Without her on the roster, Adena wouldn't have been the successful team that it was. She leaves quite the legacy behind after totaling 957 kills, 264 digs, 93 blocks and 46 aces.
Keetyn Hupp | Junior | Hitter | North Adams
2021 statistics: 418 kills, 60 aces, 64 blocks, 205 digs, 14 assists
Hupp enjoyed a breakout year, posting a career high in almost every statistical category. She led the SHAC champion Green Devils in both kills and blocks while adding 205 digs on the defensive end. She'll enter her senior year with an outside shot at obtaining 1,000 career kills — she sits at 566 — but more importantly, will be the leader for the defending league champions.
Brenna Kauffeld | Senior | Hitter | Teays Valley
2021 statistics: 254 kills, 52 aces, 35 blocks, 79 digs, 24 assists
On the volleyball court, Kauffeld is lightning in a bottle. Players like her don't come around every year. The Belmont University commit led the Vikings to a 16-7 mark and a 12-2 record in MSL action, good enough to split the conference title with Hamilton Township. She posted team-highs of 254 kills and 52 aces and was the absolute centerpiece to Teays Valley's offensive attack.
Sierra Kendall | Senior | Setter | North Adams
2021 statistics: 49 kills, 67 aces, 18 blocks, 273 digs, 734 assists
While her Green Devils once again took home a Southern Hills Athletic Conference title, Kendall was again absolutely remarkable. North Adams' senior leader posted 734 assists and 67 aces, both team-highs, while adding 273 digs and leading the team to 19 wins. She ends her career with 142 kills, 226 aces, 1,179 digs and a record 2,781 assists — the 17th most in Ohio history.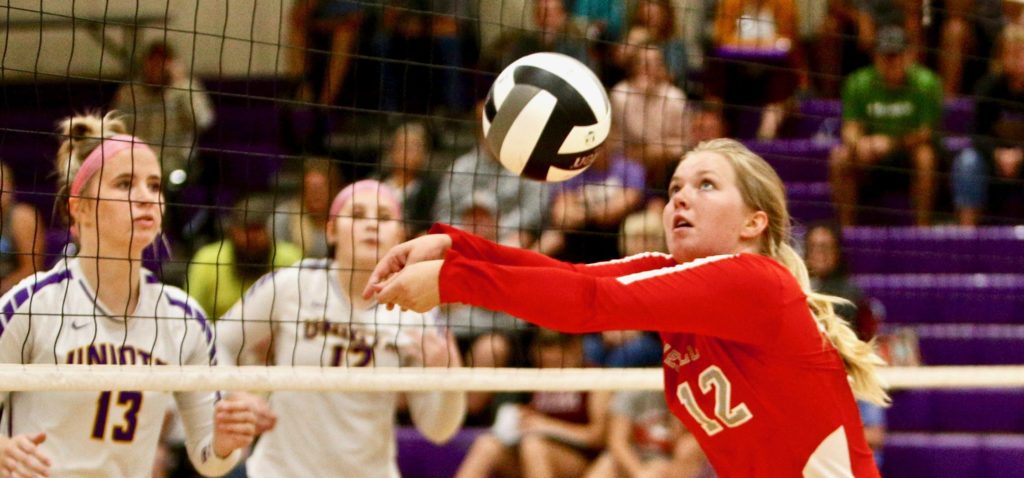 Claire Latham | Senior | Setter | Westfall
2021 statistics: 71 kills, 29 aces, 25 blocks, 226 digs, 866 assists
While she's often underrated, Latham may just be the best setter in not only her conference, but in her entire district. The senior had 866 assists this fall, upping her career total to 2,184. Those numbers go alongside 778 digs and 230 kills. You won't find a better competitor and she showed that night in and night out, playing in one of the toughest leagues Ohio has to offer.
Reagan Lewis | Senior | Setter | Northwest
2021 statistics: 76 kills, 65 aces, 24 blocks, 162 digs, 777 assists
Lewis is one of only a handful of Southern Ohio Conference alums to reach 2,000 career assists. She did so this past fall and ended her career with 2,571 — after passing out 777 during her senior season. Lewis and her senior classmates leave quite the legacy at Northwest, ending their four-year careers with an overall mark of 65-31 and a 38-23 record inside the SOC II.
Lexie Lockwood | Senior | Libero | Southeastern
2021 statistics: 8 kills, 37 aces, 0 blocks, 559 digs, 12 assists
Put simply, Lockwood is a defensive wizard. She seems to be everywhere at once, saving balls before they hit the hardwood. And it's always been that way. But she saved her best season for her last, tallying a career high 559 digs en route to the SVC's Defensive Player of the Year award. She totaled 1,893 digs in her career and 120 reception errors in 1,911 attempts.
Makaela Lovely | Senior | Setter | Adena
2021 statistics: 91 kills, 18 aces, 24 blocks, 84 digs, 407 assists
It's not like Adena's senior setter needed a season to validate her worth. But no matter, she put together quite possibly the most solid year she's ever had. Lovely was phenomenal, totaling 91 kills, 84 digs and a team-leading 407 assists. The Warriors' offense ran through her most of the time and that says it all. Lovely ends her career with 269 kills, 232 digs and 1,241 assists.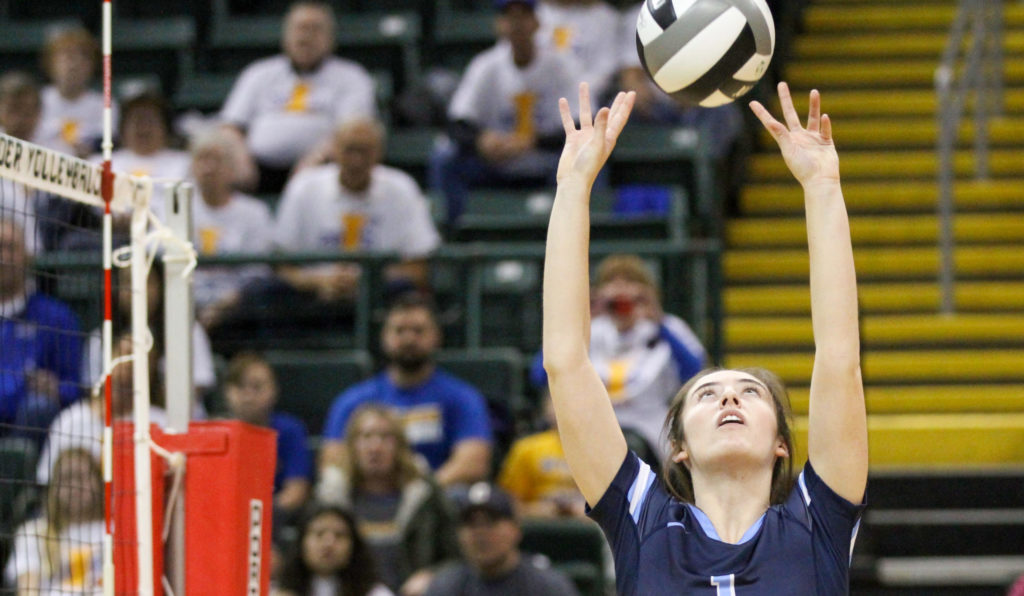 Faith Maloney | Senior | Hitter | South Webster
2021 statistics: 379 kills, 53 aces, 54 blocks, 99 digs, 13 assists
SOSA's Volleyball Player of the Year was one of the main factors in the Jeeps' first-ever regional title. And when South Webster played in the state semifinal, Maloney showed she one-hundred percent belonged on that stage. The SOC II and District Player of the Year ended her senior season with 379 kills and 54 blocks, both team-highs, to once again prove her worth.
Jenna Martin | Senior | Middle | Adena
2021 statistics: 219 kills, 24 aces, 61 blocks, 35 digs, 8 assists
If there's a more valuable middle to a single team than Martin, we have yet to find her. The first-team All-Ohioan was once again vital to the Warriors' successes, helping her teammates reach their first state semifinal since 2014. She posted 219 kills and a team-high 61 blocks while earning all-conference, all-district and all-state honors. Her leadership will be heavily missed.
Ryleigh Meeker | Senior | Middle | Wheelersburg
2021 statistics: 319 kills, 13 aces, 94 blocks, 88 digs, 16 assists
No matter what Wheelersburg loses on its roster, it seems to find a way to replace it. After a year where they lost a ton of talent, not many expected the Pirates to compete for a district title. They didn't compete for one. They took one home. The blame for that belongs on Meeker's shoulders, who posted team-highs in kills and blocks. She was a force at the net all season.
Marissa Mullins | Senior | Middle | Westfall
2021 statistics: 494 kills, 20 aces, 103 blocks, 383 digs, 28 assists
The two-time defending SVC Player of the Year was nothing short of fantastic during her last go-around. Mullins was the centerpiece on a team that won 22 games and reached the Elite 8. She led the team in kills, blocks and digs with 494, 103 and 383, and was named the District POY as well as a second-team All-Ohioan. She's truly a once in a generation talent.
Arowynn Savage | Senior | Hitter | Logan Elm
2021 statistics: 382 kills, 50 aces, 23 blocks, 206 digs, 7 assists
When you play in the Mid-State League, you have to work for everything you get. Savage did just that and then some. The senior paced the Braves with a team-high 382 kills while adding 50 aces and 206 digs to her stat sheet as well. She was an all-conference and all-district selection after helping Logan Elm to 19 wins and a sectional championship.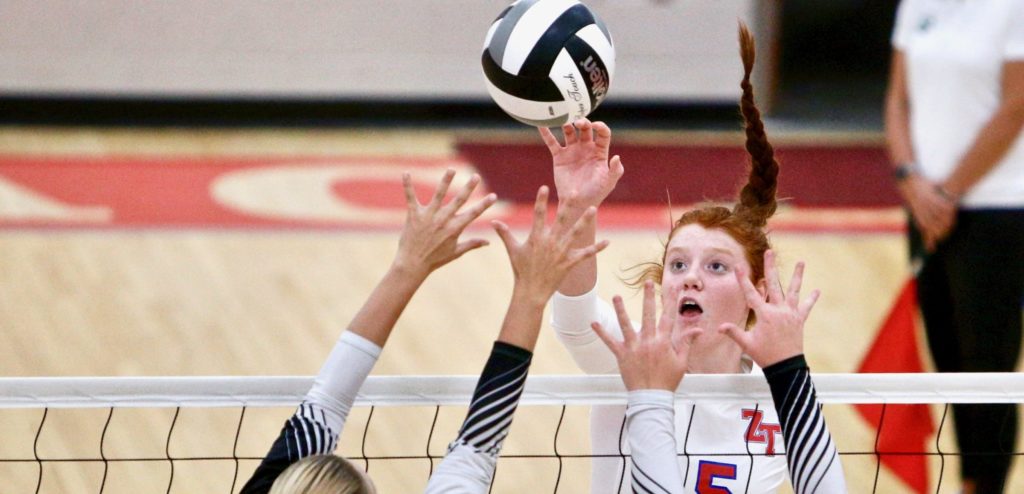 Lexi Scott | Junior | Hitter | Zane Trace
2021 statistics: 377 kills, 16 aces, 35 blocks, 306 digs, 21 assists
There are good players and there are great players. Scott is on the latter end of that spectrum. The junior was a mainstay within ZT's offensive game plans, totaling a team-high 377 kills and added 306 digs, defensively. She proved once again she can play at an elite level on a nightly basis. She'll enter her senior year as the favorite to win the league's Player of the Year award.
Olivia Smith | Senior | Hitter | Paint Valley
2021 statistics: 325 kills, 21 aces, 31 blocks, 329 digs, 22 assists
For four years now, Smith has been the embodiment of the word "special." She's helped Paint Valley completely turn the program's tide while amassing an abundance of individual accolades along the way. The Shawnee State commit led the team to 12 wins and a district final appearance this fall. She leaves her high school career with 1,051 kills and 1,307 digs.
Sydney Smith | Senior | Hitter | Vinton County
2021 statistics: 336 kills, 41 aces, 22 blocks, 183 digs, 2 assists
Coming into the season, Vinton County fans knew they were going to watch something special unfold. Smith and company didn't disappoint. The Vikings ended the year at 23-2 and won the league outright with a 12-0 mark. Smith, a West Virginia State commit, led the team with 336 kills and was the team's go-to player at the net. She helped trailblaze a path of dominance.
Gwen Sparks | Sophomore | Middle | Notre Dame
2021 statistics: 164 kills, 37 aces, 44 blocks, 76 digs, 7 assists
After a year where Notre Dame said goodbye to a score of talented seniors, Sparks emerged as one of the team's undoubted leaders. Playing with an unrivaled passion, Sparks led the Titans with 164 kills and 44 blocks, numbers that helped the team win yet another SOC I crown and finished 12-0 in league play. She'll enter her junior season even better, which is crazy to think.
Megan Steele | Senior | Hitter | Huntington
2021 statistics: 330 kills, 43 aces, 7 blocks, 344 digs, 153 assists
Steele was the definition of versatile during her four-year career and that didn't change this past fall. The talented hitter once again eclipsed the 300-kill mark — for a third time — and added 344 digs, 43 aces and 153 assists to the mix as well. She ended her storied career with 1,200 kills, 1,320 digs and 418 assists during a four-year stretch where Huntington won 67 matches.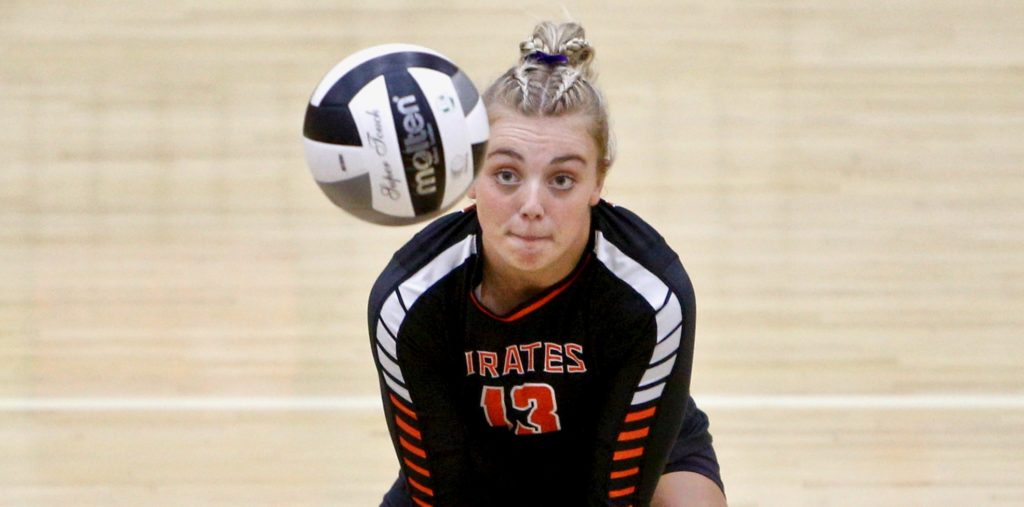 Makenna Walker | Junior | Setter | Wheelersburg
2021 statistics: 123 kills, 57 aces, 33 blocks, 209 digs, 764 assists
Walker had big shoes to fill coming into the season, replacing Wheelersburg alum Lauren Jolly. But the junior met the task with ease, helping the Pirates win a district title with 764 assists. She also proved her worth aside from setting, totaling 123 kills and a team-high 57 aces. Walker was an emotional leader on a team that won 21 games and reached the Sweet 16.
Carissa Wheeler | Senior | Middle | Unioto
2021 statistics: 230 kills, 28 aces, 80 blocks, 103 digs, 33 assists
There aren't many players that can lead a team like Wheeler. The Shermans looked to Wheeler all year long in troubled times and their senior middle hitter delivered. Every single time. She was one of the main reasons why Unioto reached double-digit wins this season, leading the team in three important statistical categories — kills, aces and blocks.
Cameron Zinn | Senior | Setter | Vinton County
2021 statistics: 234 kills, 104 aces, 12 blocks, 259 digs, 516 assists
She's the best setter in Vinton County program history. And it isn't close. Zinn's senior statistics speak for themselve as she led the Vikings with 104 aces and 516 assists. But her career numbers are also indicative of just how special she was during her four years, a period where the Vikings went 82-17. She ends with 592 kills, 303 aces, 1,031 digs and 2,606 assists.
Honorable Mention Selections
Kinley May, Zane Trace; Averi McFadden, Paint Valley; Hannah Lougheed, Southeastern; Ella Cutright, Unioto; Sophie Coleman, Unioto; Carly Dyer, Huntington; Laura Robinson, Miami Trace; Maleah Oney, Chillicothe; Annie Dettwiller, Notre Dame; Graci Claxon, South Webster; Kelli Stewart, Waverly; Ava Jenkins, Northwest; Cara Cooper, Circleville; Peyton Magee, Fairfield