Derrick Webb, Staff Writer
SOUTH WEBSTER — When you look up the word "special,", right next to it would be a picture of South Webster's Faith Maloney.
Her talent on the volleyball court is second to none and if the ball is set to her, it's finding the ground. No ifs, ands or buts about it.
Maloney has been a driving force in the greatest four-year run in South Webster history — and saved her best season for her final encore.
"I think this year I did a lot better with consistency. I really focus on making every attack attempt worth it and I think it paid off," Maloney said. "I had some health problems throughout the season that kind of threw me off my game, but even if I wasn't the hardest attacker in the game, I felt that I was consistent."
Her presence alone was more than enough to strike fear in opponents. Then you watch her play, and it all makes sense. She ended the season with 379 kills, 99 digs, 54 blocks and 53 aces — including her 1,000th career kill.
With those numbers came numerous awards, including SOC II Player of the Year, District 14 Player of the Year and a first-team All-Ohio nod.
For those reasons and many more, Maloney has earned her final volleyball award of the season: SOSA's Player of the Year.
Along with the numbers also came the team achievements, including a Gold Ball, and a third straight sectional and district championship.
The cake topper? After seeing their previous two seasons end at the regional level, the Jeeps broke through and captured that elusive regional title in a straight set win over Trimble — Maloney's favorite memory.
"My favorite moment this year was when we won regional finals against Trimble," Maloney said. "It was just so amazing to have accomplished something like that and seeing everyone in our community come to support and cheer for us just meant a lot. We all knew that they would be behind us no matter the outcome and it made that a really special day for us."
During her four years, Maloney and company compiled an overall 83-18 record, including finishing 26-2 this season before it all ended in a Division IV state semifinal with a loss to eventual state champion New Knoxville.
"I think our team was so successful because of our chemistry," Maloney said. "There was not one girl on the court who did not care or who did not want to play for each other. We never got into fights, and we were able to give criticism to each other without anyone being offended."
Maloney can truly look back over the past four years and appreciate what she and her teammates were able to accomplish.
Even more so than the on-court achievements, it's the off-court growth that might widen her smile a little more.
"The coaches and teammates that have been involved with my journey in volleyball these past four years have made me the person I am today. They have made me a stronger player and teammate and they broke me out of my shell," Maloney said. "I used to be really shy and didn't want to speak up, but now I don't ever stop talking. I've had so many more opportunities because of the South Webster volleyball program and have even been able to further my career in volleyball because of them.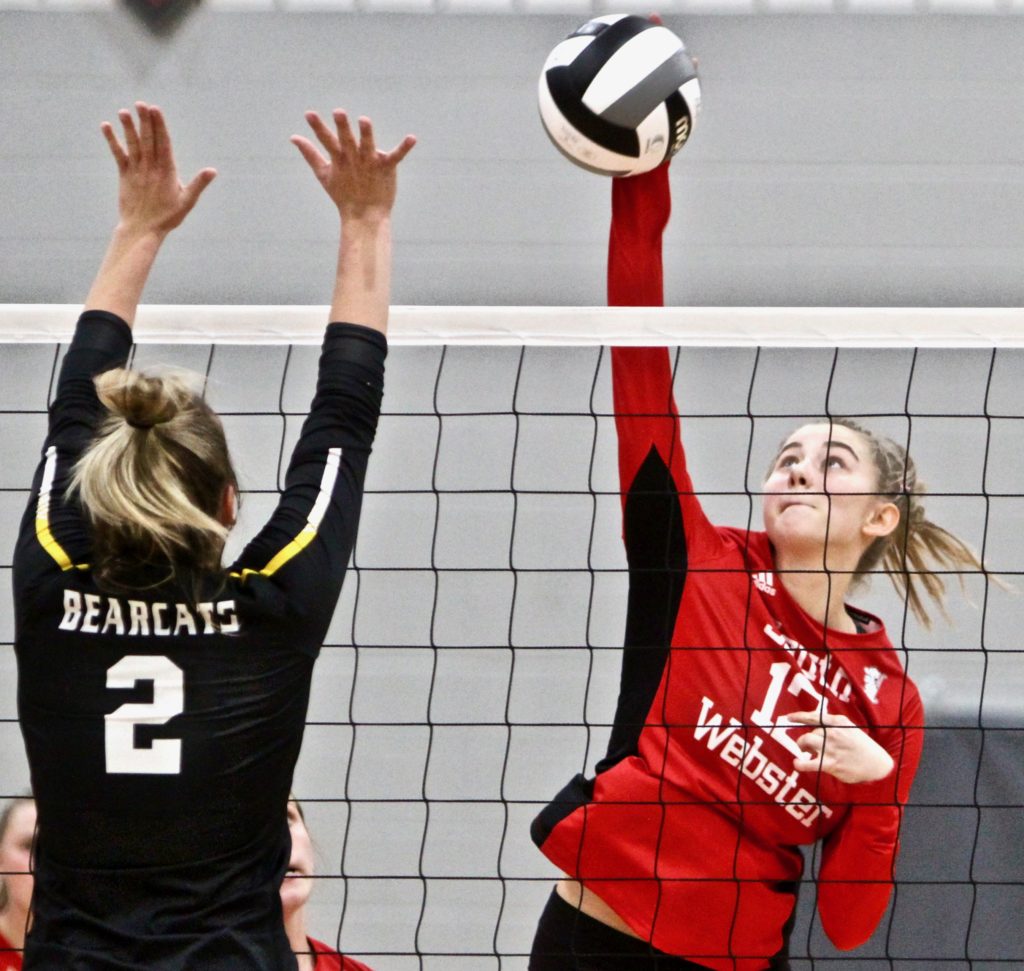 "One thing that I'm going to miss the most is all of the days and nights we spent together off the court. When we weren't playing or practicing, we were hanging out together and having fun. Because of that, the time we spent on the court was so much more enjoyable."
While Maloney's days as a Jeep are numbered with graduation coming up, her volleyball career will continue at the next level as she's signed to play at Mount Vernon Nazarene University.
"It actually took me a while to figure out where I wanted to go and I was choosing between two colleges that I felt I would do well at," Maloney said. "I learned about Mount Vernon through [South Webster head coach] Darcee [Claxon] and I was able to go and visit there. I really enjoyed the team atmosphere and the campus. It's also important to me to continue to build my faith and Mount Vernon is the perfect place to do just that."