Derrick Webb, Staff Writer
PIKETON — It's no secret that Piketon's Levi Gullion is a rare breed.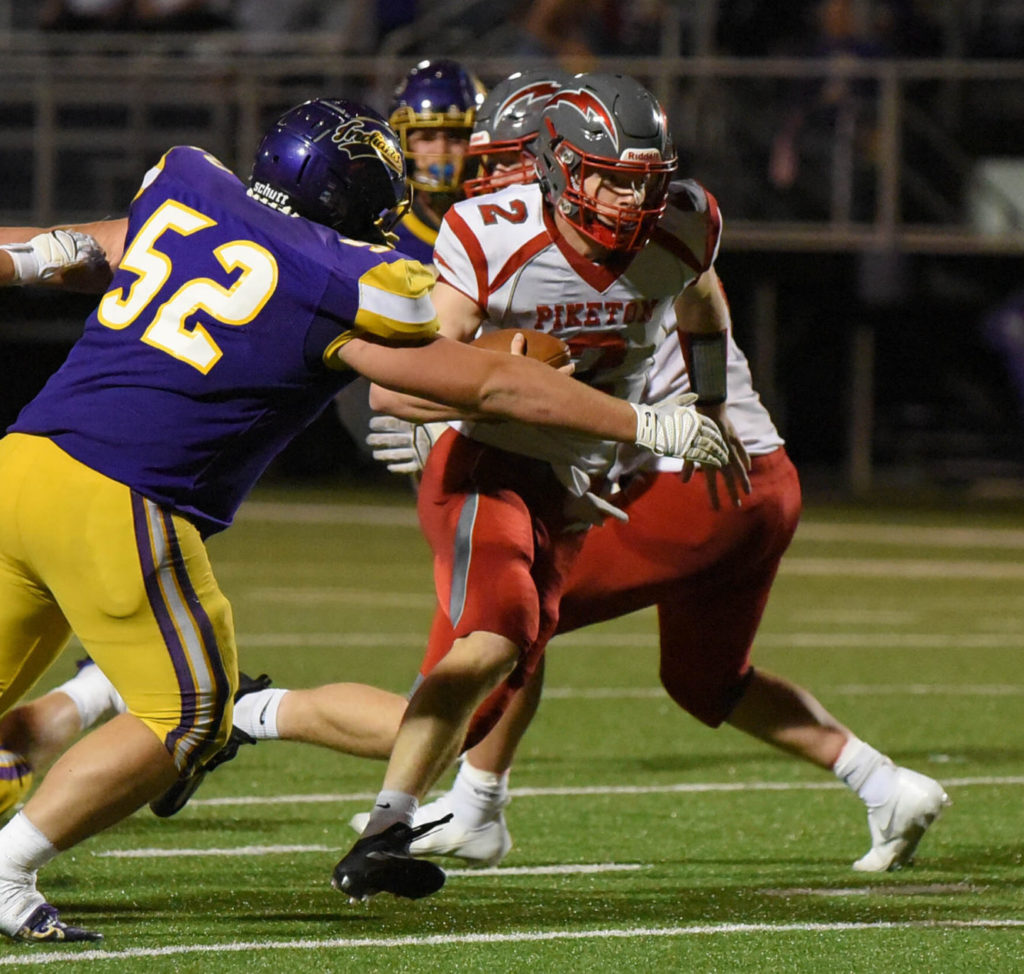 Arm talent and accuracy to make every throw in the book. A high football IQ to quickly dissect defenses and make the right play. And the athletic ability to be a playmaker while beating you with both his right arm and feet.
Gullion earned himself the SVC Offensive Player of the Year award this past fall, as well as the Division V District co-Offensive Player of the Year honor and an All-Ohio nod, which will be announced in the coming weeks.
He's also been unanimously selected as SOSA's outright Player of the Year.
"This program made me work for what I got and it has made me stay on the right path and set an example for others," Gullion said. "We were so successful this season because we did the little things right all the time and we never had a bad practice."
He was unarguably the most important player to any team in the area this season, and because of that, Piketon enjoyed its best season in school history.
The numbers back all of that up.
The senior signal caller led his Redstreaks to a 10-1 record — their first-ever 10 win season and the first undefeated regular season since 1964 — alongside a Gold Ball and the team's first conference championship since 1997.
Along the way, Gullion threw for 3,075 yards and 31 touchdowns with just five interceptions. However, he also ran for 1,023 yards and 21 additional touchdowns on the ground — both of which led the SVC.
His favorite moment of the season came in the Redstreaks' playoff win over Coshocton when he threw just a simple screen pass to Johnny Burton. It was what Burton did and the end result of that play which Gullion remembers with fondness.
"Johnny caught a screen against Coshocton and took it 80-plus yards to the house," Gullion said. "When I looked over at the crowd, I could see that it was a big relief for the people and that it meant so much to them as it did me. I worked really hard to improve my passing. My numbers from last year compared to this year was a big jump."
Gullion will forever go down as a Piketon legend for what he accomplished throughout his career.
He helped Piketon win a playoff game in back-to-back seasons for the first time — no one will ever forget him totaling 605 yards of offense and eight touchdowns in a 53-51 win over Minford last season.
Over his storied four-year career, Gullion threw for 7,646 yards, ran for 1,825 yards and piled up 111 touchdowns — 69 passing and 42 rushing.
Though his days leading the Redstreaks on the field are over, his football days are far from it.
"I plan on playing college football. I've got a few offers right now, but I'm just trying to keep my options open," Gullion said.
Although he hasn't decided where he'll go, one thing is for sure — he'll continue making plays and finding the end zone.