Derrick Webb, Staff Writer
LANCASTER — When the ball is at Caroline Brown's feet, it's pretty simple, good things happen.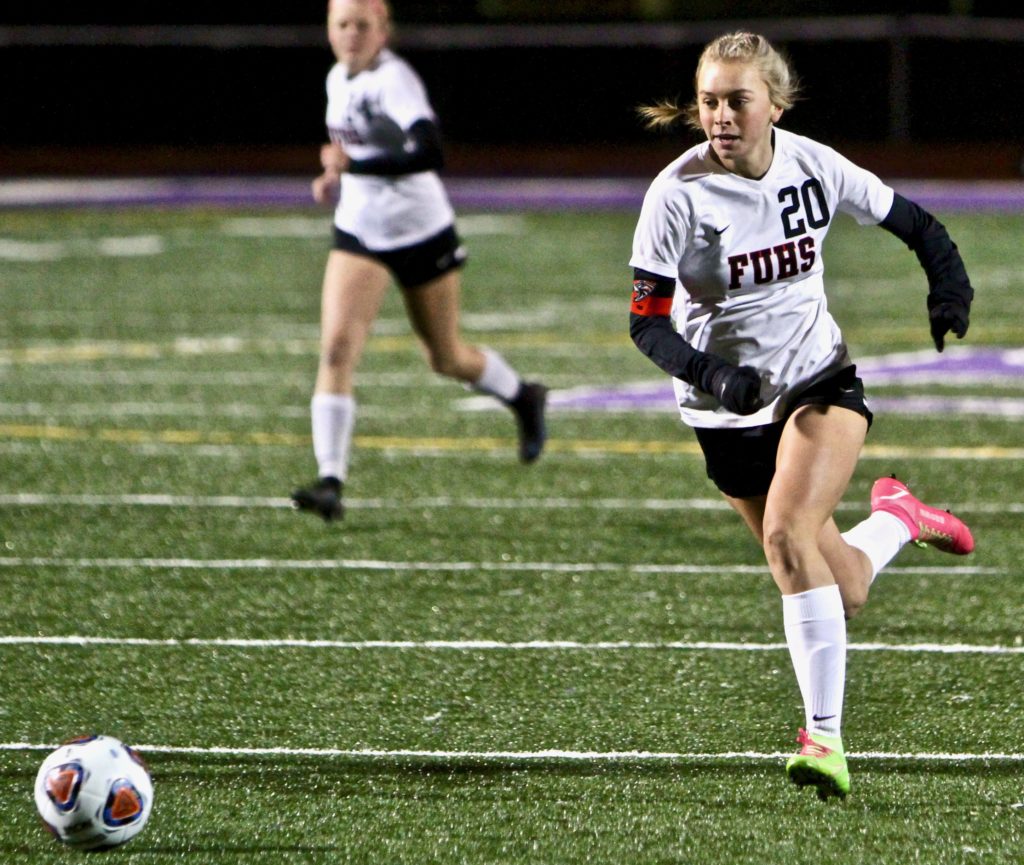 Fairfield Union's senior leader proved that over and over again this past fall with a habit of making defenders look silly and beating goalkeepers at will.
She enjoyed the best year of her impressive four-year career but, more importantly, led her Falcons to what coach Casey Bischof called the "best season in school history."
For those reasons, and many more, Brown has been selected as one of three SOSA Girls Soccer Players of the Year.
"I feel like our team had great success because of the leadership and camaraderie of our upperclassmen. Eight of us have been playing together since our U9 club soccer team, which gave us a solid foundation," Brown said. "That foundation, coupled with our talented underclassmen, gave us a complete team for this historic run. Coach [Casey Bischof] started building this program years ago and the success of those teams carried over to our group."
Brown would never tell you this herself, but she was undoubtedly the leader of that group.
She was a first-team all-conference selection and the District 14 Player of the Year after Fairfield Union finished 17-4-1.
But her favorite postseason accolade was a first-team All-Ohio nod.
"Being named first-team All-Ohio [was the best honor she received] because being recognized as one of the state's best players by the Coach's Association is a great individual honor and one that I will remember forever," Brown said.
As for her favorite moment? That's an easy choice.
"Getting the 1-0 victory over Marietta in the district final," Brown said. "The game was a back-and-forth battle and we didn't have many great opportunities to score. It was late in the game when Rachel Warthman made a great run and pass before giving me the ball at my foot to knock it in. Not only did that avenge an earlier loss in the season, but it allowed us to continue our season and have a great opportunity to go the farthest in Fairfield Union girls soccer history."
Brown's game-winner against the Tigers, one that came with just under 12 minutes remaining, sent the Falcons to their first regional semifinal since 2019.
Less than a week later, the senior scored again during a 3-0 win over Tri-Valley in a regional final — the program's first-ever regional tournament win.
Those moments, and others like them, are why Brown will never forget her time in the black and red.
"All of these girls are more than just teammates. They're like family," Brown said. "We have four sets of siblings on this team, including my younger sister, who is a freshman. It makes our team have a special bond and brings us together like an extended family. I'll definitely miss the time on the field together, but I know the friendships will last a lifetime."
Brown ended her senior season with 22 goals and 14 assists, upping her career totals to 60 goals and 21 assists.
Not too shabby for a converted forward that started her career as a center-back.
"This soccer program has been a group that I could lean on," Brown said. "Soccer has been so much fun with lessons learned along the way that will help me with what life may throw my way. Doing whatever is best for your team is super important. My freshman and sophomore year, I was a center-back and then my junior year, coach [Bischof] asked me to play offense. I immediately agreed and stepped up to take on the challenge because I knew it was best for my team."
While Brown is proud of her individual accomplishments, she'll always point at the Falcons' mark of 66-12-2 during her four years as the most important statistic. Her and a talented senior class, one that spent most of their childhood together on the soccer pitch, was one of the best to ever lace up cleats.
"I feel like our senior class has been a part of some great winning teams that have accomplished a lot and this season was a continuation of that. While the season started with some struggles, seeing how we recovered and finished the year provides a great example to the underclassmen," Brown said. "It shows them what they're capable of and will lead to similar success for them in the future."
It's been said that lessons in life will be repeated until they're learned. There's no doubt that, in a soccer sense and in a life sense, Brown and her classmates taught valuable lessons each day.
The legacy they leave is larger than any win they earned. Together, they set a new bar of success for future teams to aim for.
"When I look back on my senior season, I hope to see that it was the year that set the bar for the girls soccer program at Fairfield Union," Brown said. "After starting the season 3-3, instead of giving up, we redirected our focus, which led us to a season to remember."