Derrick Webb, Staff Writer
LUCASVILLE — Lucie Ashkettle has seen it all before.
The state of confusion opponents are in when she walks onto the pitch, the instant sigh of relief and, sometimes, the smirks — as if their night just got a little bit easier.
But Ashkettle quickly squashes any sense of underestimation. And then makes those naive opponents pay for their rush to judgement.
The junior forward was instrumental in Valley's 16-win season this past fall — by all accounts, the Indians' most successful year in quite some time.
"Opponents underestimating me has to be one of my favorite parts. The second I walk on the field, I see confusion and sometimes smirks," Ashkettle said. "They might underestimate me, but that gives me even more motivation. Even the outside chatter in regards to my situation just pushes me to keep playing my game."
For that type of attitude, and a ton of other reasons, Ashkettle is one of three SOSA Girls Soccer Players of the Year.
Ashkettle was the only female to earn all-conference and all-district honors on a list full of male counterparts. Against that competition, she scored 10 times and passed out seven assists.
"Playing with the boys makes me feel like I need to prove that I deserve to be out there just as much as anyone else," Ashkettle said. "The strength and physicality differences motivate me to play faster and more technically. The feeling of getting to be a role model for young female athletes around my area is indescribable. I hope these girls grow up and love this sport as much as I do, whether it's on a boys or a girls team, and break the stereotypes."
With Ashkettle on its roster, Valley finished the year at 16-2-1. The Indians won their first outright Southern Ohio Conference title since 2002 and reached a district championship match.
Her favorite moment of the year, aside from clinching the SOC I title, came in a 6-1 win over Ironton St. Joe on Sept. 16. That night, she lit up the back of the net, scoring three times in a pivotal conference victory.
But still, she says her best on-field characteristic is finding other teammates for scores — she finds just as much pleasure in that as she does scoring herself.
"I think my best trait is seeing the field and finding open passes," Ashkettle said. "A lot of my field vision comes from my experience in club soccer. I also think one of my good traits is being able to use both feet, which can sometimes be a struggle for defenders."
Defenders are most likely still having nightmares about trying to figure out how to silence all of Vally's offensive weapons this past season. Ashkettle teamed up with Austin Sommers, Bryce Stuart and Chase Ruby to score 61 of the team's 82 goals.
When you throw in a talented defense and a top-tier goalkeeper in Chris Queen, you get a team that's destined for success. But that success didn't just appear. The Indians worked for it.
"Every day this summer, our team got up and worked five days a week at 7 a.m. We knew that conditioning and getting touches on the ball would improve our chances in winning that title this season," Ashkettle said. "We had many talented upperclassmen and good underclassmen that stepped up when we needed them. Our coaches, Jacob Perry and Bryce Romanello, told us the key to success was completing passes, keeping possession, and running the field in order to bury teams, and we did that."
You could also point to the team's overall competitiveness as a catalyst. Practices were just as intense as matches. And when you practice how you play, good things tend to happen.
"Our team was very close-knit. Many have played together their whole lives. When I moved here, they were very welcoming and kept an open mind which helped me get a sense of what it was like playing on a boys team," Ashkettle said. "Practices were physical and hard, and we'd even get a little mad at each other sometimes. But at the end of the day, we knew it made us better. It gave us character."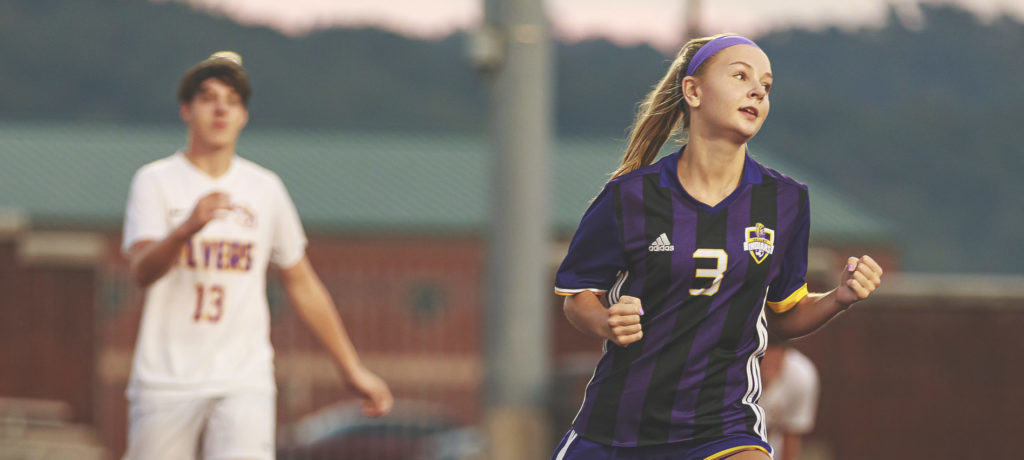 The Indians ended their season with a hard-fought 2-1 loss to Wheelersburg in a Division III district final. That loss forced the program to say goodbye to several talented seniors.
However, Ashkettle will return and she'll have a talented supporting cast around her. With the foundation of success already laid, brick by brick, the expectations will be high.
Good news, though … Lucie Ashkettle has never backed away from a challenge.
"Our coaches are very committed to our team, which is huge. We have a lot of potential from incoming freshmen and are lucky to have a big senior, experienced class returning next year," Ashkettle said. "I am excited for what our team is capable of next season."