SOSA Staff
After an exciting fall sports season, we have our fingers crossed for the same this winter.
With the start of high school basketball season scheduled for less than 24 hours away, here's a list of 10 boys players in our coverage area, and in no particular order, to keep your eyes peeled for this coming season.
NOTE: This certainly does not mean there aren't other players who will have great seasons. This is simply a list of 10 players we've randomly compiled.
Xzander Ream, Zane Trace
Zane Trace is reloaded, and Ream has a chance to emerge as the lethal weapon in its offense. With Nalin Robinson and Kyle Stonerock attracting so much attention underneath, that leaves room on the perimeter for Ream to shine. He has great basketball IQ, makes good decisions and if his jump shot is falling, watch out. He could be a difference-maker in the Pioneers' chase for a third district title in the last five years.
Trenton Zimmerman, Minford
The Falcons are always tricky to figure out, but there's no tricks to Zimmerman's game. He puts the ball up, and it goes in. Simple as that, evidenced by him averaging 18.1 points a game last season. No one can take this team lightly. They're tall, long and filled with playmakers. With Zimmerman leading the way, they'll make noise in the SOC II.
Bransyn Copas, North Adams
Though he was just a freshman last winter, Copas wasted no time bursting onto the scene and making a name for himself. He helped guide the Green Devils to 16 wins and averaged 11.8 points per game while doing so. He's the engine that makes the team go, and that year of experience under his belt will pay dividends as they break in all new starters alongside their talented sophomore guard.
Luke Garrett, Eastern Brown
Speaking of talented SHAC guards, it might not get any better in the conference than Garrett. He's a high-motor, smart player with a deadly jump shot who just makes plays. It's no wonder Concord University wanted him — and got him — so much. After averaging 16 points per night and shooting 82 percent from the free throw line, Garrett and company will take one more final crack at a district championship run.
Eli Swords, Wheelersburg
Wheelersburg is going to have a major facelift this season. The Pirates' top four scoring options from last season's district championship team are gone. There isn't much varsity experience on this team outside of Swords. So he'll shoulder a lot of responsibility once he gets on the court, considering Wheelersburg's football team is still playing. He's a calming presence who has a knack for making the right plays and being in the right spots. Most importantly, he's a winner.
DeSean Branson, Unioto
Branson carved out a huge piece for the district champion Shermans last season, providing a much-needed offensive punch off the bench. Now, he'll go from the bench to their go-to player. He has the explosiveness to drop 20 each night offensively, and the athleticism to lock up an opponent's best player. Unioto will go as he goes.
Quintin Captain, Hillsboro
The best season Hillsboro had since 1998 ended with 19 wins and a share of the FAC title last winter. But it also ended with nine seniors graduating, leaving a lot of holes to plug. Luckily, Captain returns to the lineup as a hard-nosed defender who has the ability to score when needed. He'll be asked to do so, alongside a returning Hunter Price in the post. But it's Captain who will have the ball in his hands and draw the opposition's best defender.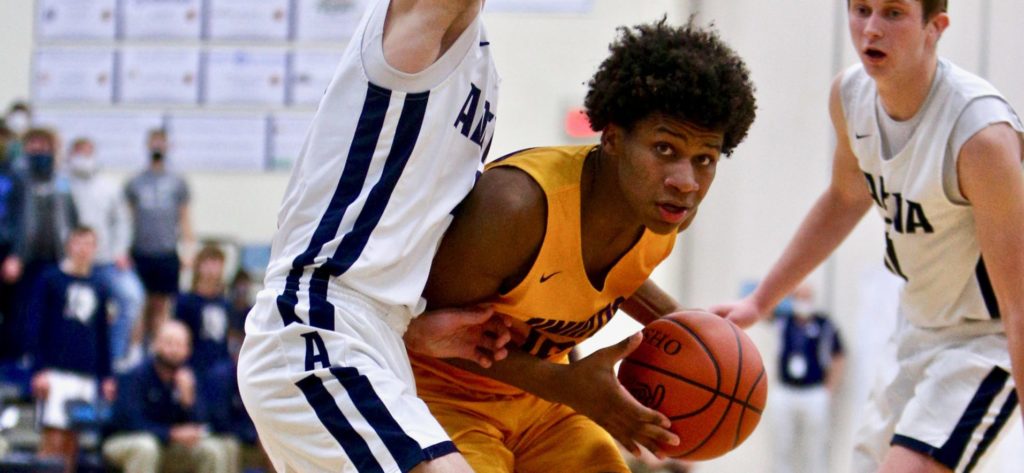 Bryson Badgley, McClain
In what's bound to be a wide open FAC title race this season, McClain appears to have the edge on paper with every player back — a group led by Badgley. He's a dynamic scorer in every sense. Just put the ball in his hands and watch what he does. He averaged over 15 points per night before an injury ended his season. Now that he's back and fully healthy, he'll be looking to put on a show and lead the Tigers to a conference title.
Jonathan Strickland, Notre Dame
The SOC I could be the most compelling conference race in Southeast Ohio, but not if Strickland has anything to do with it. The Titans made a significant push last season, and his 17.2 points per game was the catalyst in them doing so. He's a crafty player with the ball in his hands and will make you pay in 1-on-1 situations. Watch out for the Titans.
Trey Robertson, Waverly
He's the best ticket in town. A walking bucket in every sense of the phrase. Double teams, triple teams … it truthfully doesn't matter because Robertson will find the bottom of the net either way. After leading Waverly to a district final appearance last season, the senior guard and his 25.7 points per game return for one final chance at the crown with a reloaded Tiger squad.