CHILLICOTHE — 2021 will go down as a year to remember for Eastern Brown.
Outright SHAC champions. The program's first-ever district and regional championship, and its inaugural appearance in a state semifinal.
This year's group of Warriors were simply winners who came together to achieve something never done before while etching their legacy in this history books forever.
But the clock has officially struck midnight on Eastern Brown's magical tournament ride.
The Warriors (16-2-2) fought hard, but Waynesville had too much firepower across the board on Tuesday night. The Spartans (16-6) ended Eastern Brown's season with a 5-0 win in a Division III state semifinal.
"I asked the girls how many teams were there in Division III in Ohio," Eastern coach Dan Silvis said. "We're one of four left. You have to be proud of that."
The scoreboard may have not shown what the Warriors would've liked to see. But when you look at where Silvis' team started and where it was at the end of the year, just being in the game was a surprise to many.
Many outside the program that is.
"We got our butts kicked this summer," Silvis said. "We were playing teams like Dublin Coffman, Mason and Loveland, and we got our butts kicked. I asked the girls when we were getting our butts kicked if they ever thought we'd be here today. We've come a long ways. That's absolutely the truth."
---
---
On Tuesday, Waynesville's spacing and speed allowed the Spartans to apply pressure on Eastern Brown's back row throughout the opening 15 minutes. That led to a number of corners and shots on target, but Eastern keeper Alyssa Perkins deflected any scoring opportunities.
However, the Warriors made one small miscue and paid for it.
Waynesville crossed the ball into the box, and Eastern attempted to deflect it out of bounds. But the ball instead hit off the top crossbar and bounced to Baylee Williams' feet before she sent a shot into the back of the net for a 1-0 lead with 21:32 remaining.
The Spartans continued to control ball possession for the remainder of the first half, creating opportunities through their speed and knack for finding open passing lanes.
Then another chance created itself and the Spartans struck again.
With the ball bouncing fortuitously in the box once again, it ended up at the feet of Kyla Harvey, who gave Waynesville a 2-0 advantage with 1:48 left before halftime.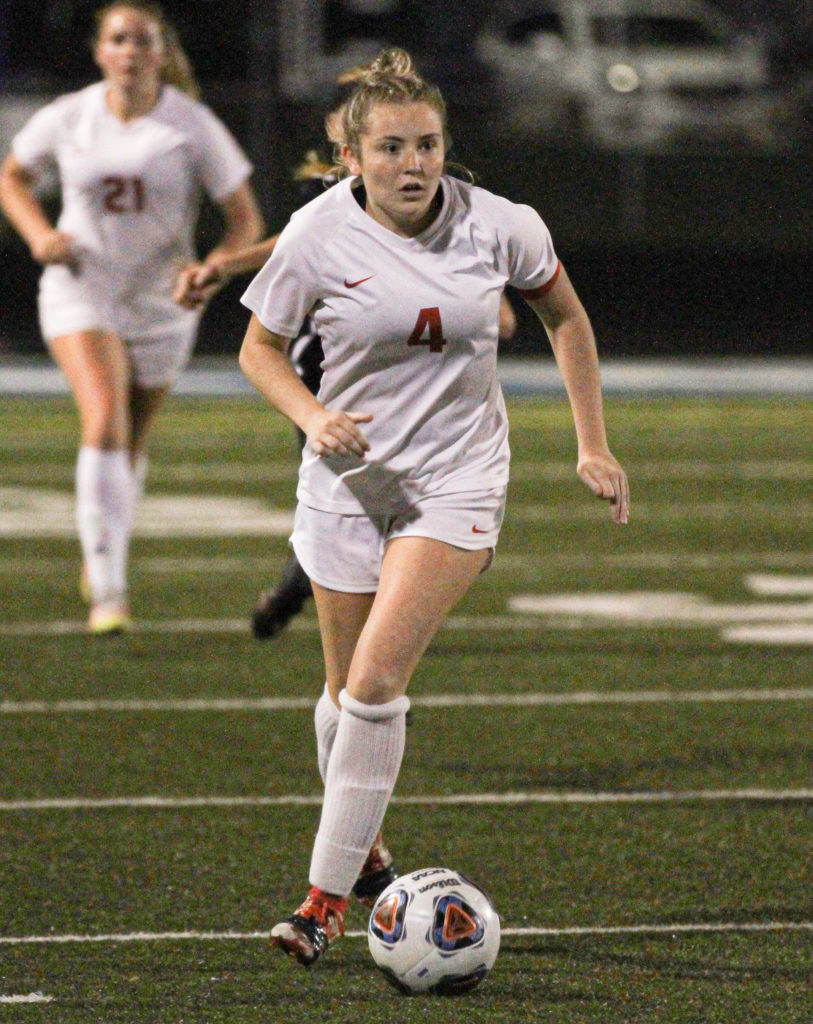 "After the first goal, I think the girls thought, 'Hey, we've been scored on first before and we can come back.' They were down a little bit but they still had that confidence about them," Silvis said. "Once the second goal happened, I think that [took the wind out of Eastern's sails]. Waynesville was fast. They were skilled."
Waynesville continued applying the heat in the second half. At the 29:21 mark, Allie Freeze made it a 3-0 ballgame, officially providing the backbreaker.
Yet, three wasn't good enough for the Spartans.
They wanted more and continued to pile on. After a shot bounced off the top crossbar and back into play, Samantha Erbach turned and fired a laser into the bottom right corner for a 4-0 advantage with 15:26 to go. The night's final goal came came with less than 10 minutes left, producing the night's final.
The loss forces Eastern to bid adieu to five seniors in Mary Litzinger, Bailey Dotson, Torie Utter, Emma Prine and Skylar Gould. Over the past four seasons, that group led the Warriors to a mark of 58-16-6 and four consecutive district final appearances.
"They leave a legacy of playing hard, not giving up and dreaming big," Silvis said. "These girls, when they were freshmen, this is what they decided to fight for, to play for. They made it. So I think they dreamed big and they accomplished what they set out to do. Every time we go in the gymnasium to practice and see those [state tournament] banners for basketball, they say, 'Coach, we want a banner up there.' They've got one now."