Derrick Webb, Staff Writer
LOGAN — Adena doesn't do clichés.
It beat the same team three times in a season, and the third time was the sweetest victory of them all.
Exercising its demons from last season's letdown, the Warriors handled their business and defeated Westfall 25-19, 25-19 and 25-20 in a Division III regional final.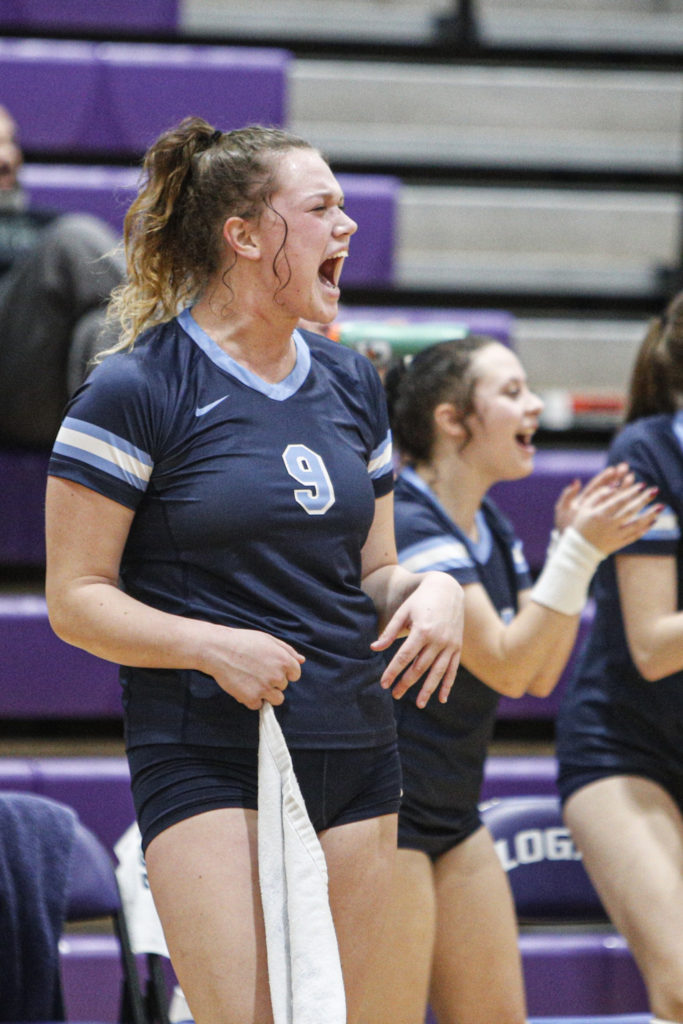 "We set this goal since our beach trip over the summer that we go on every year. We wrote it down and all of us signed a contract," Adena's Ellie Harper said. "It's such an out of this world feeling. I know it's a cliché, but we really feel like we're on top of the world and we're all just crying tears of joy."
This will mark the Warriors' 10th trip to a state semifinal, and their first appearance since 2014.
"It's crazy. We've seen teams from Adena before us go to state, and it's great that we finally have our chance to do the same," Adena's Jenna Martin said. "We've been working towards this since our freshman year and it's incredible to finally have this moment happen."
Having already played and beaten Westfall twice this season, Adena (25-2) knew exactly what to expect and went right on the attack as a pair of kills from Harper alongside a kill and block from Hannah Burns helped the Warriors get out to a 6-3 lead.
Westfall managed to tie the game 8-8, however, Adena countered back with a trio of kills from Martin alongside a kill each from Harper and Burns to stretch the lead to 14-10.
Despite later trailing 16-11, the Mustangs (22-5) answered back with an 8-2 run behind Hailey Young at the net with three kills to take their first lead of the game at 19-18.
"Once the match starts, it doesn't matter how many times you've played a team because this is a completely different level in regionals," Adena coach Laura Smith said. "We knew that Westfall is a really good team, but you stick to your plan and adjust as you need to along the way."
Momentum was completely with the Mustangs, but Adena snatched it back faster than you could blink. With Camryn Carroll at the serving line, and Martin at the net, the Warriors ended on a 7-0 run to take the first set win.
The Mustangs put the ball in the hands of Marissa Mullins, and the SVC Player of the Year went to work. She came through with a pair of kills and blocks to put them ahead 7-2.
Adena weathered the storm and later answered back with kills from Burns and MaKenna Lovely to take a 16-14 lead.
---
---
Harper helped push the lead up to 24-16 with a trio of kills later, and although Westfall attempted a rally, it wasn't enough as a kill from Sydney Foglesong claimed the second set win.
"I feel like we have this mentality of 'You never let down,'" and we've learned that throughout our high school careers," Harper said. "Whether they're ahead or you're ahead, don't stop until the set is over."
After some early back-and-forth in the third set, Martin put her foot down with a pair of kills and a block to put the Warriors ahead 13-9.
Westfall battled back and managed to tie the score 18-18, however, the Warriors were not going to be denied. After a kill from Harper and Martin, followed by a block from Burns, Martin powered down the final kill to punch the Warriors' ticket to state.
"We knew what spots we could tip and what places were open on the court," Martin said. "Our momentum started to fall back a little bit in the middle of the third set, but we knew we didn't want a repeat of last year. We had to remind ourselves of what we were working for and what was on line in this game."
Adena advances to a Division III state semifinal at 2 p.m. on Friday at Wright State University against Independence, who defeated Orrville in straight sets to appear in its fifth straight state semifinal.
"We'll have to continue working on our blocking, and making sure our eyes are staying open," Smith said. "Sometimes when I look at pictures, the girls' eyes are closed and you can't block what you can't see. It's still comes down to working on fundamentals so we don't make those mistakes and are playing a clean game. We'll put together a game plan and see what happens."