SOSA Staff
CARROLL — It doesn't matter who it is. Line them up and South Webster will knock them down.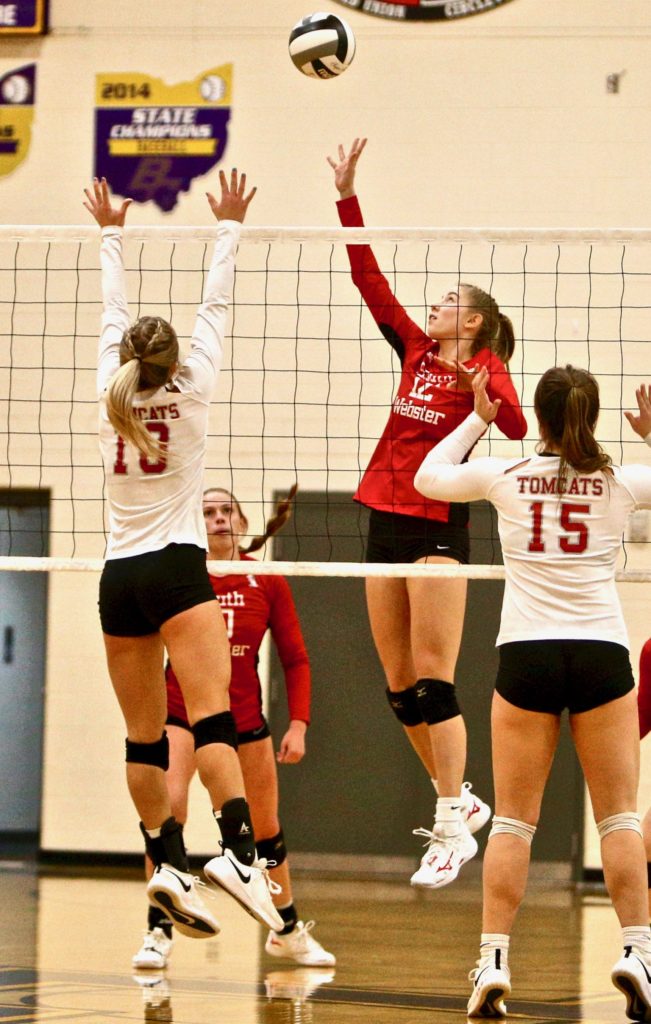 The Jeeps already handed Trimble a five-set loss earlier this season. And Thursday, they ended the Tomcats' season with a four-set win — 25-19, 25-19, 22-25 and 25-23 — in a Division IV regional semifinal at Bloom-Carroll High School.
"We've been on this stage for the past two years, but we just wanted to come out and show what we're capable of," South Webster's Bri Claxon said. "I didn't want this to be my last game. We have a goal of getting to state and that's what we're aiming for."
Ever since South Webster's loss to Adena way back on Aug. 27, the Jeeps (24-1) had lost just three sets coming into Thursday, two of which came to Trimble.
So the Jeeps understood they had a tough task ahead of them.
Trimble (23-3) started out with a 5-0 lead, and continued playing strong as the net defensively with a pair of blocks to help extend the lead to 11-5.
"For some reason we always start out a little slow, and there are times I have to pull myself back from unloading on them," South Webster coach Darcee Claxon said. "It happened the second time against Wheelersburg and against Paint Valley, but they always seem to find that rhythm and settle in. It comes down to just trusting what I've seen them do time and time again."

South Webster finally got its feet underneath it and charged back behind three kills and an ace from Bri Claxon, trimming the lead to 14-12.

That led to a 5-0 Jeep run with Skylar Zimmerman at the service line to give SW its first lead at 19-18.

That momentum shift carried throughout the rest of the set as they ended on a 6-1 run to close out the win.

In the second, the floor seemed to open up and the Jeeps found open spots.

Between kills from Faith Maloney, Bri and Bella Claxon, the Jeeps jumped ahead 9-1, leaving Trimble puzzled defensively. With confidence behind the Jeeps and a lack of communication on Trimble's side, SW's lead swelled to 18-7.
Trimble managed to mount a late rally and cut the lead to 24-19, but the Tomcats committed a net violation to give the Jeeps the point and the second set win.
"We've been here before, but now how do we get past this stage and show that grit and courage that I know we have," Darcee Claxon said. "You won't find a team that celebrates each other's success more than this group and I think that's the secret ingredient to our success."

With its season on life support, Trimble found a spark and lit a flame to jump ahead 7-4 before pushing its lead to 14-10 in the third.

South Webster closed the gap to 15-14, but Trimble countered back with four of the next five points to extend the lead to 19-15 — a lead that remained in tack for the remainder of the set.
"We went five sets with them the first time, so we knew how good of a team they were," South Webster's Bella Claxon said. "Although it wasn't the best game we played that day, we couldn't give them all momentum. We had to continue attacking."
Neither team budged an inch in the fourth as no lead was greater than two points throughout the first 28 serves. But the the score tied 14-14, a kill from Natalie Adkins, an ace from Graci Claxon and a violation by Trimble put South Webster ahead 17-14.

Trimble then battled to take a 21-20 lead, putting the Jeeps on their heels. But a net violation followed by a kill from Bri Claxon put the Jeeps back ahead a t22-21.

After a couple back-and-forth sequences, South Webster had match point with a 24-23 lead. A rally ensued and when the dust settled, it was Bella Claxon getting the kill in the front left corner, sending the South Webster fans into a frenzy.
"We knew those last few points we're going to be a straight dog fight, and we had to play with some grit," Bella Claxon said. "It just came down to keeping everything off the floor and playing the best we could for the final few points."

The Jeeps will return to action at 2 p.m., Saturday at Bloom-Carroll in a Division IV regional final against Newark Catholic.
The Green Wave bested the Jeeps on the same stage last season in four sets, which is something the Jeeps haven't forgotten.
"That loss simmered in our stomachs all summer long and it's all we've thought about," Bella Claxon said. "We wanted to make it back to this moment to have a second shot."