Derrick Webb, Staff Writer
LOGAN — Fairfield Union coach Casey Bischof pondered at a question of whether or not this year's group of Falcons was the best to ever put on a uniform after Tuesday's match.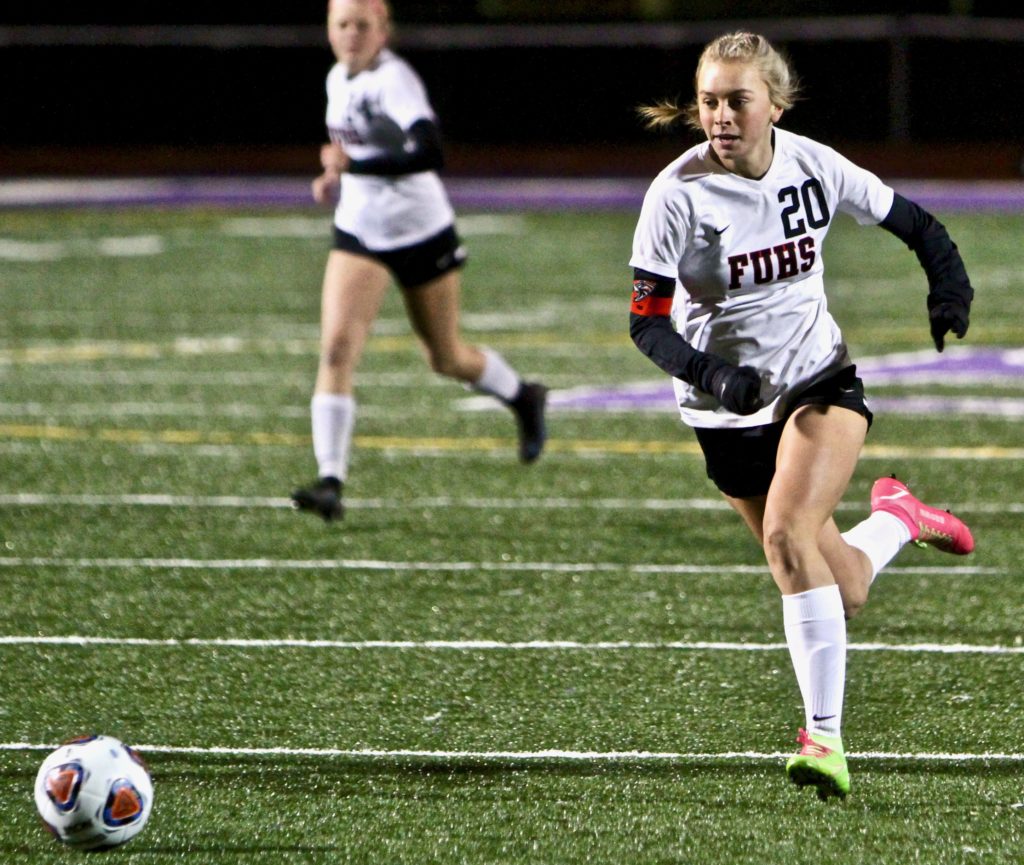 The moment of hesitation could've been because of the team's roller-coaster start, or maybe it was because of all the success his Falcons have had in past years.
But when he finally processed what had just happened and the magnitude it carried, he nodded his head yes, with a smile, and said, "I would probably say this is the greatest team in school history."
That statement followed a dominant 3-0 win over Dresden Tri-Valley in a Division II regional semifinal — the program's first-ever tournament victory and the team's 13th shutout this fall, a program record.
"I think this [team] feels different," Bischof said. "There were a couple of years where we knew at the beginning of the season that we were going to be here, at this level. But with the way we started the year, I would probably say this is the greatest team in terms of coming together, being a team and working together."
From start to finish, the Falcons (17-3-1) had their way with Tri-Valley. From ball possession to winning 50-50 balls to putting shots on goal, Fairfield Union won every battle.
And it didn't take long for District Player of the Year Caroline Brown to break a scoreless tie. Just over eight minutes into the first half, at the 31:56 mark, the senior scored her 22nd goal this season on a one-on-one breakaway.
That proved to be all the scoring the Falcons needed. But Grace Warthman wanted to purchase insurance.
Warthman gathered possession near the top of the box after a corner and proceeded to beat TV's keeper on the right side for her sixth goal this season. That score made it a 2-0 ballgame and produced the knockout blow with 17:32 left in the first half.
---
---
"It's just awesome," Bischof said. "We've been here a couple of times in the past and haven't been able to advance past this game. Tonight, we didn't really know what to expect. We came out, we played hard from the get-go and really dug in. After those two goals, it became a much closer fight. Tri-Valley is a great team. So it feels good to get this win."
From that point on, Fairfield Union relied on its defense, which has now pitched 12 shutouts in its last 14 matches. The Scotties (16-3-1) posted just three shots on goal all night, all of which Falcon keeper Isabell Neal gathered with ease.
Meanwhile, Fairfield Union tallied 11 shots on the night, nine of which were on target, and was awarded six corners.
The game's final goal came with under a minute left and belonged to Kylie McMahon, her fifth this season coming on a direct kick from near the top left side of the box.
Fairfield Union can now claim sectional and district titles, but it still won't be able to hang a conference championship banner — which, as Brown alluded to, may've been the best thing that's happened to this year's team.
The Falcons dropped a 3-1 decision to MSL rival Bloom-Carroll on Sept. 1. That's what kickstarted a sense of urgency in the Falcons' locker room.
"After that loss to Carroll, I think our team realized we have to play together," Brown said. "We got our starting lineup together, we started practicing and everything clicked. We finally started scoring and [since that loss], we're 14-0-1. It's been great."
Fairfield Union advances to its first-ever regional final match, where it'll meet Bexley (12-6-2) with a trip to the Final 4 on the line. Don't let those six losses fool you. The Lions have played top-tier competition all year long — the losses are to Bishop Hartley, Upper Arlington, Streetsboro, North Royalton, Hilliard Darby and Lexington.
That game is scheduled for Saturday with a time and location to be determined.
"The biggest thing with Bexley is that we've got to continue to make sure we stay organized," Bischof said. "I haven't seen much about them but I've heard they're big, they're physical, they're quick and they hold the ball. Anytime you get to the Central [District], you know you're going to have to kick up your game another notch. We're just going to have to dig in and be ready to work."