Derrick Webb, Staff Writer
KINNIKINNICK — 19 long years.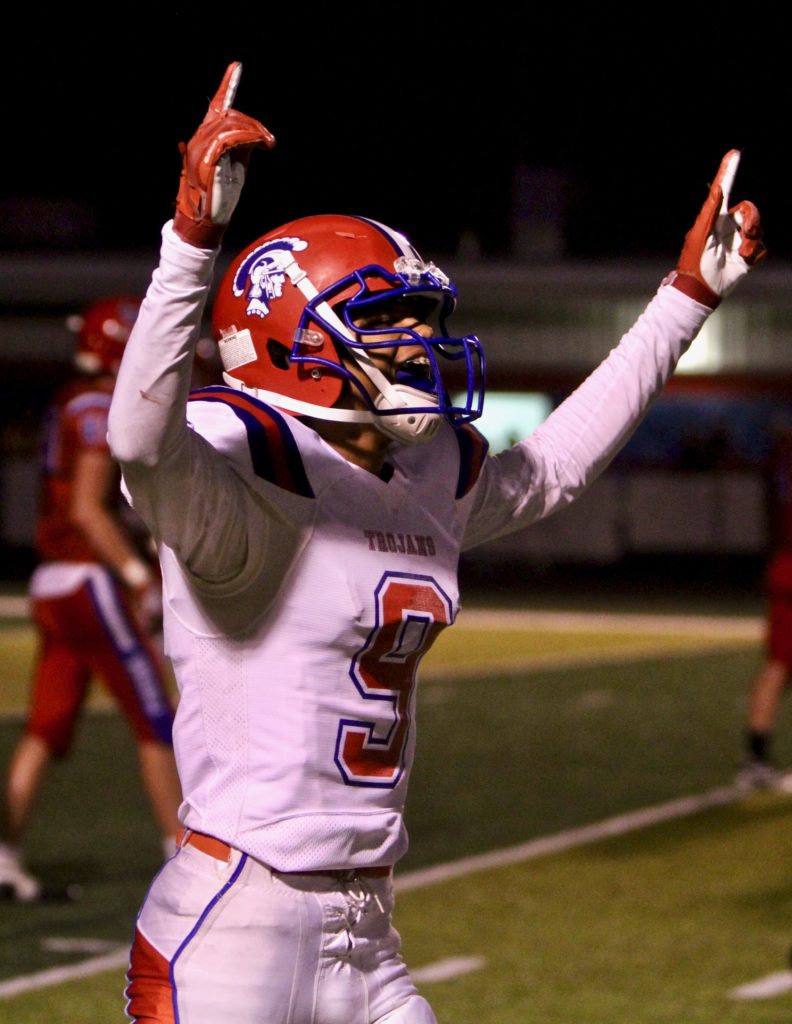 That's how Portsmouth coach Bruce Kalb summed up a streak that his team snapped on Saturday.
With an impressive display in all three phases of the game, Kalb's Trojans handed Zane Trace a 38-22 playoff loss on its home field — marking the first postseason win for the program since 2002.
"Words cannot ever do this justice," Kalb said of the win. "It's the culture that the seniors created when they stepped into the program four years ago. It's a culture that this senior class implemented into this program. Words cannot express how proud I am of what they've done for this program and how they've transformed it."
All year long, the senior quarterback has led the Trojans. That didn't change on saturday. The do-it-all signal caller perplexed ZT's defense with his ability to improvise on the fly.
After suffering a minor knee injury in a Week 10 loss to Ironton, Portsmouth wasn't sure how much he'd be capable of. And early in Saturday's second quarter, Roe was forced to the sideline after the same knee buckled.
But he'd make a return in the next series and played — through however much pain — the rest of the night.
"That's a young man that went down last week and we made a conscious decision to pull him out of that game," Kalb said of Roe."We hoped he was as close to 100 percent as he possibly could be. Tonight, he went out and had a moment where [his knee] buckled on him again. But he was like, 'Coach, I'm good to go.' We put our heads together and figured out what we could do to get Drew's best aspects with somewhat limited mobility. You couldn't tell. He did what he needed to do."
Portsmouth got on the board first after halting a Zane Trace drive with a blocked field goal. Following the block, Beau Hammond scooped up the loose ball and ran it back to the Pioneers' 3-yard line.
On the next play, with 6:40 left in the first quarter, Reade Pendleton cashed in the opportunity to make it 7-0.
Disaster struck again for Zane Trace on its next drive when Portsmouth's Alberto Poxes jumped on a fumble to give the Trojans the football at ZT's 34-yard line.
With 3:17 remaining in the first, Roe found Pendleton for an 11-yard TD pass to make it 14-0.
"When coach Kalb came back, it was our freshman year and we started to feel a change in the program," Roe said. "So being able to go out tonight and get a big win like this, on the road, to end the drought? It's just unexplainable."
Zane Trace was quick to answer when it finally found the end zone from 14 yards out, via Ben Nichols, to cap a lengthy drive and cut the deficit to 14-7.
---
---
After Portsmouth tacked on a 28-yard field goal to make it 17-7 with 8:52 left in the second, the Pioneers inched closer thanks to a one-yard touchdown run from Nichols — that's after ZT recovered a fumble on the previous drive, the same play that Roe's knee buckled.
But with Roe on the sideline, at the time it needed it most, special teams came to the forefront for Portsmouth.
After the Pioneers made it a three-point game, Portsmouth's Devon Lattimore fielded the ensuing kickoff, went left, then changed course to the right, and ran it 77 yards to the house for a 24-14 tally.
Then, with 3:16 to go, and on the very next play, Portsmouth's JT Williams recovered a forced fumble on the kickoff and returned it 40 yards for a score.
In 30 seconds, the Trojans had turned a 17-14 lead into a 31-14 advantage. The Pioneers never recovered.
"That's something that [Portsmouth special teams] coach [Gerald] Cadogan does a phenomenal job of … being prepared for what we need to do and having guys in the right positions," Kalb said. "We had some miscues but they did not let that deter them. Whether it was on the kickoff team or the kick return team, what a great job they did."
That 31-14 score last until halftime. The game's next score would come at the 4:49 mark in the third when ZT's Blake Phillips threw a halfback pass to Carter Hill for a four-yard touchdown, cutting the deficit to 31-22 — following a two-point conversion.
But Portsmouth's answer with 8:45 left in the game sealed the deal. Roe hit Dariyonne Bryant for a 35-yard touchdown strike, taking any wind left out of the Pioneers' sails.
The Trojans will now travel to a matchup with conference rival Ironton in Week 12, two weeks after they suffered a 36-9 loss to the Fighting Tigers.
They'll know exactly what they're up against.
"We know we have our work cut out for us," Kalb said. "But I know these kids. They're going to make sure they take the lessons they learned from the [Week 10] loss. Our coaches will put our heads together and make sure we get the right game plan together to give it all we have."