Tyler Hart, Contributor
WHEELERSBURG — If you need to take lessons on how to close out a match, make sure one of Wheelersburg's seniors is your teacher.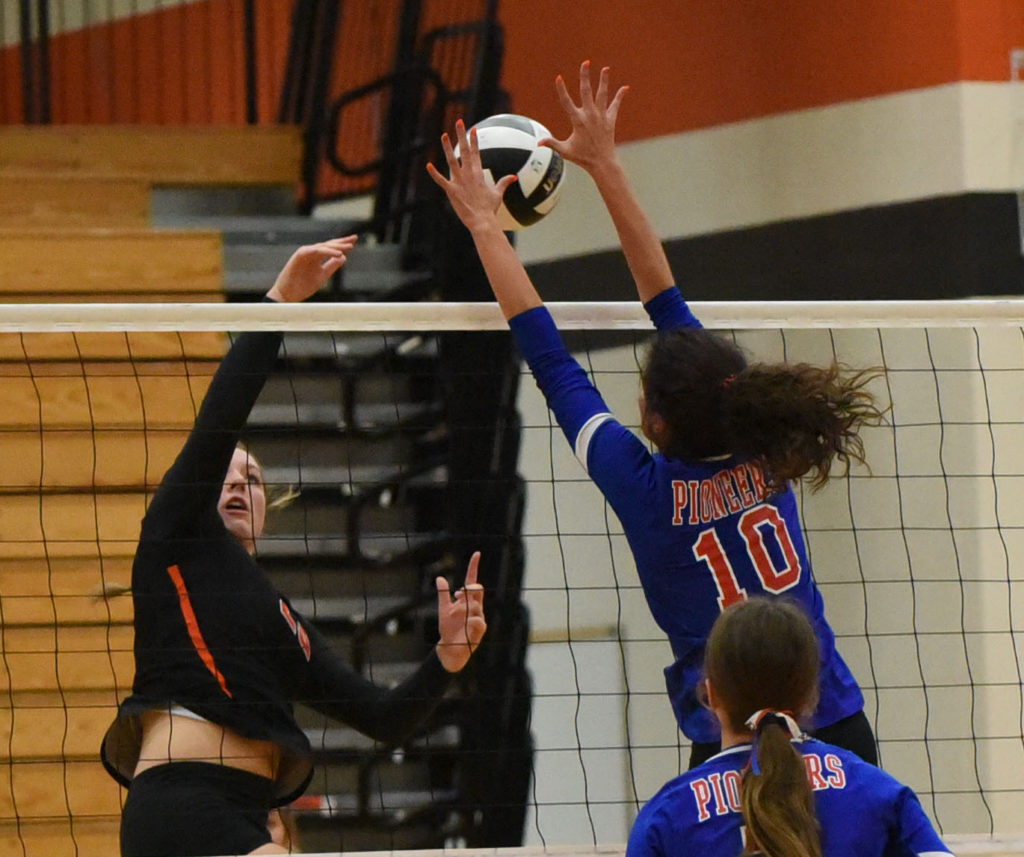 After taking a quick lead over Zane Trace in a Division III district final, the Pirates kept their foot on the gas before cruising to a 25-19, 25-16, 25-21 win over the Pioneers.
The win locks up Wheelersburg's fifth straight district title.
"We really just want to do this for the seniors," Wheelersburg libero Kiera Kennard said. "They do a great job of keeping us motivated and not letting us get distracted."
The Pirates (21-3) were laser-focused from the start of Saturday's match.
But throughout the game, a strong effort from senior Ryleigh Meeker was pivotal. She was force throughout and gave the Pioneers' defense fits.
"I know being a middle hitter, I have to be very mobile and be everywhere," Meeker said. "I just have to really pay attention and try to listen to how they are talking."
With Meeker leading the way, Wheelersburg took a 7-2 lead in the first set. Zane Trace (18-6) marched back following a timeout, going on a 5-0 run to force a 7-7 tie. The Pioneers then took their first lead at 11-9 but surrendered their advantage back after an 8-1 run for 'Burg.
That was enough momentum to help the Pirates seal a 25-19 win and take a 1-0 lead.
The second saw more of the same.
Zane Trace (18-6) trailed 9-2 before calling a timeout. The Pioneers then bounced back but could never erase the early deficit. Wheelersburg's Catie Boggs led the way, packing a punch and doing damage from the service line. Behind Boggs, the Pirates took a 2-0 lead with a 25-16 victory.
---
---
"She hits the ball hard. She's had a great season and she is really picking it up in the playoffs," Wheelersburg coach Allen Perry said. "She's hungry for it and just really hammering the ball."
The third set highlighted ZT's never-say-die attitude.
The Pioneers found themselves with a small advantage but Wheelersburg kept that to a minimum. After trailing 10-6 and 14-10, the Pirates signalled for a timeout.
That's when Meeker and Boggs started to come alive. Behind those two hot hands, Wheelersburg seized a late 20-19 lead. The Pirates then out-rowed the Pioneers to the finish, finishing on a 5-2 run to take the match with a 25-21 win.
"I told them before the set that Zane Trace will do everything in finding holes and using different tactics," Perry said. "That is what good coaches and good teams do. I told our girls to weather the storm. It was important to break the momentum and calm our girls down."
A big match-ending block by Wheelersburg's Makenna Walker and Meeker secured the district title.
"We just keep working hard in practice, pull some things together and then we will pick apart the film to see what we need to work on," Kennard said. "We are right where we were last year, and we get to pick up where we left off."
Wheelersburg will now meet with Westfall in a Division III regional semifinal at Logan High School. That game is scheduled for Thursday with a start time that follows a match between Adena and Fort Frye — which starts at 6 p.m.
"It's like a new life. We have to play every point like it's the last," Boggs said. "That's how we keep going."