Tyler Hart, Contributor
AMANDA — After losing on their home turf on Senior Night last week, Amanda-Clearcreek was hungry to play one last time at "The Pit."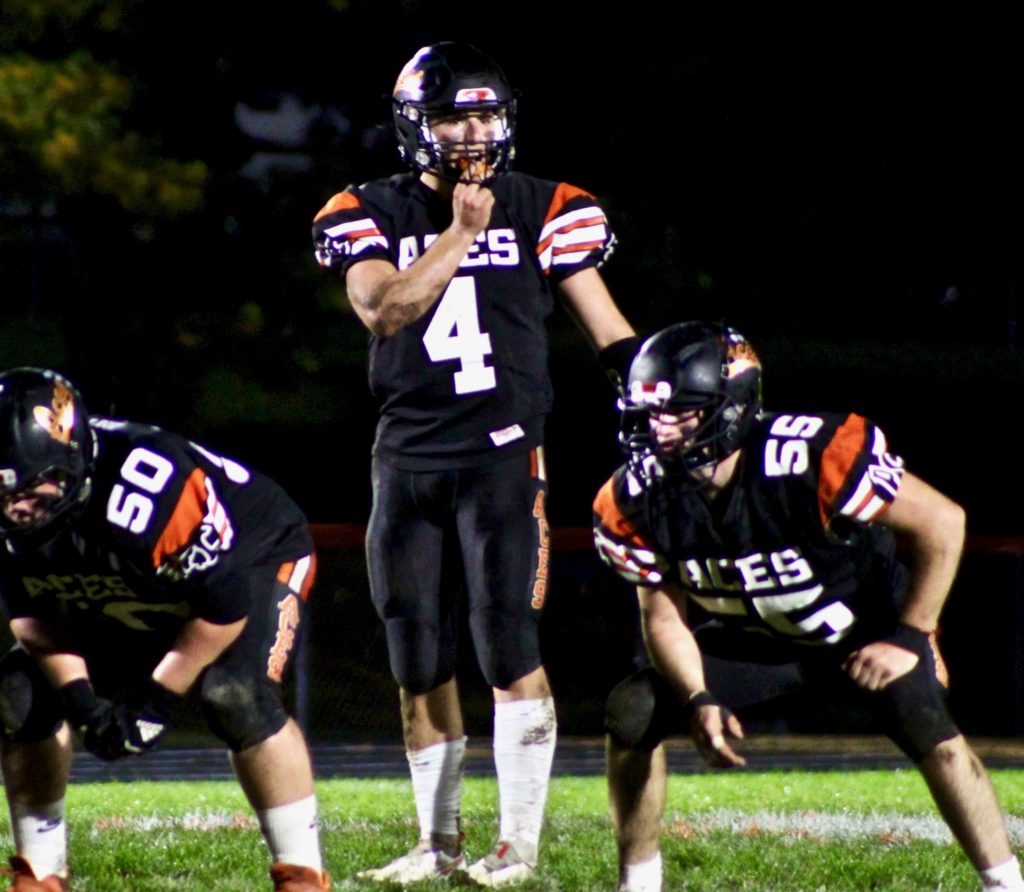 The Aces, who welcomed in Minford in an opening round playoff game on Saturday, used a strong running game and a stout defense to blow past the Falcons in a 31-6 win.
"Our run game is something we haven't been great at all year, but we executed all night," Aces quarterback Nate Hunter said. "The guys did a great job up front and it was just some physical football."
Amanda's Hunter Matheny led the rushing attack — one that totaled 156 yards on the night — with 54 yards on 11 carries and two first half touchdowns that set the tone.
Meanwhile, the Aces (7-4) were able to force Minford (6-4) to turn the ball over early and often. The Falcons ended their first offensive series with a Jeffrey Pica fumble that was swept up by Amanda's Grant Guiler.
"The turnover at the start immediately gave us the momentum," Hunter said. "We knew we had a chance to go down and change the game. Get them down a little bit."
With 8:37 left in the first quarter, the Aces took advantage of their counterpart's mistake when Matheny dropped his shoulder and plowed his way into the end zone. The running back's first score of the night gave Amanda an early 7-0 edge, following Jonny Weaver's extra point.
Amanda's offensive success continued throughout the next two series as Matheny broke the plane on a three-yard rush — capping a 14-play, 69-yard drive — for his second touchdown of the night with 11:55 left in the second.
After forcing a punt, Hunter ended a scoring drive with an 11-yard touchdown scramble that gave the Aces a 21-0 lead with 5:18 left in the first half.
"We had to come back from that game and take care of our details," Amanda coach Steve Daulton said. "Our seniors were intense, and they knew we were better than what we showed at Fairfield Union. It showed tonight."
While the offense basked in the limelight for much of the entirety of the first two quarters, Daulton's defensive unit took center stage in the late stages of the first half.
The Aces' defense got a sack — via Matheny — to force Minford into a passing situation before Tayvon Miller picked off a pass at his own 11-yard line. Then, after Amanda was forced to punt, Amanda's Grant Guiler picked off a pass of his own.
Guiler trailed his covered wide receiver perfectly and had the ball fall into his hands on the run.
That turnover led to points when Weaver closed the book on the first half with a 39-yard field goal to make it a 24-0 ballgame at halftime.
"It was great. I just saw the clock winding down and coach said, 'Field goal team, get ready.' I just knew that it was the last game on this home field," Weaver said. "I went out there and did my job in putting it through the uprights. It was the best kick I had all season but I couldn't do it without my snapper, Tayvon [Miller], and my holder [Nate]."
The ground game for Amanda continued to display its dominance with Hunter and Matheny spearheading the attack.
Hunter punched in his second rushing touchdown with 8:31 left in the third. On a 3rd and goal play, the senior took a quarterback keeper into the end zone from two yards out, putting his team ahead 31-0.
Amanda's defense nearly pitched a shutout but Minford's only highlight of the night came when Devin Parker found Trent Zimmerman on a 15-yard crossing route for a score late.
Still, Amanda's defense showed its strength, holding the Falcons to just 85 rushing yards on the night while tallying three interceptions.
"We knew that they were going to come out and pass the ball," defensive back Peyton Cassley said, who had an interception of his own late in the game. "From day one, on Monday, we have been studying it and watching for it."
Matheny's night on the ground was coupled with Hunter's strong showing. The Aces' signal caller racked up 81 yards and his pair of scores on 12 carries while going 8-of-23 passing for 156 yards.
Amanda advances to Week 12 where the Aces will travel to Harvest Prep — a 54-7 winner over Northwest on Saturday. To get past the Warriors, the Aces know they simply have to control what they can control.
It's as simple as that.
"We are going to face a great opponent," Hunter said. "No matter who it is, we just have to execute like we did tonight."