SOSA Staff
WAVERLY — Though one streak ended this season for Lynchburg-Clay, one streak continued on Thursday.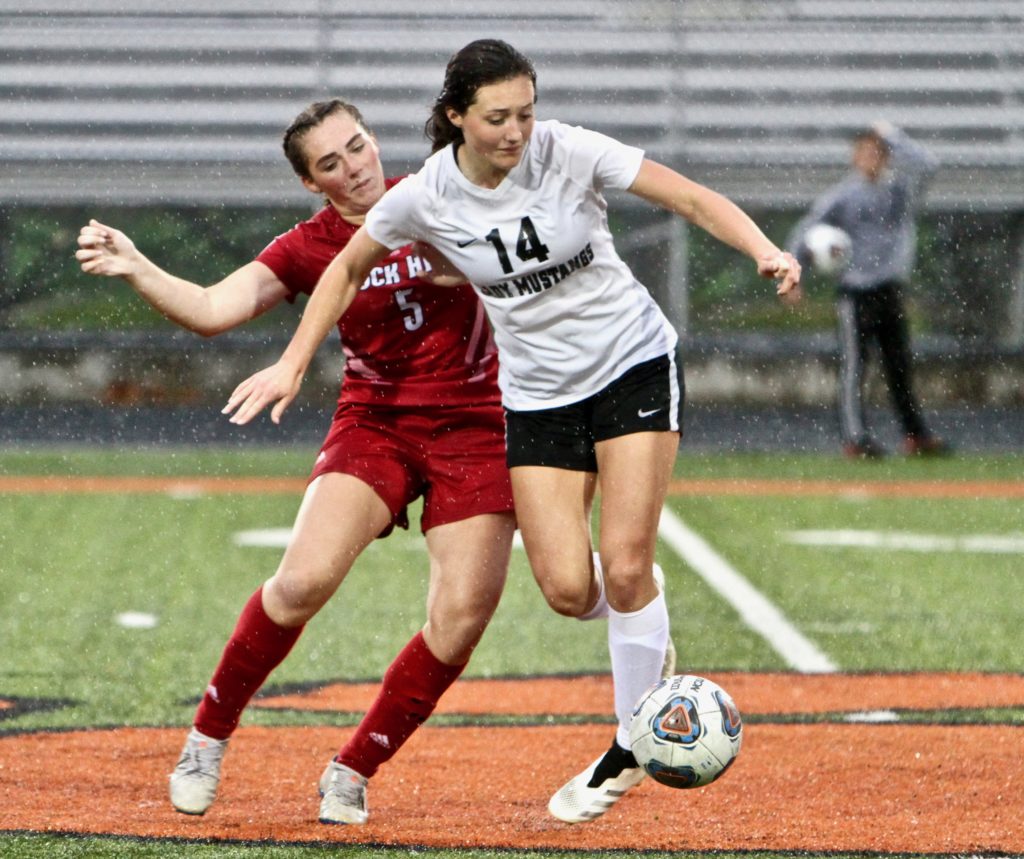 The Mustangs overwhelmed Rock Hill in every facet of the game, and relied on their experience, which propelled them to a 3-0 victory over the Redmen — marking their third straight district championship.
"We knew this was going to be a tough game, considering Rock Hill was the number one seed," Lynchburg-Clay senior Natasha Davidson said. "They had three really strong forwards that we had to look out for and we did. I felt like we shut them down defensively really well and attacked every time their goalie came out."
Lynchburg-Clay came in as a No. 5 seed after finishing the regular season with seven ties this fall. The Mustangs also failed to win at least a share of the Southern Hills Athletic Conference title for the first time in 10 years. So it's fair to say there were some concerns surrounding the Mustangs.
However, they answered any and all questions about a potential drop-off in tournament play.
"We only lost two games [Unioto and Western Brown], and they were quality opponents. So it's not like we were playing bad teams by any stretch," Lynchburg-Clay coach Dennis West said. "Yes we've struggled all year putting some things together, but over the past six or seven games, we've really been playing some good soccer.
"I've been preaching for the last 7-8 years that teams in the Southeast District need to play teams outside of the district. Otherwise you get to this game and you have no clue what you're facing. Then you play in a regional, and have less of a clue of what you're facing. Your league is your league, but your non-conference schedule is what helps you win these types of games."
Lynchburg-Clay (10-2-7) possessed the ball for much of Thursday's match, but spent the first 10 minutes figuring out how to attack Rock Hill's defense.
And once it the lightbulb came on, the Mustangs had plenty of chances to strike.
With the ball at Raelynn Ruble's feet, the talented center-mid found Jade Massey in the box and the sophomore did the rest by finding the bottom right corner of the net to put Lynchburg-Clay up 1-0 with 24:32 left in the first half.
All that goal did was provide more of a fire for the Mustangs.
Their passing was fluid, their timing was precise and, defensively, they never let Rock Hill (15-2-2) maintain possession for longer than three passes.
---
---
"We really kept our calm and didn't come into this one super cocky like we have before in previous games," Lynchburg-Clay's Karlie Tipton said. "Our passing was very good and we made sure to know where [Rock Hill's Bri Reynolds and Cigi Pancake] were at all times on the field."
The Mustangs continued attacking, though Rock Hill goalie Aleigha Matney was tough to get past. But Matney's aggressiveness in the box also cost her due to the wet conditions.
Massey outraced a Redmen defender to the ball before turning and crossing it into the box, only for it to find Matney's arms.
However, Matney couldn't quite corral the ball and it bounced out of her hands directly to LC's Miranda Smith, who used her body to push it past the line for a goal and a 2-0 Mustang lead at halftime.
"We probably could have had three more goals in the first half, but we were just one step off," West said. "It wasn't the usual type of success we've had on this field, but we continued getting after it."
Though it wasn't completely out of the game, desperation was settling in for Rock Hill. The Redmen applied some pressure early in the second half but nothing came of it.
Meanwhile, the Mustangs provided the knockout blow.
After LC goalie Philamena Toca picked up a loose ball, she booted it down the field. But the punt didn't immediately find feet. Instead, it took a high bounce and kept rolling towards Rock Hill's goal.
The foot race was on between a pair of Redmen defenders and Tipton. The junior forward had no problems turning on the jets before beating the goalie at the top of the box and finding a wide open score to produce the night's final.
"Our defense played absolutely incredible all night," West said. "This is definitely one of the better games we've played. Rock Hill only had a couple of chances, but even then, it never really felt like we were in any real danger. I'm just so proud of this team for how we battled, not just this game, but all season."
Lynchburg-Clay advances to a Division III regional semifinal on Tuesday where it'll meet with the winner of Grandview Heights and Milford Center Fairbanks — a matchup that takes place on Saturday.
The Mustangs are familiar with Grandview Heights as the two teams tied 1-1 in their season opener back on Aug. 21.
But no matter who it is, the Mustangs have figured things out and are ready for another moment in the spotlight.
"We've figured things out offensively and defensively," Davidson said. "That was something we struggled with throughout the season. We just have to play together as a team."