John Bruce, Contributor
KINNIKINNICK — To advance to a fourth consecutive district final, the Zane Trace Pioneers would need to avoid a letdown against the visiting Fairland Dragons.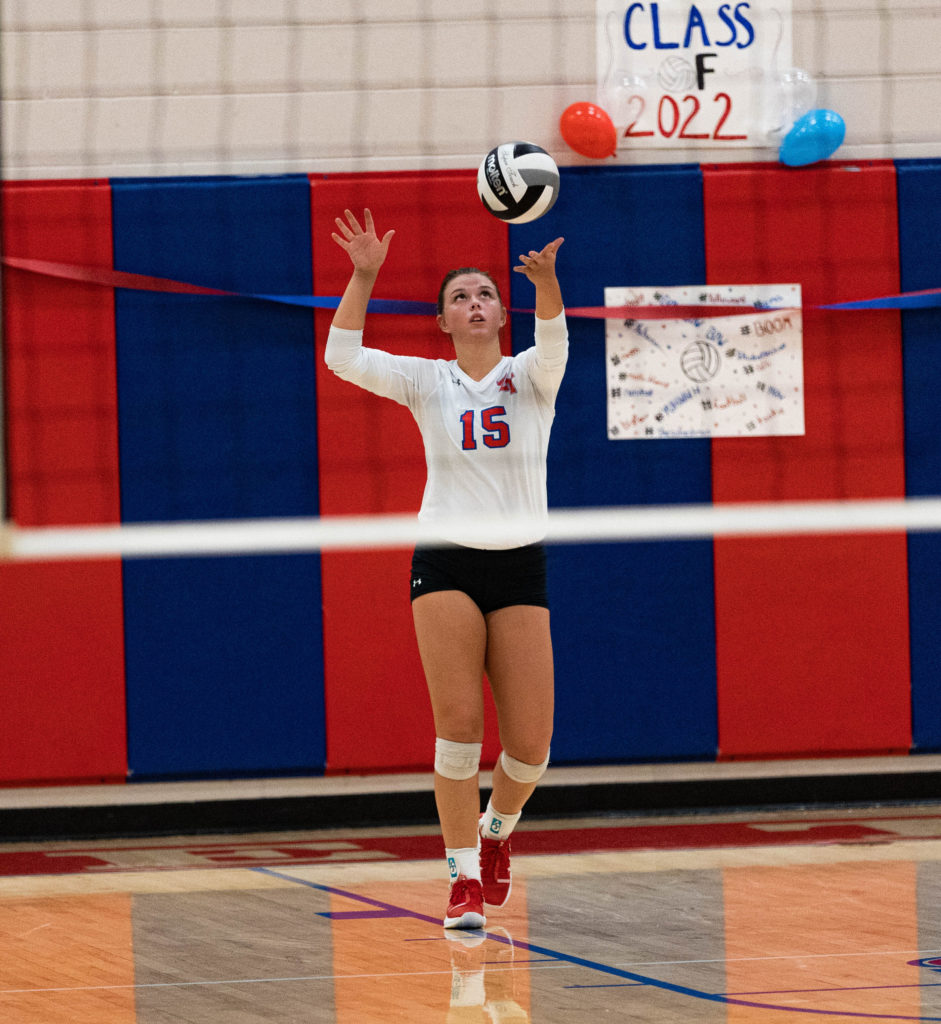 Not only did they avoid a letdown, but they handed out a decisive beatdown in preparation for Saturday's rematch with Wheelersburg. 
Behind the awesome service of Kinley May, the Pioneers stormed out to a quick 5-0 lead in the first set. That lead would be extended to 12-3 following repeated kills from Alexis Farley and District 14 co-Player of the Year Lexi Scott. 
Emily Allen and Gracey McCullough each took turns with big swings and defense took center stage to push the Pioneers to a quick 25-7 first set victory. The highlight of the entire set was a full lay-out pancake dig by senior Kirsten O'Neill that eventually led to a Farley kill. 
Fairland (13-8) refused to roll over in the second, even after trailing 5-0 to start the set. May, who had a game-high 6 aces, dealt out back-to-back aces to push the Pioneers to that advantage. The Dragons bounced back to eventually cut the lead to 16-13, including junior Kalei Ngumire's 1,000th career assist.
But that would be the closest the Dragons would get the rest of the night, with the Pioneers taking nine of the final 14 points of the set to take a commanding 2-0 lead. 
To begin the third, May once again toed the service line, this time serving out three consecutive aces to virtually end the match at that point. The Pioneers coasted to a 25-10 victory in the set and earned themselves another chance to knock off Wheelersburg.
Wheelersburg dominated Alexander in three quick sets to set up what is sure to be an epic district championship match. The Pirates (20-3) defeated Zane Trace in five sets on Oct. 9, a match that was decided by only two points in the fifth and final set. 
Alexis Farley led the Pioneers with 15 kills on Tuesday, while Lexi Scott was also in double figures with 11. Kinley May passed out 19 assists and Delaney Berry dealed out 18 of her own. Bryn Viney and Gracey McCullough combined for 30 digs, and Emily Allen did a little bit of everything with 8 kills, 3 blocks, and eight digs of her own. 
The win moves the Pioneers to 19-5 on the season. Zane Trace will be playing in its sixth district title game since the last time they were victorious in one, which was in 2012.