SOSA Staff
HUNTINGTON — It may take a couple sets to find it, but once Huntington hits that second gear, few teams can keep pace.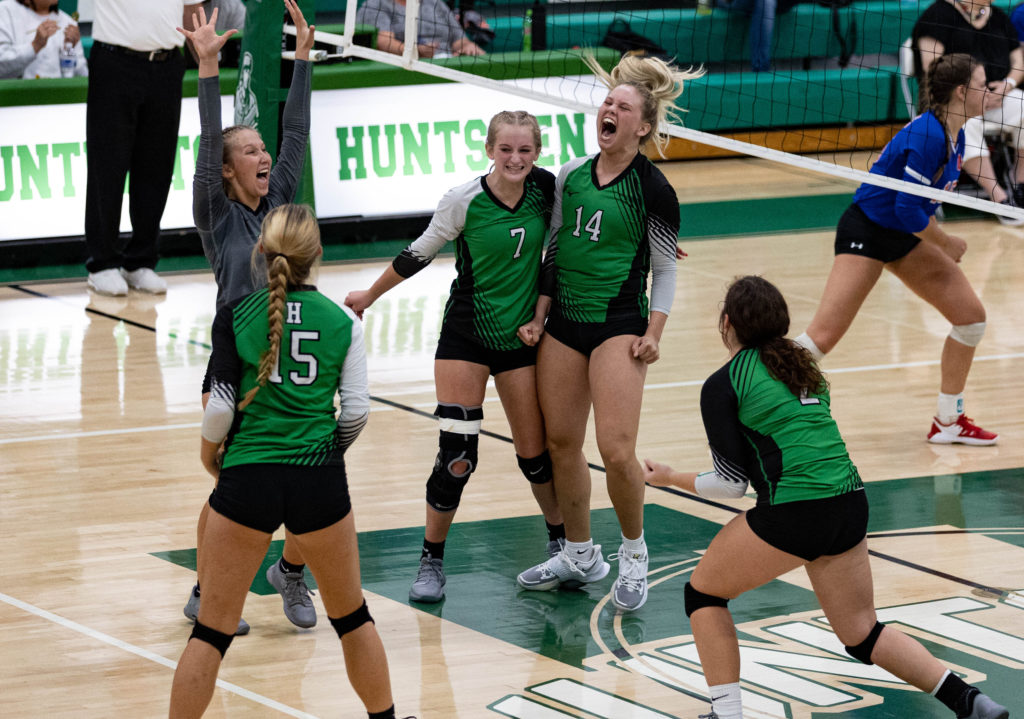 The Huntsmen (18-6) hit that gear in the third set on Wednesday and never looked back as they took home a four-set victory over Portsmouth West — 25-21, 18-25, 25-10 and 25-14 — in a Division III district semifinal.
"For us having four senior starters in our final home game, I think it helped push us a little bit," Huntington senior Carly Dyer said. "We didn't want our season to end, much less our Huntington volleyball careers to end on our home court. We want to go as far as we possibly can."
After a series of ties to open up the first set, Huntington took a 12-10 lead following a kill from Allison Basye. Then a pair of kills from Emma Hinshaw helped the Huntsmen to their biggest lead of the set at 15-12.
Yet, West (11-9) continued to hang around thanks to the play of Maelynn Howell and Kate Rollins as the duo kept the Senators within striking distance and later tied the game at 17-17.
But a pair of kills from Megan Steele, one from Dyer and one more from Hinshaw, sealed the deal for an opening set win.
"Without Emma at the net, I'm not sure we would have won that first set. She played an unbelievable game all night," Huntington coach Tina Magill said. "She saw the floor really well, found the open holes and continued attacking. She had a career high in kills and I couldn't be more proud of her."
Huntington has admitted that sometimes it struggles with the second set, and this night was no different. West jumped ahead to a 7-3 lead thanks to four straight service points from Abby Adkins.
The Huntsmen stormed back to tie the game at 11-11 following a kill from Dyer and an ace from Harmony Henneberger. But Howell struck back with a kill to put the Senators back ahead.
West then ripped off a 6-1 run behind some hitting errors to push their lead to 18-12 before Howell, Emily Moore and Haley Coleman all piled on kills to help win the set and tie the match at 1-1.
"I think there's times where our energy is so high that we just crash somehow," Dyer said. "Our heads get a little too big and then the crash happens. So then we have to figure out how to get the energy back up."
And figure it out Huntington did.
Behind Basye, Steele and several errors by the Senators, the Huntsmen held leads of 4-0, 10-3, 15-4 and even 20-4 at one point in the third. Complete domination throughout the whole set. The passing was back on point and the energy was at high level again as they closed out the third set to take a 2-1 lead.
Momentum carried into the fourth as Huntington controlled an early 7-3 lead before an ace from Steele elevated the score to 11-6.
The Senators scored the next two points, but that was the closest they got for the rest of the night. Using a heavy dose of Basye — the senior ripped five kills as part of a 9-2 run that raised the Senators' deficit to double digits before the final nail was officially driven in — Huntington put the finishing touches on a district semifinal win.
"We definitely eliminated some of our errors. We missed a lot of serves in the second set and I think that was part of the reason we crashed," Steele said. "There were a lot of things we planned for during practice and we were prepared. We just had to cut down on our mistakes."
Huntington is back in action at 5 p.m., Saturday in a Division III district final at Waverly against Westfall.
The Huntsmen and Mustangs met two years ago in a district final with Huntington winning. They split this season's series, so Steele says it's anyone's game.
"The first thing is definitely stopping [Marissa] Mullins, that's for sure," Steele said. "But we have to keep our energy up because it's anyone's game. It just comes down to who wants it more."