Derrick Webb, Staff Writer
PIKETON — Caroline Brown remembers the last time that Fairfield Union won a district title.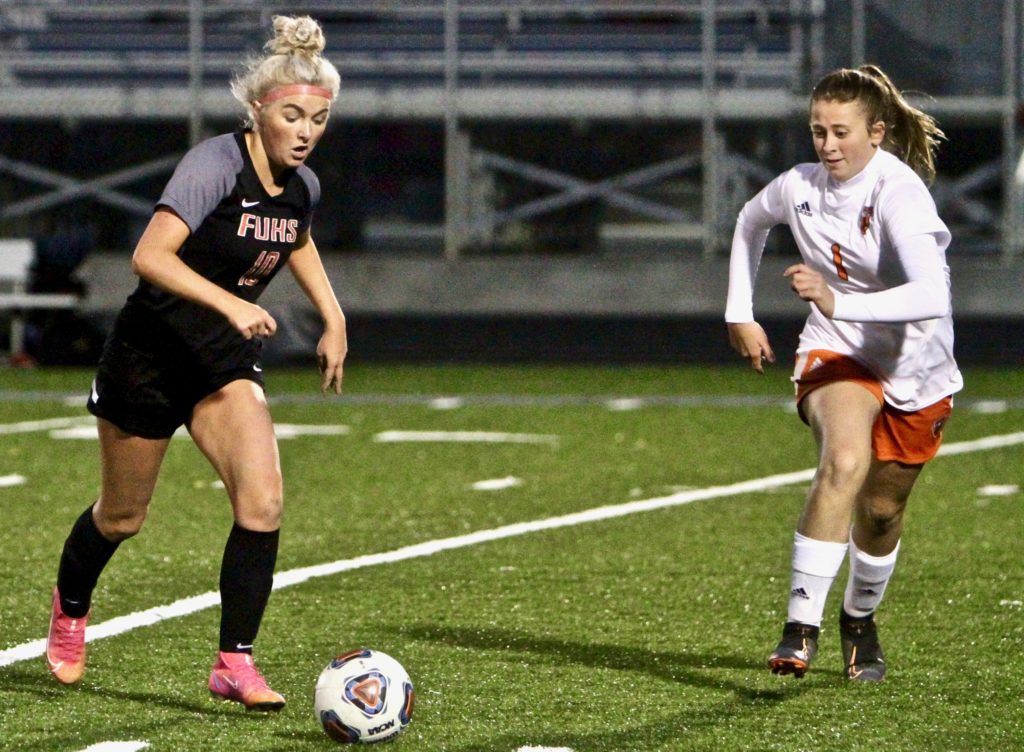 She was a sophomore on the Falcons' 2019 district championship team and, admittedly, didn't understand the magnitude of that moment.
So when her Falcons hoisted up another district championship trophy on Tuesday, she made sure to take a minute to soak in everything that was going on around her.
"I didn't know how big of a deal it was," Brown said. "Now that I'm a senior, I'm like 'This is such a big deal.' After losing our MSL title, this one was so important to get. I'm just so glad that we got it."
Brown scored the only goal of a Division II district final against Marietta, lifting her Falcons (16-3-1) to a 1-0 victory at Piketon High School. It was the senior's team-leading 21st goal this fall and it couldn't have happened at a better time.
Defense ruled the night and a physical style of play accompanied that fact. But freshman Rachael Warthman cracked that conundrum late in the second half.
With just under 12 minutes left on the board, Warthman outraced a defender to a loose ball, gaining possession near her own bench. She then found a streaking Brown in the middle of the field, who took matters into her own hands.
"We found [Warthman] through and Rachael broke down the sideline at that point, and me and the entire bench were chasing her," Fairfield Union coach Casey Bischof said, with a smile. "She took it to the middle and we know that if Rachael is going in on goal, she has the option to go one-on-one. But [the pass] came off and Caroline, who's always in a great position, shot it. It's becoming more familiar for those two."
Warthman and Brown also connected for the game-winning goal in the Falcons' 2-1 sectional final win over Athens.
But this one meant a bit more.
---
---
The score came with 11:40 left in regulation and from there, Fairfield Union's defense — which has been spectacular through the second half of the season — went back to work.
The Falcons stymied any scoring chance that Marietta (14-5-2) could muster before pounding down their 12th shutout this season — and the 11th in the past 13 matches.
"We knew it was going to be a dogfight with Marietta. They're big and they're physical," Bischof said. "The first time we played them, we were caught unaware. They put five [goals] on us. It was one of those things where, defensively, we knew we had to talk and we knew we had to grind. [Marietta] is so good offensively and they can score from anywhere. So we wanted to be able to work together, communicate and do both of those things for 80 minutes."
If you recall, the Falcons started this season at 3-3 with losses to Canal Winchester, Marietta and Bloom-Carroll. Since the loss to Bloom-Carroll on Sept. 1, they've gone 13-0-1.
"I'm so, so proud of these girls," Bischof said. "When we started off this year, it was a bit rough. We couldn't keep the ball out of our own net. But they just kept believing and kept working. Tonight, for 80 minutes, they worked for every ball and worked together. We have nine seniors and just to see them have this moment, it's amazing."
Fairfield Union advances to a Division II regional semifinal on Tuesday. That match will be against either Tri-Valley or West Muskingum at a site to be determined.
But it doesn't matter who's in front of them. The recipe for a win is the same as always.
"We'll take a rest day tomorrow and then get back together on Friday," Bischof said. "The biggest thing is making sure that we're starting to work the ball to feet. When you get to this level, you sometimes see girls start to panic or go long with balls. So it's just about relaxing, finding feet and keeping it simple. We need to do the things that got us to this point."