Derrick Webb, Staff Writer
LEESBURG — If you're still reading the Cinderella story that Peebles is authoring, turn the page. The Indians are still adding content.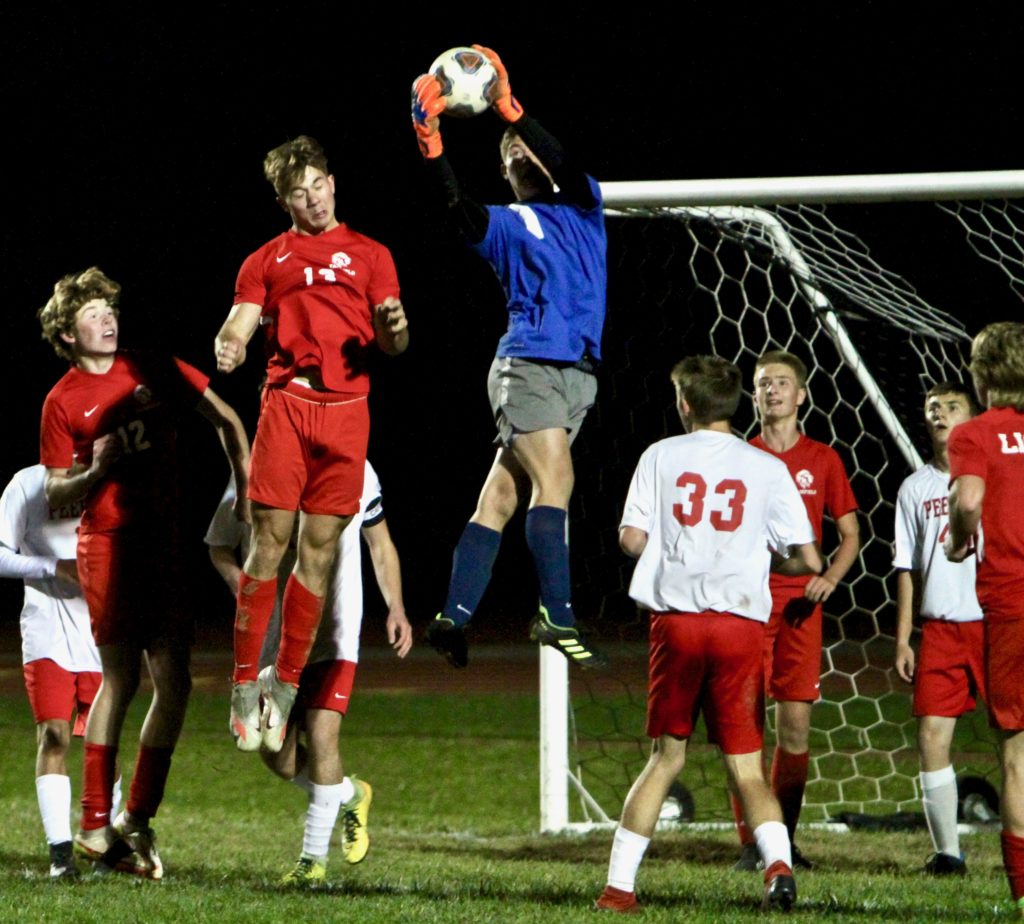 After knocking off No. 4 seed Lynchburg-Clay in a sectional title game last week, Peebles continued its revenge tour on Tuesday with a trip to Fairfield for a Division III district semifinal.
And mirroring their win over the Mustangs, the No. 13 seeded Indians handed the Lions a 1-0 loss to advance — avenging a 7-2 loss earlier this season while marking the team's fourth consecutive shutout and its first trip to a district final since 2012.
"The result earlier in the year didn't do us much justice," Peebles coach Stone Crothers said. "We were missing our keeper, who had one heck of a game tonight, and [the boys] just wanted revenge. I was really glad that Fairfield won, so we could play them again. We had some unfinished business."
The Indians (11-5-2) put constant pressure on Fairfield's defense to start. That aggressive style of play paid off with 25:10 left in the first half when Evan Day connected with the back of the net.
And that was all she wrote in the scoring department for either team.
Following Day's strike, Peebles sat back and played excellent defense all night long. Led by stoppers Brayden Davis and Dallas Wilkinson, right backs Hayden Browning and Trenten Woodruff, and left back Waylen Lloyd, the Indians' kept Fairfield at bay all evening.
"After we scored that goal, everyone was like, 'OK, we're going back and [focusing on defense].' That was fine with me," Crothers said. "It ended up working. Overall, defensively, that's where we've improved the most. Last year, we gave up probably 60, 70 or 80 goals. This year, we're still at 29. I can't thank the defense enough. We've switched some stuff up and they've just gelled really well."
---
---
Speaking of defense, Peebles goalkeeper Zane Porter was outstanding all night long. Porter, who's now pitched eight shutouts this season and five in his last six games, made hard-nosed saves look like child's play.
The junior, who ended the night with seven saves, made three crucial stops in the last 15 minutes to keep Fairfield (11-4-2) off the board.
"It's a big win. I felt bad for my team about the last loss [to Fairfield]. I wasn't there for my team," Porter said. "They still went out and performed without me and played their hearts out. But today, I told them I was there for them. Just what a win, man."
If you recall, Peebles' season didn't start well. In fact, through six games, the Indians were 2-4. But since a 2-1 loss to Felicity Franklin way back on Sept. 17, they've turned things around.
"We had a very inconsistent start to the season," Crothers said. "We lost a really bad game to Felicity and we just couldn't finish. The next day, I had my three forwards up top on a Sunday for about two or three hours, and we just did shooting drills. After that, everything started falling. Everyone was with each other. This team is that, a team. I think it's a little more. Everyone loves being with each other, we have chemistry … it's just been absolutely amazing to watch."
While Fairfield's season comes to an end, Peebles will match up with top-seeded Minford — a 2-0 winner over South Webster on Tuesday — in a Division III district final at noon, Saturday at Waverly.
The Falcons will enter that matchup at 17-1 — their only loss coming to Division II Athens.
Peebles will undoubtedly come into that game as the underdog. But they're more than used to playing that role by now. The Indians are playing with house money.
"It's just been upset city this year," Crothers said. "Four seed, five seed, one seed, these guys can play with anyone I think. We just have to prepare the right way and just go into it without any fear. There's no pressure on us. It's always pressure on the other team. You can see that. None of these guys have been to that level. So I'm just super proud of them."