Derrick Webb, Staff Writer
PORTSMOUTH — Paint Valley junior Averi McFadden doesn't have fond memories at Notre Dame High School.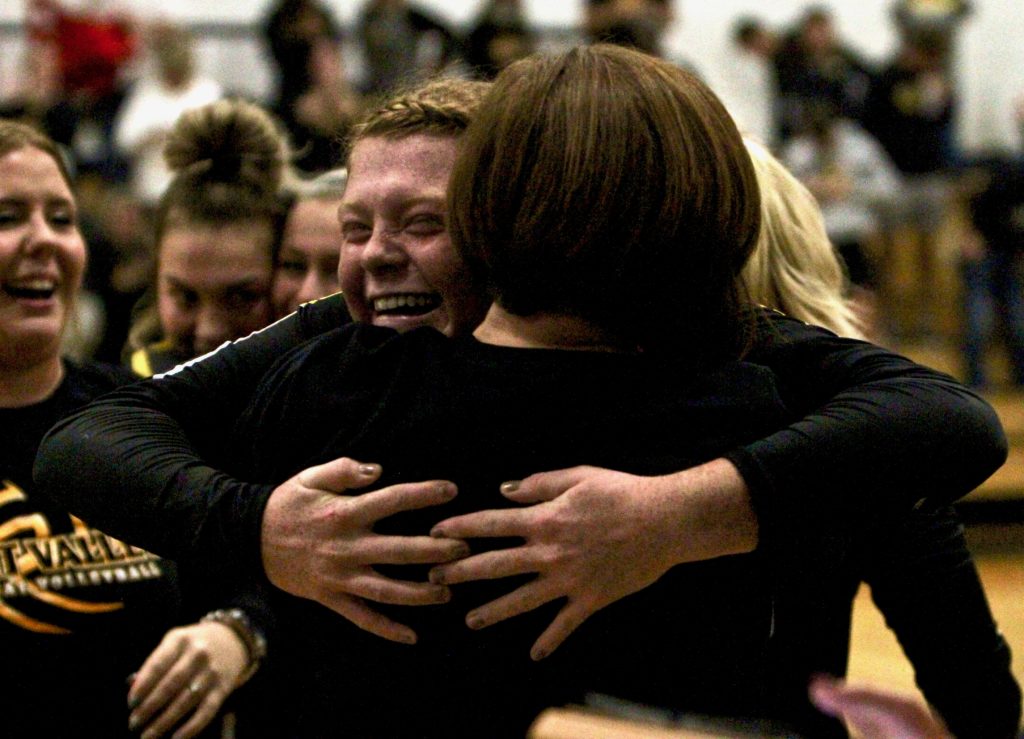 In fact, you could say that about the Bearcats' entire roster.
That's because the Titans have ended Paint Valley's tournament runs in each of the past five seasons, and they've done so in dominant fashion — 3-0 wins in 2015, 2016, 2017 and 2019, a four-set win in 2020 and another sweep sandwiched between in a district final in 2018.
So when the Bearcats gave Notre Dame a taste of its own medicine on Monday, the ear-to-ear smile that McFadden wore — and the postgame celebration — didn't need to be explained.
The monkey has finally found another back to perch on after Paint Valley took home a 25-21, 25-23, 25-18 victory.
"We knew we had to start out on top. This gym has always been loud and it seems like everytime we're in this gym, we lose. We wanted to break that streak," McFadden said. "Tonight, we were playing for our siblings and [all of our past teammates]. We won this game for them."
Coming into the match, McFadden needed 18 digs to reach 1,000 in her career. She ended the night with exactly 18 and celebrated the accomplishment with her teammates afterwards.
"When I saw my sister [Lea] get her 1,000th dig, I wanted to be like her and follow in her footsteps," McFadden said. "It's a goal I set in my freshman year. Getting it my junior year and being able to continue that through my senior year, it's just a big milestone for me."
While McFadden unknowingly chased that milestone, her Bearcats (12-12) spent their time frustrating Notre Dame from the service line.
In total, Paint Valley tallied 14 aces on the evening.
---
---
"We wanted to be aggressive at the service line. It's something we've been working on," Paint Valley coach Kristin Posey said. "I thought we did a good job of that tonight. We came in with that game plan and the girls did well."
McFadden paired with Abbi Stanforth and Olivia Smith to aid Paint Valley to an 8-2 lead to start out the first set. With four aces from McFadden and Stanforth and two kills from Smith, the Titans (14-8) had dug a hole to crawl out of before they could blink.
That 8-2 advantage swelled to 16-9 and 23-12 before Brianne Hicks made a run of her own from the service line. The freshman, with help from teammates Gwen Sparks and Annie Dettwiller, navigated her Titans back into the game by spearheading a 9-0 run, cutting the deficit to 23-21.
But two errors — a hitting error before a service error — gave the Bearcats a 1-0 lead with a match-opening 25-23 win.
Using that burst of momentum from Hicks, the Titans took an 11-7 lead in the second, with much of the credit due to Gracie Ashley and Katie Strickland, who each played well at the net. But after trailing 16-12, the Bearcats decided to get back into form.
Behind Bailey Brumfield, and once again at the service line, the Bearcats ripped off eight straight points to take a 20-16 advantage. That's all the momentum they'd need to flip the script and hold off a late rally attempt, beating the Titans by a 25-23 final.
The third and final game was never in doubt.
McFadden and Stanforth once again pelted Notre Dame's defense with ace after ace while Olivia Smith, Kendall Dye and Kara Free teamed up to take control at the net. The Bearcats started with a 10-1 lead before building advantages of 16-8 and 22-14 en route to a 25-18 victory.
"I'm very proud," Smith said. "My sister [Savannah] lost to [Notre Dame] almost every year. So this isn't just for us. It's for everybody at Paint Valley volleyball in the last 10 years. This is my fourth year playing [Notre Dame] and it's the first win during that time."
Smith tallied eight kills and 17 digs on the evening while McFadden had nine kills, six aces and 18 digs. Stanforth added 14 digs and two aces, Dye had four aces, two kills and eight digs, and Kaitlin Potts finished with three kills, 14 assists and seven digs. Free and Brumfield also pitched in, tallying two kills and two digs, and two aces and five digs, respectively.
While Notre Dame's season comes to an end, Paint Valley will meet with top-seeded South Webster in a Division IV district final on Thursday at Piketon High School.
"We have to stay focused and remember that if we mess up, we have to move on from it," Smith said. "I feel like if we just hit the ball, watch film and focus on our defense, we'll have a good chance."