Tyler Hart, Contributor
CHILLICOTHE — For the first time in 57 years, the Piketon Redstreaks are undefeated.
The Redstreaks capped their perfect year — and a Gold Ball — with a 44-14 drubbing of Huntington on Friday night. And, per usual, Levi Gullion shined on a rainy Friday evening in the Township.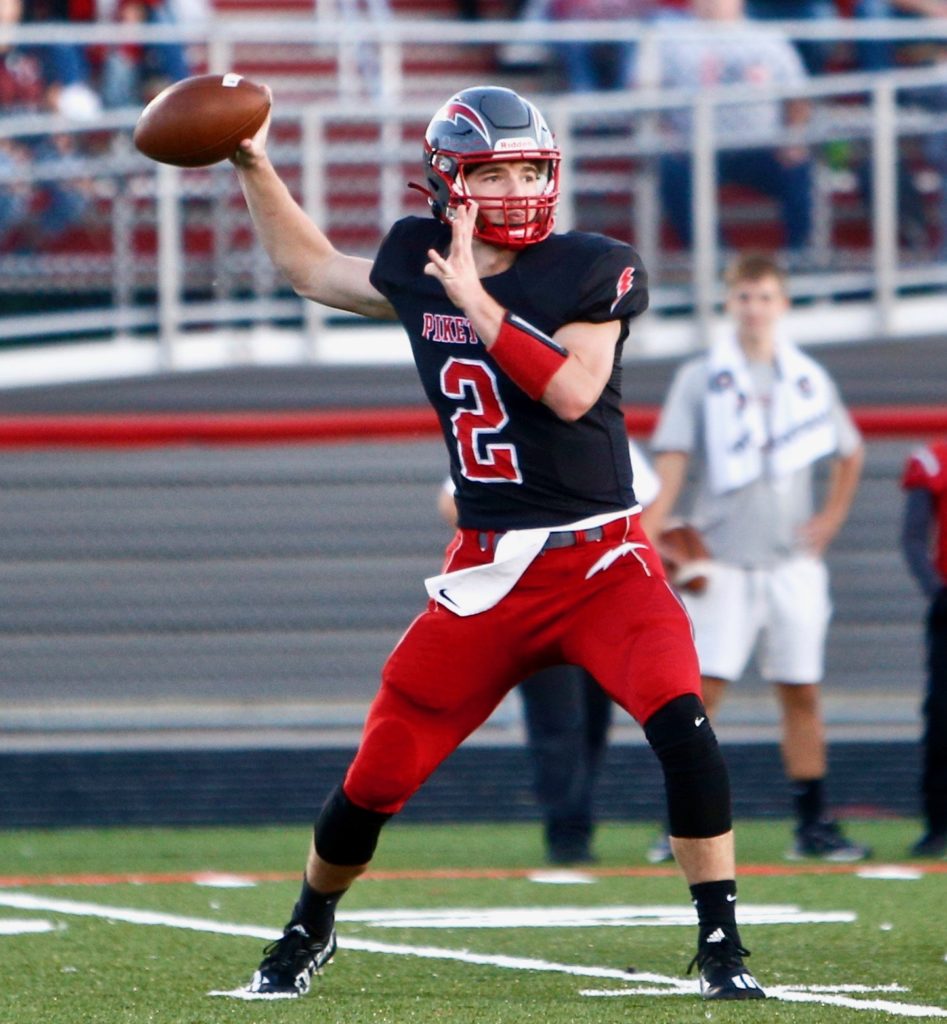 Gullion scored four times in the first half and was able to give the Redstreaks (9-0, 6-0 SVC) a comfortable margin so he could rest his arm on the sideline throughout the second half.
"Throughout this season, this team has stayed together," Gullion said. "We've had each other's backs. It's like a brotherhood. I can't even describe the feeling. I don't even know what to say. This isn't something that just happens all the time."
Despite what the final score shows, Huntington (2-7, 1-5 SVC) came out threatening to slow down Gullion and Piketon's high-powered offense. However, two big completions and both of which landed in the hands of Camren Loar, gave Piketon an early 16-0 lead.
After forcing a three-and-out, Gullion found Camren Loar for an eight-yard score before he hit his running mate again on the next drive from 60 yards out. Both scores would be followed by a successful two-point try and Piketon was off to the races with 7:30 left in the first quarter.
Huntington's offense responded when Nick Marion jumped above a defender and found Braylon Leach for a 63-yard touchdown strike to cut the deficit to 16-6.
On the next possession, Huntington's defense forced a punt to give its offense a chance to strike again. However, Piketon had other plans.
After Huntington's Dalton Black broke through the line and stripped the ball out of Gullion's hands. After teammate Gregory Richards recovered, Huntington drove inside the 10-yard line. But on 1st & goal from the 2-yard line, Zane Brownfield stepped in front of a pass and halted the Huntsmen' scoring chance.
Gullion, with his eyes on the prize, kept the Redstreaks' train rolling with a 60-yard pass play to Burton. Gullio then took a QB keeper into the end zone for a 24-6 lead in the final minute of the first.
On the next possession, Braiden Dunham forced and recovered a fumble before Gullion found Burton again, this time for a 32-yard score to make it 31-6 with 11:37 left in the second quarter.
The Redstreaks' next two scores came with 9:02 left in the second and at the 5:21 mark in the fourth — Brownfield bulldozed his way into the end zone for a 38-6 lead before Alan Austin punched it in to round out Piketon's scoring.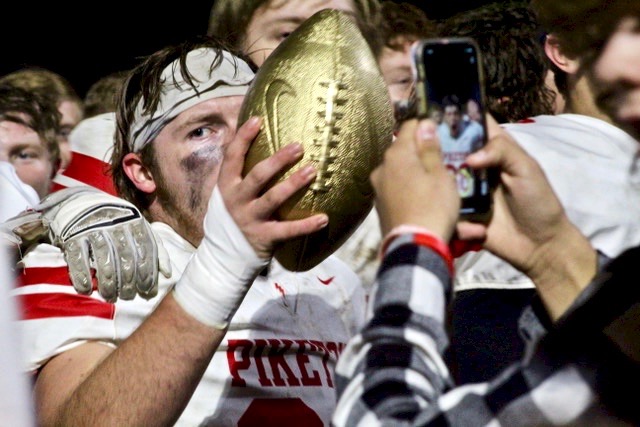 Huntington added a late score to round out the night's scoring but the Redstreaks were already celebrating a feat that will go down in school history.
"It's pretty exciting," Burton said of the win. "Our receivers did our thing and we did what we had to do to get a win."
While Huntington's season comes to an end, Piketon is projected to be the No. 3 seed in Division V, Region 19. That means the Redstreaks will likely host Coshocton in Week 11.
"I feel like we just have to execute," Burton said. "Just do our thing. We just have to trust our athletes, trust our offensive line and trust our coaches to get it done."