Derrick Webb, Staff Writer
JACKSON — Somewhere, longtime Miami Trace assistant coach Sean Sweeney is smiling.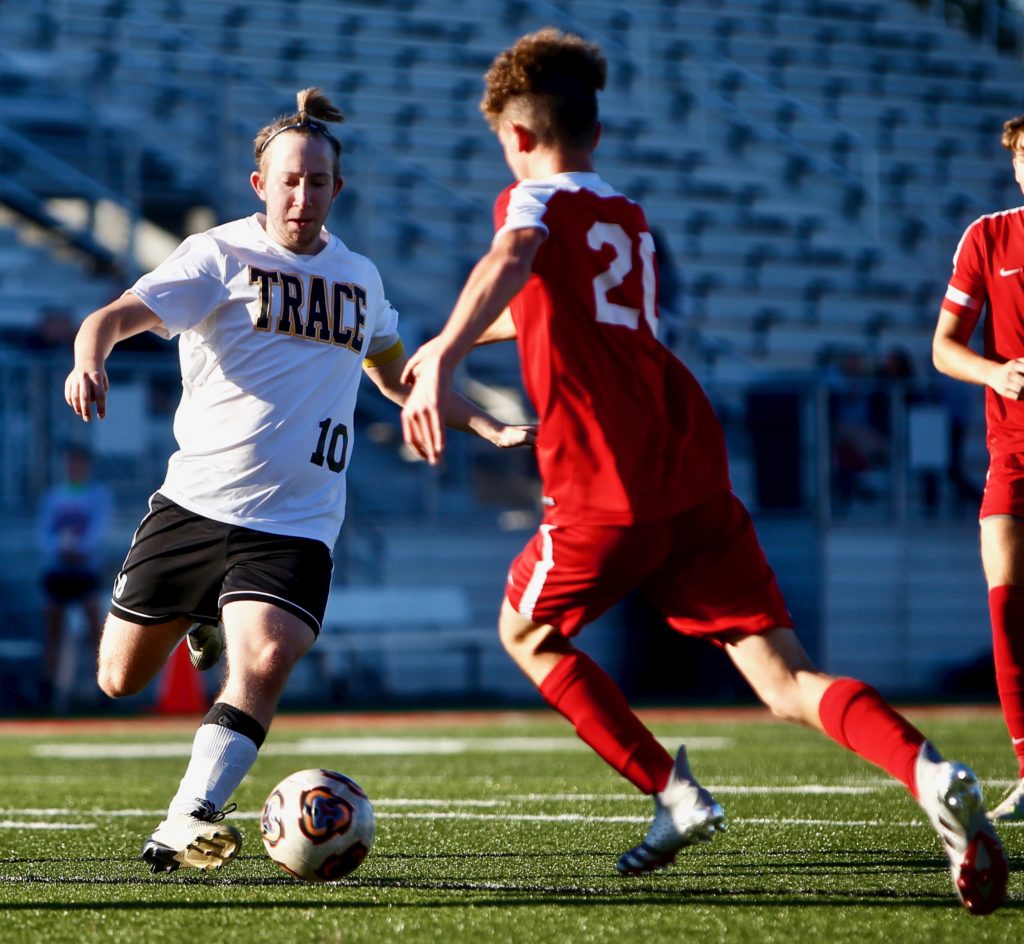 Sweeney, who died at 38 years old just before this season started, has been the Panthers' rallying cry all season. He's what's kept Miami Trace treading through an abundance of adversity this fall after his unexpected death sent waves through a program he was all in on.
So when Sweeney's Panthers handed Jackson a 4-2 loss in a Division II sectional final on Wednesday, the players and coaches he was close to made sure to include him in their post game celebrations.
"[Sweeney's death] has really impacted everything about our program," Miami Trace coach Josh Thoroman said. "He was an integral part of this team and what we do. It's a huge deal trying to play for him. This has been a hard season. Looking at the stats, we've lost by one goal five times. It seems like everything that could go wrong has happened. I'm just super proud of this team. We've got nine seniors and they've fought all year long. Just really proud."
To try to put into words what Wednesday's win meant, and why Sweeney's smile would've been ear-to-ear, the Panthers were 0-9-1 in their last 10 games against Jackson. The victory also sealed the program's fourth-ever sectional title in 33 years.
"We've had some success but this is the fourth-ever sectional title," Thoroman said. "Sweeney was with me for the first three in 2016, 2017 and 2018. It's been rough for a couple of seasons but we're on the banner. We've been talking about that. People who don't know anything about this season will see that year on that banner. These guys can bring their grandkids to see that."
The Panthers (7-10-1) wasted virtually no time in scoring.
---
---
Just 76 seconds into the action, Noah Perry gave Miami Trace a 1-0 lead with an air-bending goal from the right side of the box.
However, Jackson provided the equalizer less than a minute later. At the 37:55 mark, Cooper Moore made it a 1-1 game with a bullet that found the right-bottom corner.
The Ironmen (6-10-1) then took a 2-1 lead with 29:33 remaining when Nolan Haislop netted a ball that slipped through the keeper's hands. That score stood firm until after halftime.
"We've been working very hard and watching a ton of film on the previous games we've played with Jackson," Thoroman said. "The first half didn't go the way we wanted. But we fought back."
And quickly.
With 36:27 to go in the second half, Miami Trace's Connor Bucher cleaned the slate after splitting two defenders and beating the keeper. After both teams battled for possession throughout the next thirty minutes of game play, the Panther retook the lead with 9:36 left.
That's when Miami Trace was awarded a penalty kick and Nfanly Mara cashed in on a golden opportunity. The senior pocketed MT's third goal, putting his team ahead for good at 3-2.
Meanwhile, the Panthers' defense continued to stave away Jackson's scoring opportunities.
"Our defense is solid. We've given up very few goals in the run of play," Thoroman said. "There were a lot of penalty kicks and a lot of set piece goals allowed. We played Yellow Springs and Chillicothe this year and in those two games, that's 19 of the 48 goals we've allowed all year. So our defense has been sound. It's all seniors back there. So we're definitely proud of them."
For insurance purposes, Mara scored his goal of the match with under four minutes remaining. That score came off an assist from Hayden Hunder to put away the Ironmen for good.
While Jackson's season comes to an end, Miami Trace advances to a Division II district semifinal at Gallia Academy. That contest will take place at 5 p.m., Oct. 26.
"We know [Gallia] has an all-state player and he's a great player," Thoroman said. "We'll come up with a defensive scheme for him and I think our defense will play solid. We'll use our subs, get a lot of fresh bodies in there and use a lot of depth to keep our energy levels high against a team like that."