Derrick Webb, Staff Writer
CIRCLEVILLE — You can't teach speed.
But if you could, Circleville's Nilyn Cockerham would be that class' instructor.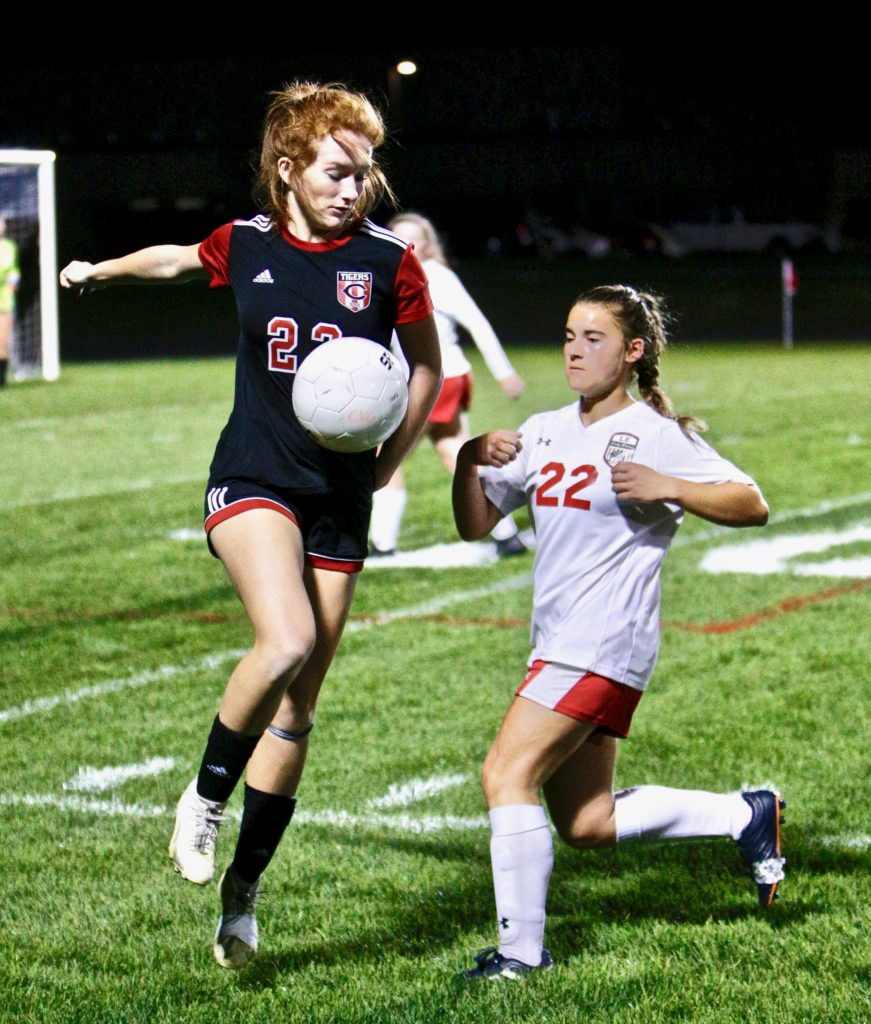 Cockerham used her wheels to breeze by Logan Elm's defense on Tuesday night, providing both goals in a 2-0 win over the Braves in a Division II sectional semifinal.
"We were getting the passes together and communicating," Cockerham said of her team's offensive performance. "I feel like I'm at my best when I'm passing and using my speed to move off the ball."
It wasn't just Cockerham that provided the fireworks at the top of Circleville's lineup.
She was aided by her sister Makya and sophomore Faith Yancey. Together, that trio kept Logan Elm's back line busy all night long.
"Those three, when we get those three working together up top, they can be very dangerous," Circleville coach Joseph Stitt said. "That's definitely how we get our offense going. We had a lot of shots and we got to capitalize on one at the end there. But for sure, when they work together, it's fun to watch."
The Tigers (13-4-1) put continuous pressure on Logan Elm's defense throughout the first half. But they couldn't crack the scoreboard until the 10:07 mark.
After an indirect kick touched a Brave defender on the hand from inside the box, Cockerham logged her first score of the night on the ensuing penalty kick — a shot that ricocheted off the keeper's hand before rolling past the goal line.
That 1-0 lead would remain at halftime and deep into the second half.
Meanwhile, Circleville's defense kept the Braves (4-12-1) at bay. It was on rare occasions that keeper Kylie McCain had to react, thanks to the play of Payton Ford, Maddux Bigam and Morgan Sark — among others.
---
---
"Logan Elm has some speed up top as well. Our back line did a good job, starting out, making sure that we were marked up. Then a big one was when we did win the ball, we didn't just kick it and hope for the best. They looked to keep the ball and that really set our offense up for success."
With 11:21 remaining in regulation, Cockerham put a cap on the night.
In a 2-on-1 breakaway, Yancey found her running mate on the left side of the box to beat the defender and Cockerham did the rest to make it a 2-0 tally.
That's all the insurance Circleville needed to advance.
"Hats off to Logan Elm," Stitt said. "Anytime Circleville and Logan Elm get together, you can throw records and stats out the window. They played hard. It was 2-0 and one was on a penalty kick. [Logan Elm] played really hard and really well tonight."
While the Braves' season comes to an end, the Tigers advance to a Division II sectional final on Thursday. They'll travel to No. 4 seeded Warren for that matchup.
"We're going to have to make sure we're focused," Stitt said. "It's definitely a long bus ride. We're going to get there plenty early so we can shake the legs off and be ready to go. But we definitely need to make sure we're on our game and focused. We'll have to play our best game."