Ryan Numberger, Contributor
KINNIKINNICK — Zane Trace is for real. The Pioneers made that statement stick on Friday.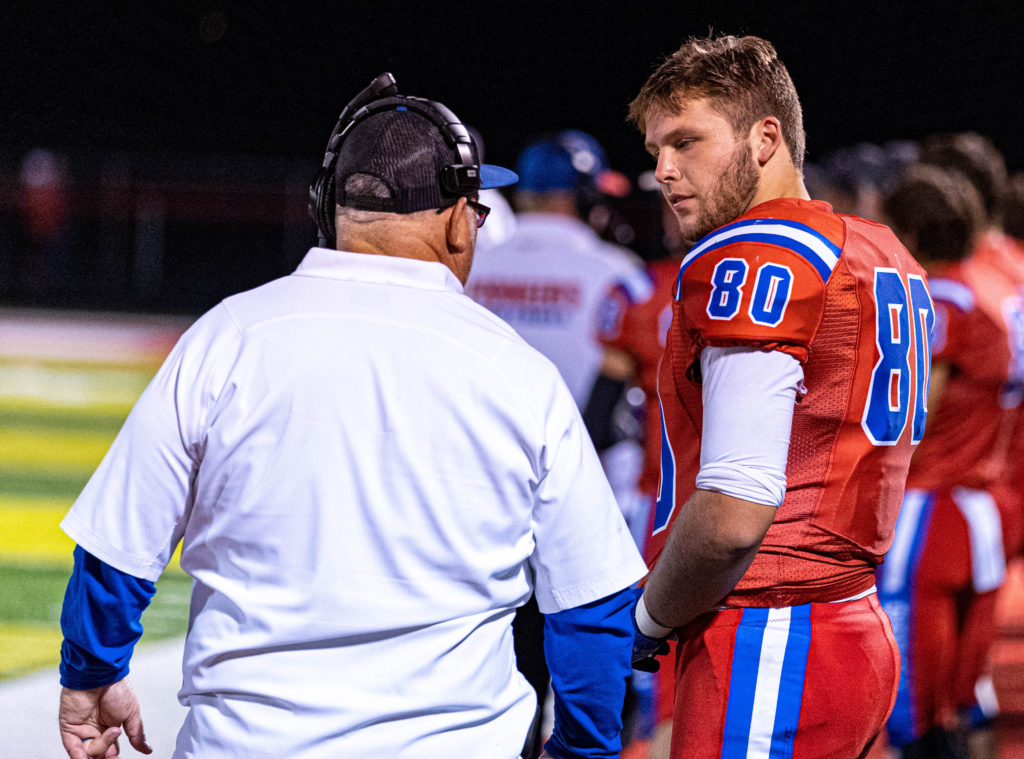 n a game most saw as a potential dogfight to determine sole possession of second place in the Scioto Valley Conference, the contest was anything but that. That's because the Pioneers (7-2, 5-1 SVC) dominated early and often, having their way with the Bearcats en route to a 48-14 win.
"Our coaches had a good game plan and our line just dominated up front," Zane Trace quarterback Ben Nichols said. "I think we have one of the best [offensive] lines in Southern Ohio. I'd put those guys up against anyone."
Nichols was the beneficiary of his line's top-notch play early, tallying a 40-yard touchdown run to give the Pioneers an early 7-0 lead.
But it wasn't just ZT's offense that got a hot start.
On the next possession, the Pioneers' defensive unit forced a punt to give the ball back to Nichols and company. They proceeded to put together a scoring drive that ended with a 12-yard rush from Blake Phillips, making it a 14-0 tally midway through the first.
Special teams also factored into the outcome after that touchdown — along with a steady rain. A muffed catch on the ensuing kickoff allowed the Pioneers to pounce on the football with possession at the Bearcats' 22-yard line.
Zane Trace quickly answered when Nichols got it done again, this time through the air. The slippery signal-caller hit Trey Edler for a 13-yard touchdown to make it a 21-0 score with 4:01 left in the first.
Before Paint Valley (5-4, 4-2 SVC) could blink, it had dug a three-touchdown hole.
"Our offensive line did a great job and made it easy for the backs to do our job," Nichols said. "Blake [Phillips] and I hit the holes hard and got downfield."
After Zane Trace forced and recovered a fumble on the ensuing drive, Paint Valley paid for its mistakes again. Nichols scored on a three-yard keeper to cap a 14-play drive that took over seven minutes off the clock. Halfway through the second quarter, ZT held a 27-0 advantage.
The Bearcats finally got into the scoring column on their next drive, trying to claw back into things. Cordell Grubb scored from 22 yards out to cut the lead to 27-8 — following a successful two-point try.
However, Zane Trace wouldn't allow Paint Valley to take any momentum into the break.
Nichols, because who else, scored once again — this time from 60 yards out for his third rushing touchdown of the half — to give the Pioneers a 34-8 lead going into halftime.
"I just really appreciate our line," Nichols said, continuing to give his teammates praise. "Coach Ron [Hinton], he does a great job teaching them and working with them. I just think they were good and I appreciate them a lot."
After the break, the Pioneers showed no signs of slowing down. Their first defensive try resulted in an interception via Carter Langley — a ball that was first tipped into the air by a teammate.
That turnover would once again be followed by a score on the other end when Nichols plunged into the end zone from a yard out, extending the lead to 41-8.
Paint Valley answered with a four-play scoring drive that cut ZT's lead to 41-14, thanks to a 30-yard pass from Dax Estep to Trent Mettler. But the Pioneers capped the night with an eight-yard touchdown scamper from Phillips to produce the final.
Nichols finished the game 10-of-12 passing for 147 yards and a touchdown alongside 14 rushes for 190 yards and four scores. Phillips totaled 40 rushing yards and two touchdowns on just six carries, and Edler ended with three receptions for 60 yards and a score.
Paint Valley was led statistically by Grubb, who had 11 carries for 101 yards and a touchdown.
Zane Trace will close out its regular season with a home date against Adena while Paint Valley looks for momentum heading into the postseason, playing host to Southeastern.
"We're going to use this as a boom forward," Phillips said. "We're just going to keep working with the line and keep getting better every day. We want to prove we have the best line in Southern Ohio."