Tyler Hart, Contributor
CHILLICOTHE — Maybe Chillicothe coach Doug Pryor had the right in-game speech prepared. Maybe Pryor's coaching staff made the necessary adjustments for a win. Or maybe the Cavaliers simply decided to start playing how they're capable of playing.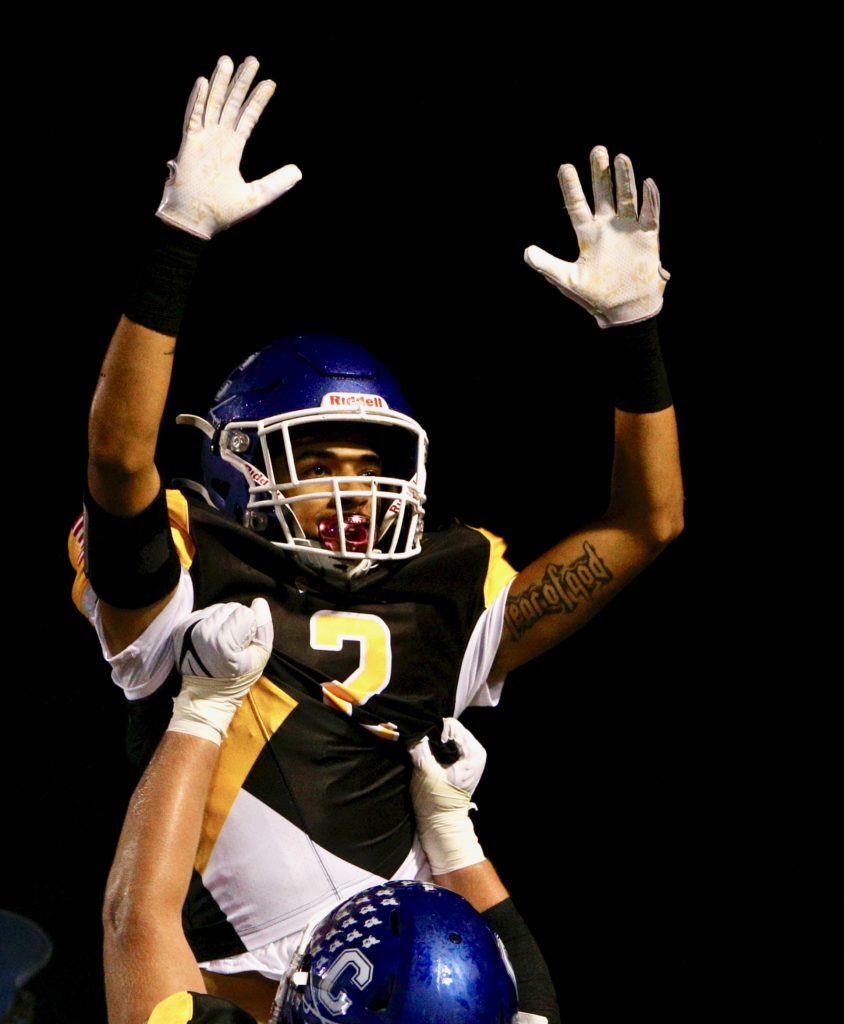 Whatever the case may be, the difference between Chillicothe's first and second half performances on Friday were comparable to night and day.
After trailing McClain 20-6 at halftime, the Cavaliers scored 25 unanswered points to top the Tigers, and their high-powered offense, by a 31-20 final in Frontier Athletic Conference action.
Chillicothe, wearing Army-themed uniforms on Military Appreciation Night, displayed brotherhood and strength in the final 24 minutes — a lesson taught by their army counterparts.
"The two Army guys that helped get our jerseys told us to stick together. We are brothers and we stay together, stay strong," Chillicothe's Xzavier Doss said. "In the second half, we really showed that."
McClain struck first with a 14-play drive that took seven minutes off the clock. Quarterback Braden Wright came out on fire, going 4-for-4 passing for 71 yards. The drive was capped by a
long heave from Wright to Max Eikenberry for a 43-yard touchdown to make it 7-0.
The Tigers' defense kept Chillicothe in check, forcing a punt. When McClain got the
ball back, Wright and company went right back to work.
While draining more time off the clock with a 17-play drive, the Tigers took a 14-0 lead at the 5:23 mark in the second quarter behind an 11-yard scramble from Wright.
Early in the game, Chillicothe quarterback Mason Doughty couldn't hit his targets. But in the team's first offensive series of the second quarter, he finally found a rhythm.
On a 3rd and 8 at midfield, Jaiden Cain was the solution to Doughty's early struggles. The duo connected for 12 yards on the third down play before following it up with a 38-yard touchdown connection to cut McClain's lead to 14-6 — a failed two-point try.
"We've been working in practice a lot on a scramble drill," Cain said. "That's been helping a lot and our connection with each other. We've got good chemistry. Our whole receiving crew and our quarterback."
However, with 3:22 left in the half, McClain provided an answer.
It was a scoring drive that was highlighted by two pases from running back Andrew Potts — one a trick play where Potts found Eikenberry for 37 yards and the other a five-yard touchdown pass to Kaden Penwell. The ensuing PAT attempt was blocked but McClain had a 20-6 lead at halftime.
That's when something clicked in Chillicothe's locker room.
---
---
The Cavaliers' defense forced a three-and-out to start the second half and the offense thanked them quickly with a 15-yard touchdown run from Chucky Thomas to cut the deficit to 20-13 with 8:48 left in the third.
After McClain was forced to punt again, Chillicothe took possession at its own 19-yard line. On a 3rd and 9 from their own 20, the Cavaliers came up with a game-changing play. Doughty found a streaking Isaac McCory for a 51-yard gain — swinging field position and momentum.
With the ball at McClain's 26-yard line, Chillicothe's offense faced a 4th and 7. But Doughy one again had an answer, finding Thomas for a 12-yard gain to keep the drive alive.
Maxwell Lee then logged a hard-fought 14-yard touchdown run to bring the Cavaliers within a point at 20-19 — a missed PAT, allowing McClain room to breathe with 3:02 left in the third.
The two teams then traded possessions before Chillicothe took over with 5:36 left to play. The Doughty-Cain connection was once again showcased while three carries from Thomas set up Lee for a heroic run.
Lee, who was nursing an injury throughout most of the game, powered through a 20-yard touchdown run to give the Cavaliers their first lead of the night at 25-20 with 3:07 left.
"We were down in the first half and I knew we needed a spark," Lee said. "We went into halftime and everybody was on the same page coming out. We had to play ball. We had to come out and smack them in the mouth."
On the next drive, McClain, needing a score in the worst way, faced a 2nd & 10 from its own 20-yard line. But with 2:11 remaining, Doss stepped in front of a Wright pass attempt and returned the interception to the Tigers' 9-yard line.
Lee then found the end zone for a third time, a three-yard plunge, to make it a 31-20 score with 1:54 left in the fourth quarter.
Nails. Coffin.
"In the first half, they scored 20," Doss said. "In the second half, we held them to nothing. They got a lot of big pass plays off in the first half, so I was looking for the pass. I saw the post coming in, I baited him a little bit and I got the interception."
Doughty finished the game 8-of-17 passing for 136 yards and a touchdown while Thomas had 16 carries for 58 yards and a score. Lee tallied just four rushes but totaled 39 yards and three touchdowns while Cain led the receiving corps with six catches for 73 yards and a touchdown.
For McClain, Wright was 11-of-18 passing for 127 yards and a touchdown. He added 30 rushing yards and a score as well. Eikenberry caught seven passes for 125 yards and a touchdown and Penwell finished with 36 rushing yards — a team-high — and 27 receiving yards.
While McClain gets set to end its regular season with a home date against Hillsboro, Chillicothe will travel to Jackson for the rivalry's latest installment. A win would give the Cavaliers a share of the league title with Jackson and could cause a three-way tie for first place with Miami Trace.
"Beat Jackson," Lee said when asked what the win meant. "Beat Jackson."