Derrick Webb, Staff Writer
LEESBURG — Though the Green Devils were challenged a handful of times throughout the season, one thing still remains a constant.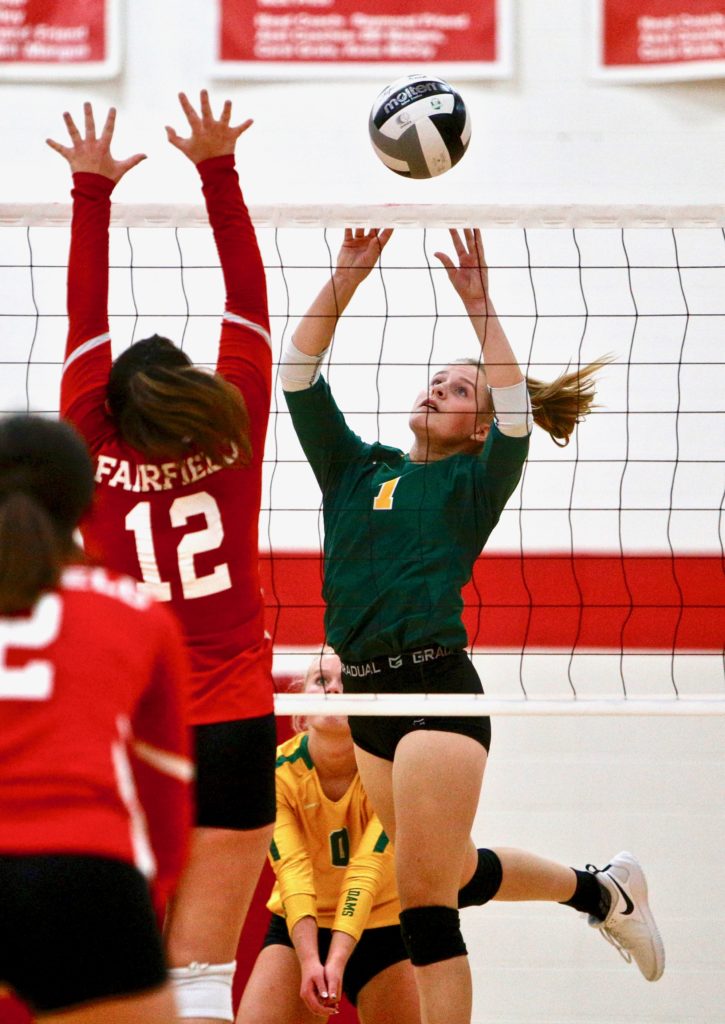 The SHAC volleyball title still runs through North Adams.
For the third consecutive year, the Green Devils went 13 up and 13 down in conference play to win a Gold Ball after defeating Fairfield in straight sets — 25-20, 25-19, 27-25 — on Thursday.
The victory also marked their 42nd straight victory in SHAC action, dating back to the 2018 season.
"We felt a lot of people wrote us off because we graduated our top three hitters from last season," North Adams' Keetyn Hupp said. "We knew that we we're going to pull players up and have to really work to find that chemistry. And the fact that we came together and accomplished a Gold Ball is really awesome."
"We were the team to beat, but we knew that others doubted us," North Adams' Sierra Kendall added. "But I think that doubt sort of fueled us and helped us pull this one out."
The Green Devils (18-3, 13-0 SHAC) brought the energy to the floor and kills from Kendall, Hupp and Riley Richey helped them race out to an 8-3 lead in the first set. Fairfield stormed back with a 6-1 run behind Peyton Magee to tie the set at 9-9 before finally taking its first lead at 13-12.
Back-to-back kills from Kendall and Hupp put North Adams back in the lead, and off to the races they went as the duo led a 9-2 run, capped by an ace from Kendall for a 23-15 lead before closing out for the win.
Keeping momentum on its side, the Green Devils jumped ahead 10-5 in the second, following kills from Kendall, Lizzie Gill and Katelyn Boerger. Fairfield managed to close the gap to 12-11 after an ace from Faith Miller, but that's as close as the Lions got throughout the rest of the set.
A kill and ace from Gill, three kills and a block from Hupp, and an ace by Kendall, added to an 8-1 run for a 20-12 lead.
However, the Lions weren't dead just yet and mounted a rally of their own, using a slew of North Adams errors for a 7-1 run to trim the lead to 21-19. But in the end, the Green Devils scored the next four points to cap a win and seize a 2-0 lead in the match.
---
---
"We've struggled at times being such an up-and-down team, but we had to keep our energy up and just keep pushing through," Kendall said. "It's all about the next play and focusing on that instead of the previous play. We stayed aggressive and that kept us going."
Hupp guided the Green Devils to an early 8-4 lead with a block, kill and an ace in the third. Magee then ripped a pair of kills to lead the Lions on a 5-0 run to take a 9-8 advantage.
The fight was on from that point.
No lead for the remainder of the set was greater than two points and both teams exchanged 10 ties and three lead changes — leading all the way up to North Adams leading 24-23.
"Fairfield always gives us a really good game and I expected the whole night to reflect what that third set was like," North Adams coach Katie Ragan said. "It was such a tough set, but I think it was a really good challenge for the girls to play a set like that, especially with tournaments starting next week. Whether we were ahead or behind, we still went for our shots and didn't change our approach. The girls stayed aggressive and went down swinging. Playing to win instead of playing to lose is what you want to see from your team."
Fairfield's Braylynn Haines notched a kill, Gill had a kill, Haines came through with a block and Hupp powered a kill for a 26-25 lead before a hitting error on Fairfield sealed the deal for the Green Devils.
"The first time we played Fairfield, it was a four-set game and ever since then, we've really worked on becoming a three-set team," Raegan said. "The girls came in excited, and they hit the ball really well. We still struggled with a couple areas, but overall, they played a great game."
Kendall finished with 23 assists, 10 digs, six kills and four aces to lead North Adams, followed by Hupp with 14 kills and 10 digs. Boerger had seven kills, Gill added six kills, and Jadyn Wright had 11 digs.
North Adams now turns its focus to the Division III district tournament, where the Green Devils received a No. 8 seed and will play at home against No. 17 Alexander. Fairfield, the No. 11 seed, will host No. 14 Fairland.
Both of those sectional final games will be played on Thursday at 6 p.m.
"We just have to keep the mindset that we can play with these other teams," Kendall said. "Although we didn't have great success playing out of our league, it made us better. We have the potential to win any game as long as we don't get down on ourselves."