SOSA Staff
Seven weeks down, three more to go in the regular season.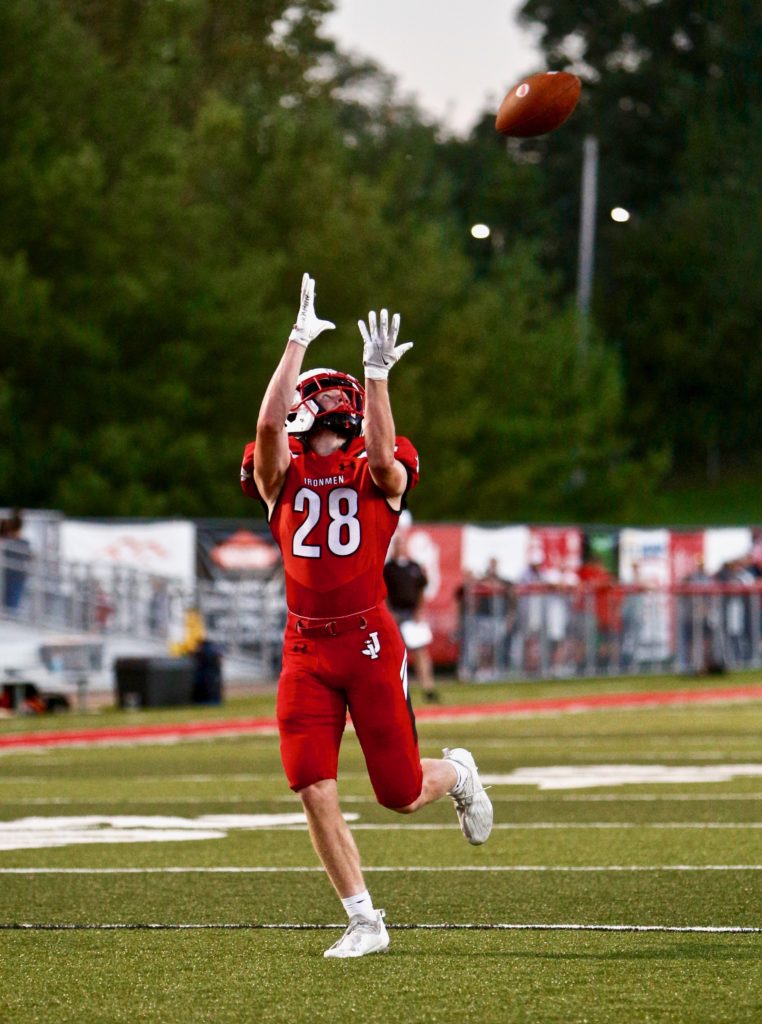 Truthfully, it's tough to decide whether it's sad or not. On one hand, it means the playoffs are right around the corner. On the other, it means football is one week closer to being over.
Remember, 16 teams in each region make the playoffs this season. So truthfully, four wins should just about do the trick.
For some teams, they're playing for a top four seed and playing to host possibly two home games, while the race for those 14, 15, and 16 seeds are going to get chaotic.
And yes, you'll see those last two paragraphs for the remainder of the column just to keep your memory fresh about the madness of playoff football this season.
Here are this week's SOSA Power Rankings:
1. Ironton (6-1)
Previous ranking: 1 … —
Week 7 result: 54-6 win over Rock Hill
Another OVC opponent, another OVC win for the Fighting Tigers. It's like clockwork for them right now since they're back to being as healthy as possible. Think about this — they had the ball for less than five minutes total in the first half and racked up 428 yards on 19 plays. Oh, and scored eight touchdowns. Unreal.
2. Piketon (6-0)
Previous ranking: 2 … —
Week 7 result: Bye
The Redstreaks were the victim of a bye week due to Southeastern's football team being quarantined. It sucks that COVID is still around and effecting things, but it is what it is at this point. Football is still being played and crowds are showing up. That's all that matters to us at the end of the day. Back to the gridiron now against Adena.
3. Waverly (6-0)
Previous ranking: 3 … —
Week 7 result: 42-14 win over Valley
Just too much firepower across the board as Waverly eased by Valley. It's been mostly smooth sailing all season for the Tigers. They've been tested and know when it's time to put the nails in the coffin. Now it's time for the showdown we've all been waiting for as the Tigers head south to matchup against Wheelersburg. This should be a dandy.
4. Jackson (5-2)
Previous ranking: 4 … —
Week 7 result: 56-13 win over McClain
It seems as though the Ironmen have found their rhythm, alongside their running game, without completely ridding themselves of the passing attack. They've found a rotation in the backfield that works and are racking up yards like the Baltimore Ravens — without lsat minute play calls to set records. As long as they can stay healthy, this could be their year. But next is a date with Washington.
5. Portsmouth (6-1)
Previous ranking: 5 … —
Week 7 result: 44-12 win over Chesapeake
There wasn't too much of a struggle for Portsmouth as it handled its business and remained undefeated in OVC play. That being said, with three weeks left in the season, the Trojans have a huge chance to elevate themselves in conference and tournament standings. Now comes the first of two big challenges left as they'll square off with Fairland.
6. Teays Valley (7-0)
Previous ranking: 6 … —
Week 7 result: 49-21 win over Amanda-Clearcreek
Somewhat similar to how Portsmouth's season has gone thus far, the Vikings have looked dominant in all facets of the game as they continue to run over teams. But also like Portsmouth, the Vikings have big challenges ahead in the MSL in their final three weeks. First up is a date with Amanda-Clearcreek, then next week against Bloom-Carroll.
7. Wheelersburg (4-3)
Previous ranking: 7 … —
Week 7 result: 45-0 win over Oak Hill
There was no last minute theatrics needed this time. The Pirates simply showed up and handled their business early to prevent any possible threat of a letdown. More importantly, the defense held Oak Hill to just 69 total yards of offense, which is highly impressive. Doubt an outing like that happens on Friday with Waverly coming to town. The points should rack up.
8. Zane Trace (5-2)
Previous ranking: 8 … —
Week 7 result: 28-13 win over Unioto
The Pioneers are becoming more and more deadly by the week, and their running attack is leading the way. Whether it can be sustained or not remains to be seen. But for now, few teams have been able to contain them. They'll look for more balance and an even stronger running performance against a Southeastern team that hasn't played in two weeks.
9. Amanda-Clearcreek (5-2)
Previous ranking: N/A
Week 7 result: 24-7 win over Hamilton Township
After a brief hiatus, the Aces are back in the Power Rankings and not a moment too soon. They had a good balance of passing and running, though the aerial assault from Nate Hunter was on full display to the tune of 315 total yards (240 passing, 75 rushing) and two scores. Now for their second crack against an undefeated MSL team: Teays Valley.
10. Symmes Valley (6-0)
Previous ranking: 10 … —
Week 7 result: 34-0 win over Eastern
Line them up, and Symmes Valley will knock them down. That's just what it seems to do best when it comes to conference competition as Eastern felt the wrath. Some of the steam from this week's clash with East was taken as the Tartans were shutout by Northwest. Still, it could be one step closer to another SOC I title.