Derrick Webb, Staff Writer
KINNIKINNICK — As you enter Adena's volleyball locker room, there's a rug that each Warrior steps on as they enter.
The rug has the final score etched in from last year's final match, a five-set regional final loss to Tuscarawas Valley — one where the Warriors led 2-0 at one point.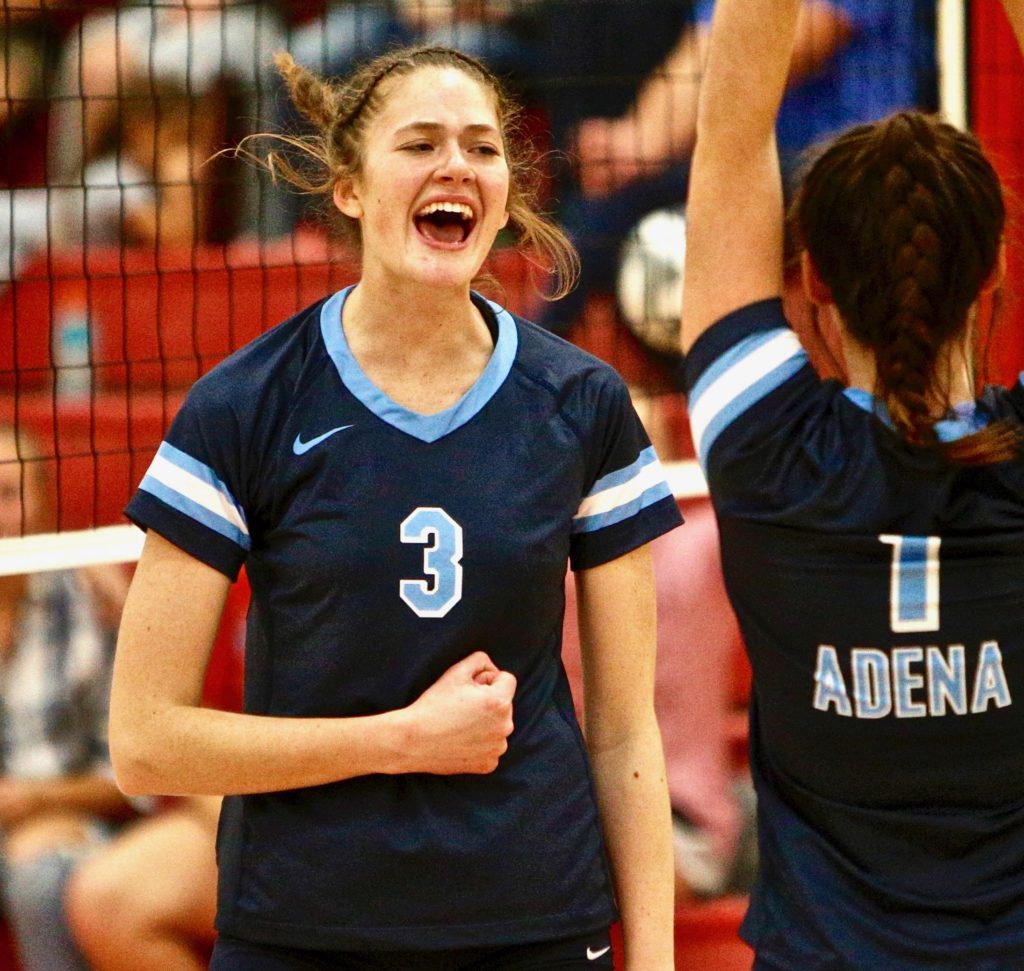 Warriors coach Laura Smith doesn't want her girls to forget what that loss felt like, a heartbreaking blow that slashed any hopes of a Final Four appearance.
"We won those first two sets and then it was close again," Smith said of last year's Elite Eight loss. "They look at that score every time they walk into our locker room. We don't want to be in that situation again. We have to keep pushing. You can't let up."
Her team has taken notice.
In fact, Adena is making sure it doesn't forget any loss. That's apparent after Tuesday's win at Zane Trace.
Back on Sept. 9, the Pioneers handed Adena its only league loss — one eerily similar to the loss against Tuscarawas Valley. In that match, Adena took the first two sets and lost the next three.
The Warriors (16-2, 9-1 SVC) avenged that decision on Tuesday, making a statement by breezing past the Pioneers in three sets by a 25-15, 25-11, 25-16 final.
The victory gives the Warriors a full game lead in the SVC title race over any other competitor.
"We used all the motivation [from that loss]," senior Camryn Carroll said. "We knew we could beat [Zane Trace], we knew we were the better team and we just needed to go out and execute without letting them beat us again. That's exactly what we did. We knew we were going to win from the beginning."
The win gave Adena its 20th straight set victory as well, a streak that dates back to Sept. 18.
Put simply, the Warriors are clicking on all cylinders down the stretch … a scary thought for any upcoming opponent.
"I feel like we played really well," senior Makaela Lovely said. "We had a lot of momentum coming into the game and we were just excited and ready to get back out here. We wanted to get at it."
Adena took its first at 5-4 in the first set, thanks to a kill from Ellie Harper, who was magnificent all night long. That edge grew to 10-5 before Harper and Makenna Lovely later made it a 16-10 count. Sydney Foglesong took it from there, powering her Warriors to a 25-15 win.
The game set was never in doubt.
---
---
Adena jumped ahead 7-2 before Zane Trace's Lexi Scott tried to keep her team in things with two straight kills. But she was overmatched by Harper and Jenna Martin, who helped the Warriors take a commanding 20-9 lead, late in the set. 
That led to a 25-11 win and a 2-0 match lead.
"I thought they played the way they're supposed to," Smith said. "That's the way we do it in practice. When we had to make an adjustment tonight, they were ready to do that. We covered some things that were falling for Zane Trace. They're doing a good job of listening to those things."
In the third, Adena went ahead 3-1 before Harper made it a 6-4 count. Martin later pushed the lead to 13-6 before Harper and Makaela Lovely logged back-to-back kills for a 21-12 count. That was all the momentum needed to put away a match-clinching 25-16 victory.
Harper posted a team-high 18 kills while Makaela Lovely added 17 assists, three kills and six digs. Foglesong added eight kills, Martin had nine kills, Hope Garrison finished with 13 assists and eight digs, and Carroll had a team-high 21 digs.
Scott led Zane Trace (14-3, 8-3 SVC) with 12 kills and nine digs, Gracey McCullough finished with seven kills and 11 digs, and Kinley May added 13 assists and five digs.
Zane Trace is back in action on Thursday, hosting Piketon, while Adena has another pivotal matchup lined up at home against Westfall.
"We needed this confidence boost," Carroll said. "We've been hearing a lot about the [first] Zane Trace game. So I feel like just coming out here and winning in three sets was huge. We're going to keep carrying that on throughout the next few games."