Tyler Hart, Contributor
WASHINGTON COURT HOUSE — Offense wins games, defense wins championships, and Chillicothe had just enough of both on Friday.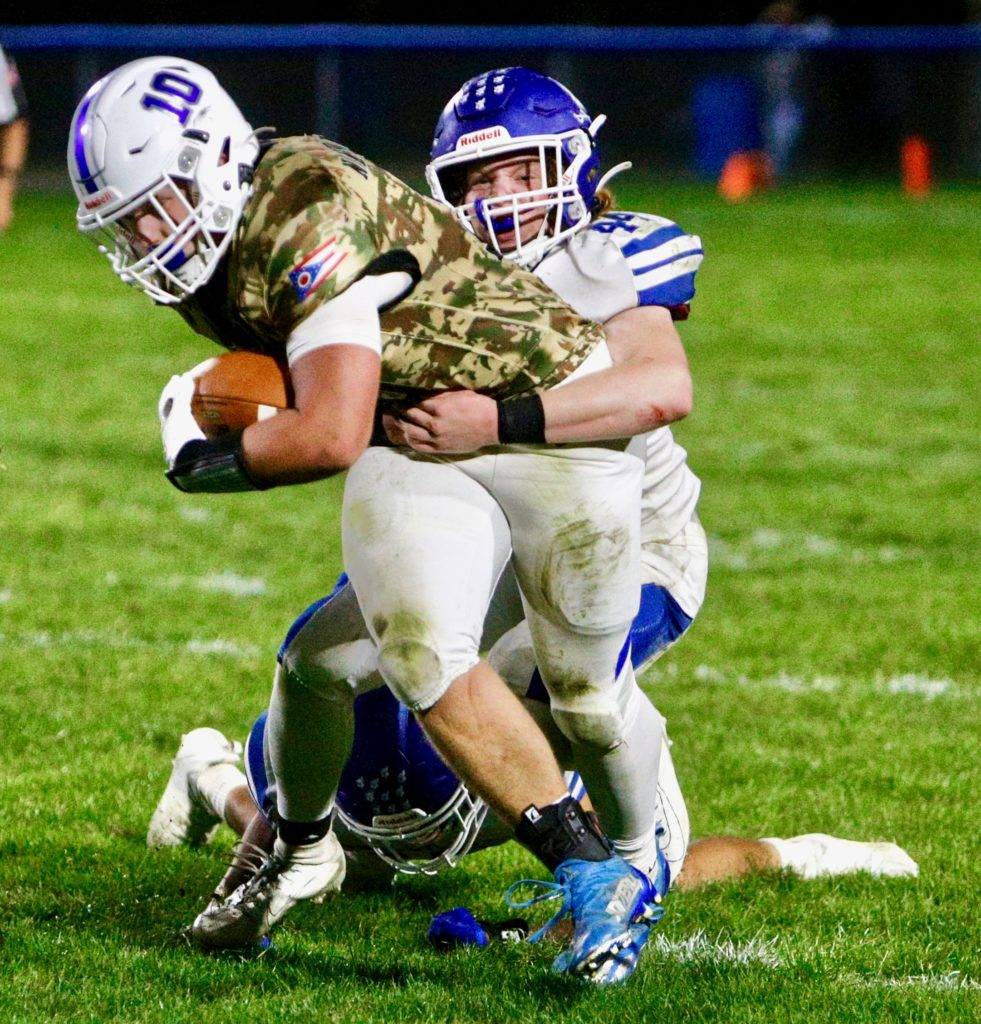 Despite Washington putting on the pressure late, the Cavaliers came up one stop after another down the stretch and held off the Blue Lions 21-19 to earn their first victory in FAC action. 
"We had a great week of practice," Chillicothe's Mason Doughty said. "We came in focused, and we were wanting to take out their best options and I think we did a pretty good job of executing our gameplan."
The game started with a big kickoff return that was highlighted by Chillicothe's Xzavier Doss breaking a few tackles and crossing midfield before being run out of bounds at the Blue Lions 17-yard line. On the very first play, Chucky Thomas powered through an opening and trucked into the endzone from 17 yards out to put Chillicothe up 7-0.
As it was looking as if Washington was driving down field to put points on the board, Chillicothe's Max Lee made his presence known and intercepted the Washington pass to set the Cavs up at the Blue Lion 35.
Chillicothe went deep on the opening play of the drive and Washington's Mason Coffman came up with an interception at the goal line to immediately regain possession.
It looked to carry the momentum as Troy Thompson opened the drive with a 40-yard connection to AJ Dallmeyer, and later in the drive, it found the endzone behind a four-yard carry by Rishaun Burns to tie up the game 7-7.
The Cavaliers marched down the field on their next offensive possession and answered back as Doughty connected with Jaiden Cain on a screen pass where he broke free and found the endzone 18 yards later to put Chillicothe up 14-7.
Not to be outdone though, the Blue Lions went back to work offensively and put together a 17-play drive to wear down the Cavalier defense.
With the ball spotted on the Cavalier 5-yard line, Troy Thompson found Dallmayer for the touchdown pass to cut the deficit down to 14-13 following a failed two-point conversion.
Washington's defense managed to get a stop and give its offense the ball back with less than three minutes left in the half.
However, Lee came up with what proved to be the biggest play of the game as he cut off the pass for the interception — his second of the game, and took it 30 yards to the house, extending the Cavaliers' lead up to 21-13 at halftime.
Although the interception was a huge swing of momentum, Washington shook it off coming in the third and wasted no time getting back to work.
---
---
The Blue Lions meticulously drove down the field with a series of short gains in both the run and pass game. The drive ended with Thompson finding Tanner Lemaster for a six-yard over-the-shoulder dime for the touchdown. They elected to go for two to tie the game, but failed to convert to keep the game at 21-19 with 7:25. 
From that point on, it was all about defense. Yet, it was the Cavaliers' defense that came up with one big play after another to keep them ahead. Fumble recovery, fourth down stop and an interception. 
Washington had the ball with 6:47 left to play in the fourth, but a misplayed handoff resulted in a Cavalier recovery to give them possession.
Following a punt, Washington got the ball back but faced fourth down. And once again, Chillicothe's defense made the big play as it crashed the line and stopped Washington's run in the back field with 1:55 left.
"We didn't plan to play with much pressure defensively, so it was really big of our defense to continue stepping up and making one stop after another," Doughty said.
Washington's defense, however, forced to punt to give it one final chance for the win just like the previous week, but lightning wouldn't strike twice.
It went deep, and after dropping an interception on the previous play, Xzavier Doss got another chance and didn't miss this one as he secured the pick along with the conference victory for the Cavaliers. 
"It was a big defensive half for both teams. Our defense stepped up and came out on top," Doss said. "We knew they wanted to pass it. A couple plays before I had one go right through my hands, so the next one came to me and I wasn't going let this one get by."
Doughty finished 4-of-14 passing for 88 yards, a touchdown and an interception, while Thomas had 14 carries for 62 yards and a score for the Cavaliers.
For Washington, Thompson finished 40-of-63 passing for 329 yards with two touchdowns and three interceptions.
Dallmayer had 10 catches for 122 yards and a touchdown, while Lemaster had seven catches for 57 yards and a score.
Chillicothe returns home on Friday for a matchup against Hillsboro, while Washington hosts Jackson.