Tate Erkenbrecher, Contributor
HILLSBORO — To put it bluntly, defense was not a focal point of Friday's matchup between FAC foes Hillsboro and Miami Trace.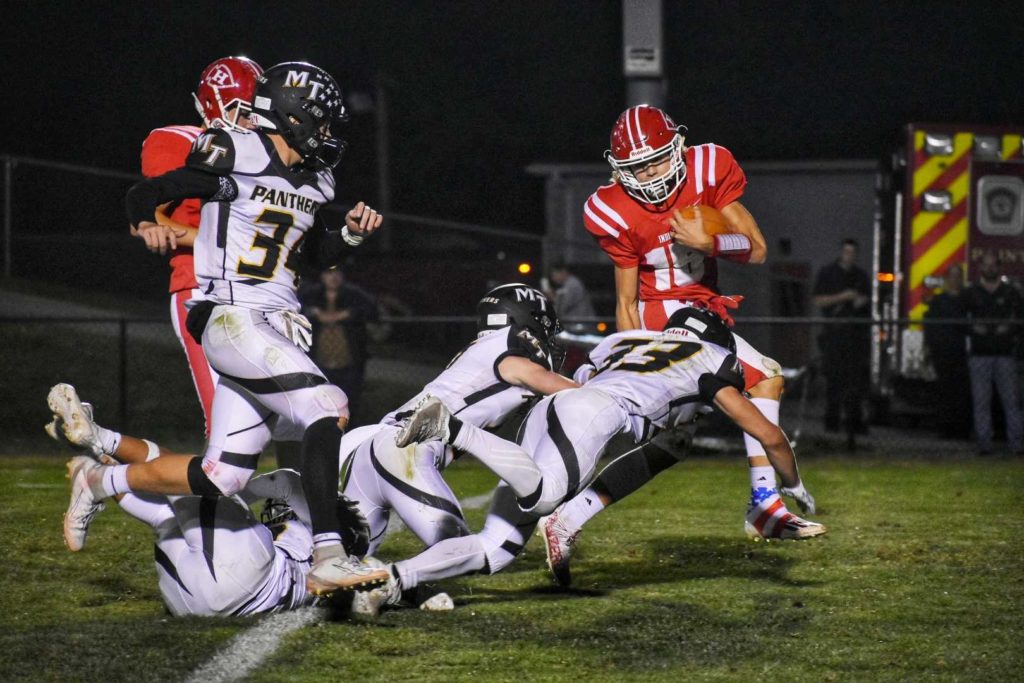 The two combined for 826 yards of offense and 76 points — an offensive explosion that was equally balanced through the air and on the ground.
Of those numbers, Miami Trace (5-2, 2-0 FAC) was responsible for 534 yards of total offense — 111 through the air and a whopping 423 on the ground. That led to a 48-28 win over the Indians (3-4, 0-2 FAC) on their home turf, the team's second straight in conference play.
Panthers senior Weston Melvin took in the first touchdown of the game after putting the ball in the hands of his running backs Landen Cope and Jayden Lebeau to get to the goal line. When he arrived, Melvin punched in the touchdown from nine yards out, making it a 7-0 score with 8:08 left in the first quarter.
Hillsboro senior Canaan Griffith, who had an impressive game at his receiver position, provided an answer on the Indians' next offensive drive. Indians quarterback Chris Stout found Griffith for a 20-yard touchdown pass, tying the game with 4:20 remaining.
Lebeau, Cope, and Melvin did not flinch when it came time to take the ball back. The backfield trio led an eight-play, 60-yard drive that ended with a four-yard touchdown from LeBeau to put MT back on top at 14-7 with 1:22 left in the first.
The Indians were quick to answer as Travis Ross racked up 61 receiving yards on the team's next possession. That helped set up Stout for a one-yard touchdown plunge to start the second, tying the game at 14-14.
Less than three minutes later, Cope logged a 34-yard touchdown to put Miami Trace ahead 21-14. But Stout and company answered with a score of their own at the 5:56 mark, this time a 59-yard pass to Griffith, to force a 21-21 deadlock.
But that's when Miami Trace began to create separation.
Melvin gave the Panthers the lead back with a 77-yard keeper to make it 28-21 with 5:02 remaining in the first half. MT's defense then forced a pivotal three-and-out, giving its offense the ball back at the Panthers' 39-yard line.
It took Melvin just five plays to lead a 61-yard touchdown drive, which was capped by a five-yard pass to Ashton Connell to put Miami Trace ahead 35-21 — the eventual halftime score.
---
---
MT received the football to start the second half and proceeded to piece together a 13-play, 80-yard drive — led by LeBeau and Melvin on every touch — that ended with a two-yard touchdown run from Melvin to give the Panthers a 42-21 lead at the 8:13 mark in the third.
That was more than enough insurance to keep the Indians' offense at bay while the Panthers' defense made necessary adjustments — Hillsboro gained just 24 yards in the third quarter.
The game's final two scores came with 2:07 left in the third — a one-yard run from LeBeau to put Miami Trace ahead 48-21 — and with 9:17 remaining in the fourth, a 15-yard pass to Ross to produce the night's 48-28 final.
Melvin led Miami Trace with 15 carries for 185 yards and three touchdowns while going 8-for-13 passing for 111 yards and two more scores. LeBeau tallied 15 carries for 150 yards and two touchdowns while Garrett Guess led the team in receiving with 49 yards. Cope and Connell had 26 and 21 receiving yards, respectively, and a score each.
For Hillsboro, Stout was 15-of-27 passing for 276 yards and three touchdowns. Griffith led the team in receiving with seven catches for 140 yards and two touchdowns. Ross also pitched in with four receptions for 105 yards and a score.
The Panthers now look towards a road matchup at McClain next week while Hillsboro travels to Chillicothe, looking to get back on track.