Derrick Webb, Staff Writer
WEST PORTSMOUTH — If you look close enough, you can see Wheelersburg's next batch of young talent starting to blossom into experienced players.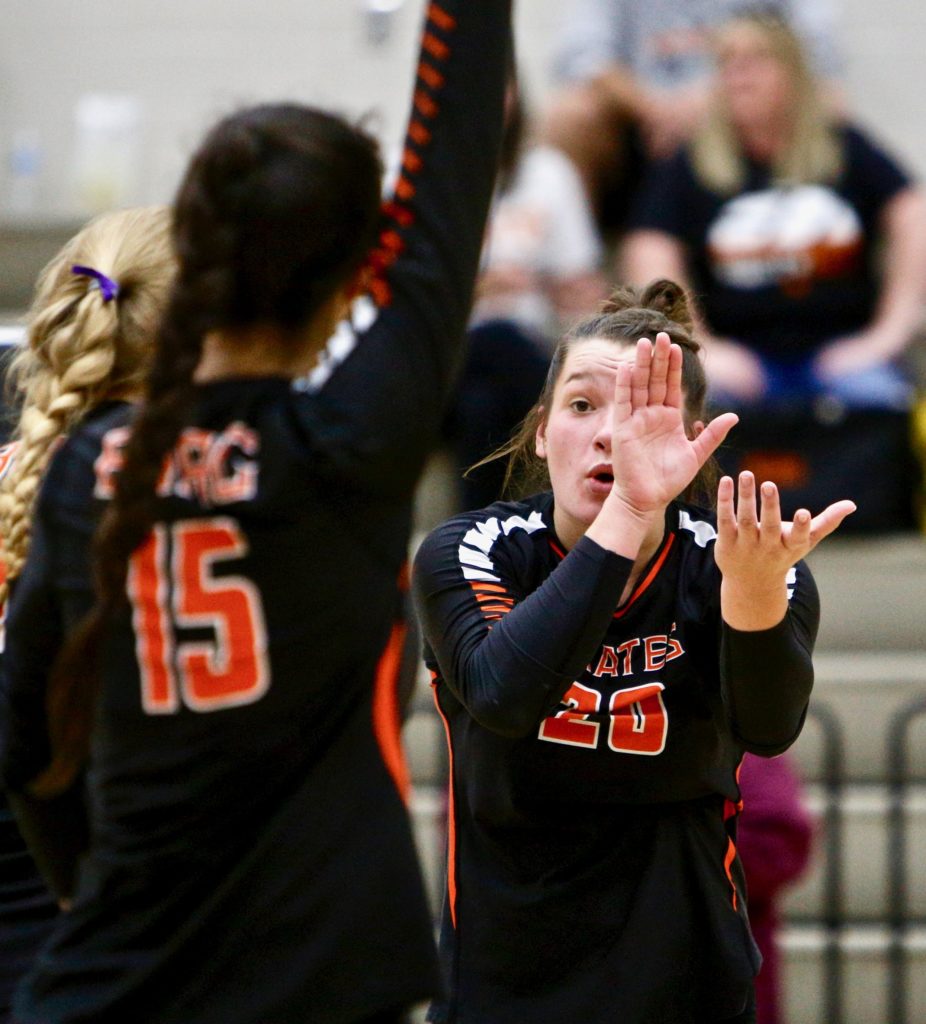 Game by game. Play by play. Serve by serve. The Pirates are on the right track.
Wheelersburg (9-2, 7-2 SOC II) took its next step on that journey Wednesday, making quick work of West in a 25-18, 25-11, 25-16 sweep.
"We've struggled through a lot of adversity this year, not only with COVID, but with some other issues as well," Wheelersburg coach Allen Perry said. "I think game experience is probably the most important thing this group is lacking. They've been playing against our previous varsity teams, but as for actual in-game experience, they don't have a lot. But we're 11 games in and we're seeing improvement. We've got a long way to go but I'm pleased with what I see."
Setter Makenna Walker and middle hitter Madie Mays are at the center of the youth movement.
The pair of juniors were instrumental in Wednesday's win, picking and choosing their spots with confidence while finding holes in the Senators' defense.
"We go in every day with the goal of improving each day," Perry said. "I think those two take that seriously. It doesn't matter if it's a game or if we're in practice. As a coach, that's what you ask for. You want them to give you their best every day. Those two do that."
Ryleigh Meeker also gives it her best effort, which usually spells out trouble for opponents.
Meeker packed a punch all night long, leading the Pirates' offense to a clean sweep. Put simply, West rarely had an answer for Meeker at the net — most teams don't.
"Ryleigh is more of a classic lead by example type of a player," Perry said. "But she's had to evolve into more of a vocal leader this year. It's really cool to see that happen and for her to blossom like that."
Meeker logged two kills in the night's first three serves, helping Wheelersburg take a 3-0 lead in the first set. That advantage swelled to 8-3 when Madison Whittaker posted a kill of her own, and then went to 22-15 late. Freshman Catie Boggs then finished off a 25-18 win with two straight kills.
In the second, Walker served an ace to give the Pirates their first lead at 3-2. That edge grew to 13-8 and 18-9 before Lexie Rucker helped put a second straight set win away late, a 25-11 final.
In the third, Walker and Mays led their teammates to a 12-4 lead. But the Senators (6-5, 5-4 SVC) battled back, ripping off a 7-0 run to cut the deficit to 12-11. However, after their first timeout of the night, the Pirates answered with a 6-0 run of their own to go ahead 18-11.
Rileigh Lang and Walker then both served aces, Whittaker logged a kill and Meeker polished things off with a kill, powering Wheelersburg to a match-clinching 25-16 win.
West will try to get back on track this coming Tuesday, hosting Northwest. Wheelersburg is back in action on Thursday, traveling to see the Mohawks in a pivotal SOC II meeting.
"The key is just to control our side of the net," Perry said. "We need to maintain what we're trying to do and have good ball control against a team like that. It's super important because they're going to bring offense to us. We have to be able to respond. They're a good team."