Derrick Webb, Staff Writer
CHILLICOTHE — Marissa Mullins believes her Westfall Mustangs can play in the state tournament this year.
Whether or not that happens is totally up to Mullins and her teammates. But games like Tuesday's five-set victory over Unioto undoubtedly shows that the potential is there.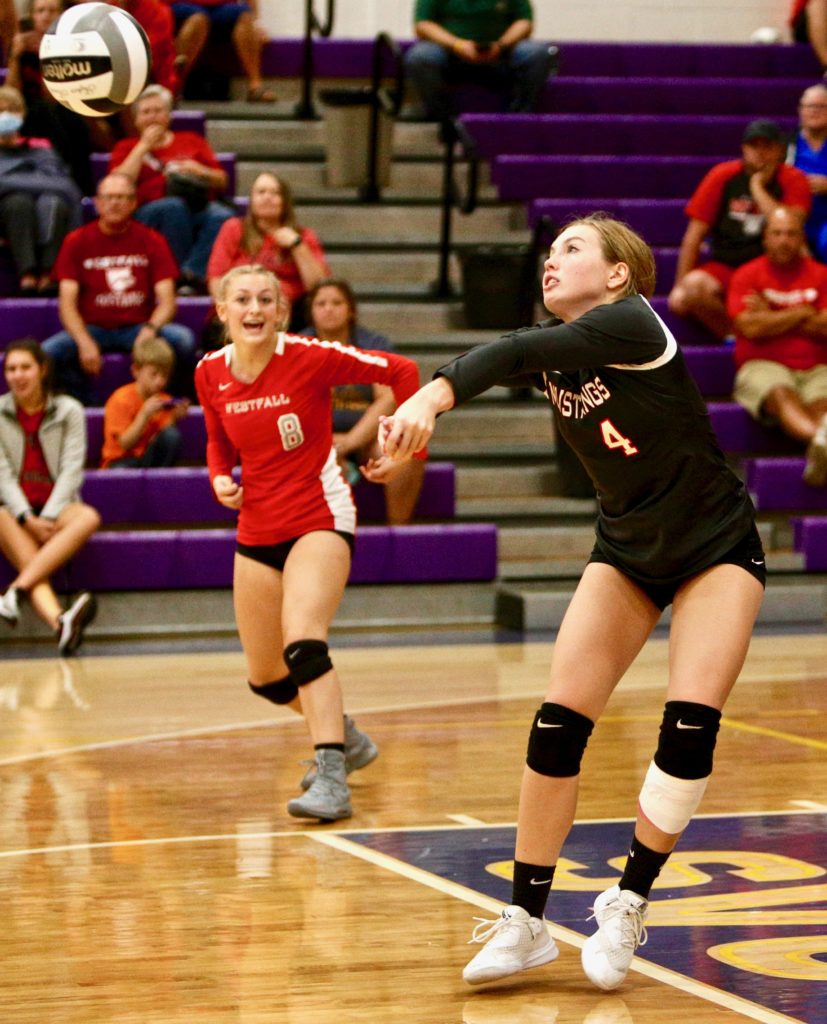 After winning the first two sets, Westfall (11-3, 7-2 SVC) let momentum slip through its fingers and dropped the third and fourth. But when it mattered the most, the Mustangs showed poise and came together to seal a 25-18, 25-18, 19-25, 19-25, 15-10 victory on the road.
Adversity faced. Adversity beaten. It's a lesson Westfall will surely keep in its back pocket.
"This was a huge win for us tonight," Mullins said. "[Unioto's] defense was amazing. We knew that and we had to learn which spots were open. After the first two sets we won, I think we got a little bit comfortable. They grabbed momentum and beat us in the third, and we were kind of shaken up by that. But after the fourth, we woke up and we came out and got it done."
Mullins was as advertised all night long.
The senior captain logged team-highs of 24 kills and 31 digs while punishing the Shermans (6-10, 2-7 SVC) each time they were out of position.
But she also got offensive help from a platoon of teammates, including Delana Landefeld, Hailey Young, Aubrey Clark, Lauryn Blackburn and the always hard-nosed Claire Latham.
"I'm just so excited to see them step up," Mullins said of her teammates.. "I'm proud of them and everything they've done."
Westfall took a 2-1 lead in the first set and never looked back. Mullins helped build a 7-2 lead that later ballooned into a 17-11 advantage. Unioto closed the gap, going on a 6-3 run but Young, Clark and Mullins curbed that momentum and helped seal a 25-18 win to start.
In the second, the Shermans jumped out to a 2-0 lead behind two consecutive kills from Carissa Wheeler. Unioto would keep a lead at 11-9 before Westfall ripped off a 7-1 run to go ahead 16-12. Clark made it a 20-14 game with a kill before Mullins polished off a second 25-18 victory.
But that's when the tides turned.
---
---
Unioto's Ella Cutright, who was magnificent all night long, gave the Shermans a 6-5 lead in the third before that edge grew to 15-10 and, later, 20-15. Unioto kept that pace, winning its first set by a 25-19 final.
The same story unfolded in the fourth. Cutright put Unioto ahead 9-8 before making it an 11-8 count with an authoritative block. The sophomore later made it an 18-14 game before Unioto's Jade Steawart and Addison Platt put an end to a 25-19 win, tying the match at 2-2.
And, all of the sudden, Westfall had been backed into a corner.
The Mustangs responded by opening the fifth with a 4-3 lead — much due to Mullins' play in the front row. Clark kept Westfall ahead at 5-4 before Young made it an 8-5 game with two consecutive kills.
The Shermans battled to force a 9-9 tie but kills from Clark and Mullins, and a Shermans' hitting error, created the separation Westfall needed to walk away with a 15-10 match-clinching victory.
"We learned that we really can't settle," Clark said. "We have to [play hard] every set with the most energy we have."
Following Mullins' stat line was Young with 10 kills and three aces while Clark finished with seven kills and seven digs. Latham tallied 49 assists and 16 digs, Madi Brown added 21 digs, Blackburn posted five kills and two blocks, Landefeld ended with five kills and five digs, Ava Heath had 16 digs, and Grace Wolfe added 12 digs of her own.
Wheeler led Unioto with 12 kills while Cutright added 11 of her own, alongside five blocks and a pair of digs. Sophie Coleman led the team with 30 digs, Avery Cox had 18 assists and 20 digs, Ava Eldridge added 19 assists and eight digs, and Stewart posted 10 kills.
Westfall is back in action on Thursday, traveling to Piketon, while the Shermans are back at it the same evening, heading to Adena.
"I think we can go to state," Mullins said. "I think at Zane Trace [in a win], we played great. I think if we stick to that, if we play with energy every single night, we can go as far as we want."