Derrick Webb, Staff Writer
WHEELERSBURG — Annie Coriell remembers the exact moment she found out her world was about to change. On Sept. 10, she only needed to hear one word for that to happen.
"Cancer."
It's a word that instantly induces fear, instantly raises anxiety and instantly makes your stomach turn. Annie experienced all three of those symptoms in a matter of minutes.
Annie's mother, Kristine, had been diagnosed with Mucoepidermoid carcinomas, or salivary gland cancer. And since that diagnosis, Annie's life path has taken a detour.
To the world, Kristine may be Annie's mother. But to Annie, Kristine is her world.
But since that day, Annie hasn't hung her head. She hasn't let negative thoughts dominate her outlook on life and she certainly hasn't lost a step on the soccer pitch.
In fact, you could argue that she's been better than ever since hearing that news. Wheelersburg's junior captain used a life change for motivation. She's whipping adversity's tail.
"When I found out, it was the day before our loss against North Adams," Annie said. "That was a big week for us. We had a league game against Minford coming up and, for me, it was like I could only control what was in front of me. So I tried not to think about the upcoming surgery. I couldn't control that. I knew that I'd been unsatisfied with my play over the past two years. But I really think this year, I realized I needed to step up. I knew I needed to focus on that."
On Sept. 11, the Pirates dropped a 3-1 decision at North Adams — a day that Annie described as a "lowlight" this season. Since then, behind her strong play, they've won six straight matches.
Wheelersburg handed Minford a 3-2 loss and proceeded to beat Fairland and Zane Trace that same week. All the while, Kristine was preparing for a complicated eight-hour surgery.
The surgery that Kristine underwent on Sept. 20 included the removal of her salivary gland. The risks of that procedure included but weren't limited to a loss of speech and a need for speech therapy.
Annie saw her mom the day before she entered the operating room. She hasn't seen her since, aside from Facetime calls. In fact, she's the only family member who hasn't seen Kristine in person due to both her age and COVID restrictions.
But again, she's used an arduous opportunity to show adversity who's boss.
"It's difficult. I haven't seen my mom in a week. I can't because I'm not 18 yet. But I know she's watching when she can. She's my biggest supporter," Annie said. "Everytime I look up [into the stands] and she's not there like the rest of the games, it's different for me. It is on my mind a lot. But I try to think, for the most part, about her not wanting me to think that way. She'd want me to be doing the best I can on the field."
Kristine is undoubtedly proud of what's taken place.
Wheelersburg is 10-1 overall and 7-0 in SOC action. Annie has posted 12 goals and six assists.
"She's tougher than even I knew she could be," Wheelersburg coach Todd Jarvis said. "She's a quality competitor and she's a quality individual. On top of all that, she's a really good soccer player. She's rounding out and it's all kind of fallen in about the same time. I don't if the circumstances have encouraged her but she's played well as of recently."
This is Annie's second year of wearing a captain band. According to Jarvis, there'll be a third.
It speaks to not only her talent with the ball at her feet, but also to her ability to lead, to withstand storms — in life and on the soccer pitch — and to set an example for others to look to.
"It's why she wears a band," Jarvis said. "Those [captain bands] aren't just decorative. There's a huge amount that goes into that. It's an important adornment for one of our ladies to wear. At a place like Wheelersburg, being a three-year captain is not commonplace. Annie will be a three-year captain."
Annie says her mom had a successful surgery and that doctors are confident they removed all traces of cancer. Kristine does have some loss of feeling in her face but she's regained the ability to speak freely.
Now, it's onto the recovery process.
The pair still hasn't seen each other in person since Sept. 19 but they hope that changes soon.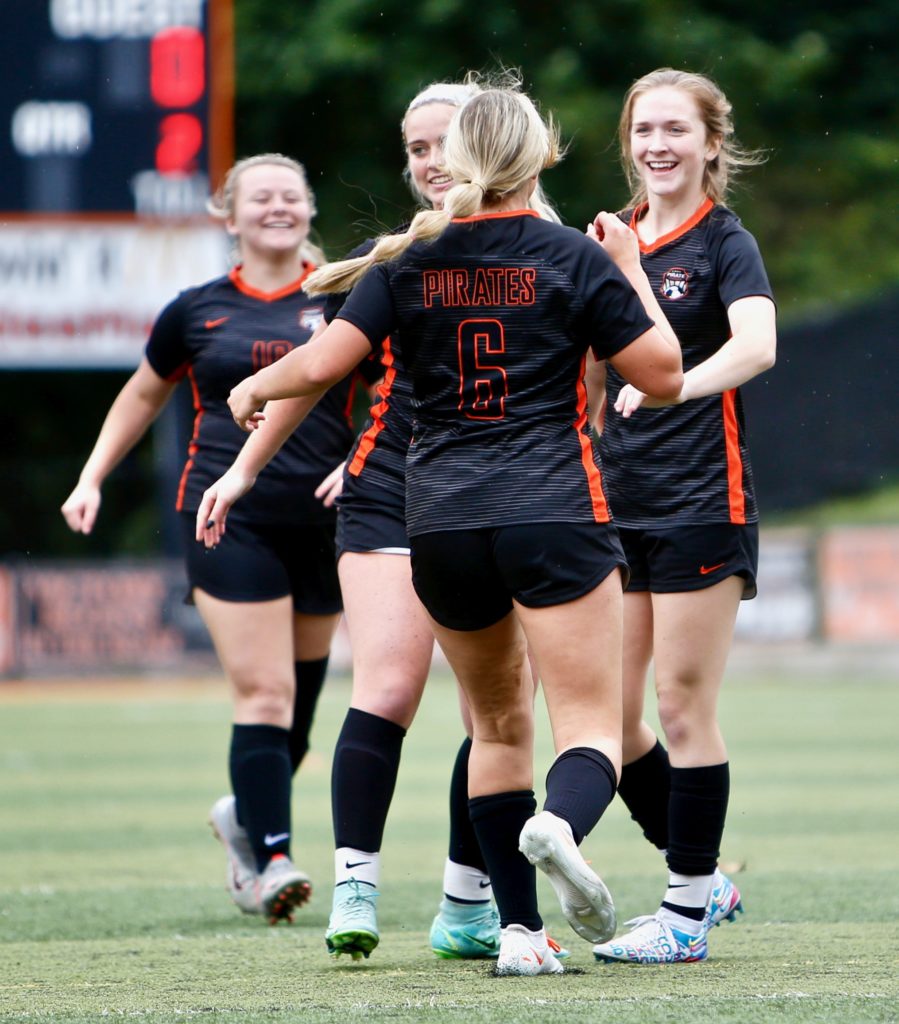 "Everytime I see her, she obviously looks rough but she's got a smile on her face," Annie said. "She doesn't talk about how much pain she's in. She talks about how my day is going and what I've got in front of me. I've got homework, practice and things like that, so when we FaceTime, it's probably no more than ten minutes. But she always stays really positive."
If you can't tell where Annie inherited her sunny disposition from, you're not looking hard enough.
"My sisters always joke that I'm the baby and I'm her favorite," Coriell said, smiling. "She takes care of me. I wouldn't be able to do anything that I do without her. She's constantly knowing things I don't know. She's always getting me into the right places at the right times. I'm pretty responsible but I would be all over the place if it wasn't for her. She's huge in my life. I love her so much."
Until Annie and her mom are reunited again, and things get somewhat back to normal, Annie has no shortage of people she can rely on.
The support that Wheelersburg's community, and the surrounding communities, has shown hasn't been forgotten or ignored. That's a huge reason why adversity continues to take a beating and Annie Coriell is serving up the punches.
"She's one of the toughest people I know. My ability to buckle down and play well in these games comes from her," Annie said. "She's incredibly strong. This has been a tough process for us but she hasn't let it show. I think the big thing is that we've had a tremendous amount of support from the people in this community. You know people care about you but it's hard to really grasp just how much until you have people bringing us dinner, giving us gift cards and those kinds of things. We're just so thankful for that."