Dewey Dailey, Contributor
FRANKFORT — Amidst an interleague slugfest, Matt Hoops and the Unioto Shermans came out on top.
Familiar faces — including Maddox Fox, Quinlan Netter, and Newton Hoops — provided the goods as Unioto beat Adena by a 28-18 final in Frankfort.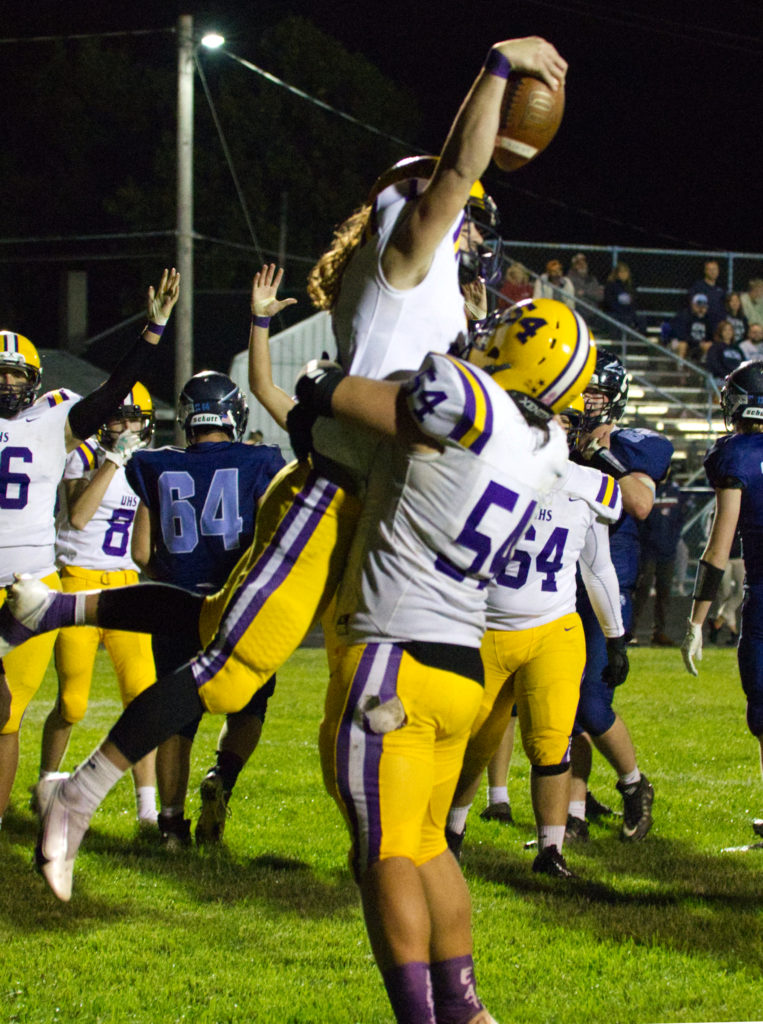 However, the Shermans (2-4, 2-1 SVC) also received help from Tayvion Galloway and senior halfback Cameron Lohnes, who combined for three touchdowns as a pair.
Fox and Netter took care of business with Fox reeling in six catches for 89 yards while Netter rushed for 78 yards on 10 carries, including a score from 28 yards out.
The Shermans' defense also earned its paycheck, only allowing six first half points, which set the tone for the second half.
"We were just trying to be more physical than them," Galloway said. "Obviously, we have a lot to work on. But our main objective was our physicality."
With Adena (1-5, 1-2 SVC) electing to defer, Unioto was prompted with the opportunity to get on the board first.
They took full advantage of that chance.
On the Shermans' first drive, Netter was able to break free for a 28-yard touchdown run, putting the Shermans up 7-0 early in the first quarter.
Early in the second, Adena's defense forced a fourth down in Sherman territory, prompting Lucas Hanes and the Unioto punt team onto the field.
This is where disaster would strike for the young Unioto squad.
As the ball left Hanes' foot, it was blocked by Caleb Osborne, and scooped up by David Magill, who rushed 32 yards into the end zone for a score. After an unsuccessful two-point conversion attempt, Unioto's lead had been cut to 7-6.
Each team recorded another possession before Unioto took over with a little under a minute left in the first half. The Shermans nickeled and dimed their way across midfield, looking to land themselves within Hanes' field goal range.
But with nine seconds left , in what appeared to be a broken play, Newton Hoops aired a 32- yard pass into the back of the endzone and found Tayvion Galloway for a score as time expired.
"That was huge," Hoops said. "Being able to score right there with no time left in the first half was huge for momentum going into halftime."
Hoops' connection with Galloway marked Galloway's first receiving touchdown this season, and young career. Galloway finished the contest with two catches for 39 yards and the score. As for Hoops, he finished 10-of-15 passing for 145 yards and a touchdown.
---
---
Adena struck first in the second half when junior signal-caller Andrew Vickers hooked up with Clay Wilt — who led the Warriors in receiving with 42 yards — for a 25-yard score, bringing the reigning SVC Champions to within two at 14-12 with 7:12 to go in the third. 
But despite Adena's persistence, Unioto began to pull away with 14 unanswered points over the next four minutes of play.
Both touchdowns came on the legs of Cameron Lohnes, one from five yards out and the next from three yards away, as the senior running back put Unioto ahead 28-12 — ultimately putting a cap on the night.
Down two scores, with only a quarter to play, Adena was forced to resort to the pass. The Warriors had relied heavily on the legs of Nathan Dreitzler all night, as the freshman running back logged 27 carries for 73 yards and a touchdown late in the fourth.
Unfortunately for Frankfort's own, Unioto's defense was able to stymie any attempt through the air, preventing any momentum to be gained.
Adena did find paydirt, however, when Dreitzler dove into the end zone late in the fourth. Following an unsuccessful 2-pt try, the Warriors' deficit was cut to 10.
Adena then attempted an onside kick that would prove to be unsuccessful. Unioto's Isaiah Cunningham pounced on top of it, ultimately putting the game on ice.
"I just think we had a good week in practice," Unioto's Casey Dray said. "We were full-go and well-prepared for this week. It's 0-0 for us now. We just need have another great week in practice and come in prepared to play."
Unioto's young regiment has shown major improvements as the season has progressed, and looks to continue its winning ways next week when they host the Zane Trace Pioneers.
As for Adena, the Warriors will look to get back on track in their Week 7 matchup at Westfall.