Derrick Webb, Staff Writer
PIKETON — At this point, it'd be understandable if Levi Gullion actually couldn't remember the last time he played poorly.
Piketon's star quarterback has been as advertised — and then some — all season long. Alongside a stout offensive line and a stable of weapons at his disposal, he's used both his legs and his right arm to steamroll opponents.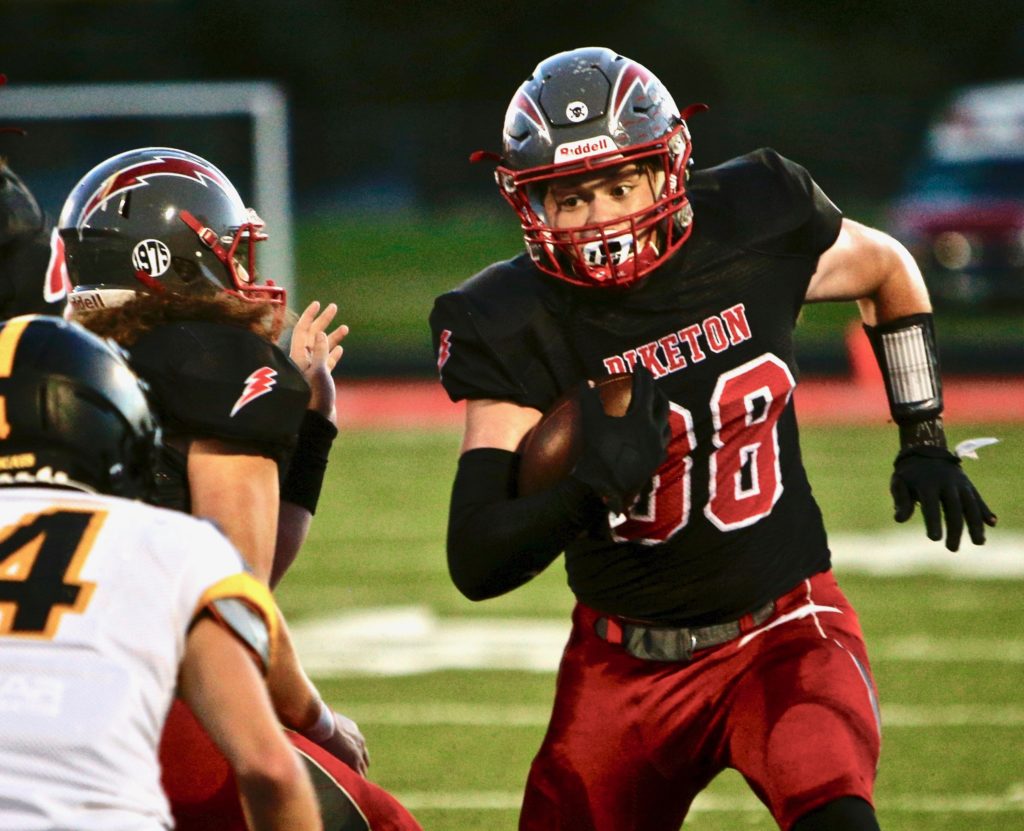 Nothing at all about that fact changed on Friday.
In a game that many believed to be the Redstreaks' stiffest remaining test, Gullion posted seven total touchdowns while Piketon (6-0, 3-0 SVC) rolled to a 43-20 victory over Paint Valley — moving itself into the driver's seat of the league's title race.
"We've got great athletes and great players," Piketon coach Tyler Gullion said. "We've got seniors that have played together forever and if you can keep those groups together, it's special. Levi, Cam [Loar] and Johnny [Burton] are tremendous athletes. But the offensive line, this one is as good as we've had. Paint Valley is a good team. This is a good win."
Piketon entered the matchup averaging 43.8 points per game. The Redstreaks' quick-fire offense has been well-documented all year.
While that's happened, the defense has been questioned and chastised. But answers were provided in Friday's win — one where Piketon forced six turnovers and held the Bearcats, who have a stable of playmakers, under wraps.
"They were tremendous," Gullion said. "Our defensive coaches have taken some crap over the years. A lot of that has to do with how we play offense. That was as good as we've played. We got penetration, we tackled well and I'm proud of those guys. I said if we could hold [Paint Valley] to three scores or less, we'd win. We did that. It was a great job from our defense."
Both teams spent the entirety of the first quarter trading possessions.
But early in the second, after forcing a turnover on downs, Paint Valley (3-3, 2-1 SVC) made a grave mistake.
Facing fourth down on their own side of the field, instead of punting, the Bearcats attempted a fake punt. It backfired and Piketon took over at PV's 46-yard line. Forty seconds later, Gullion scored the night's first touchdown on an eight-yard run to give the Redstreaks a 6-0 lead.
On Paint Valley's next play from scrimmage, Piketon's Kydan Potts intercepted a pass at the Bearcats' 37-yard line. Fifteen seconds later, Gullion scored on a 37-yard run for a 12-0 count.
---
---
The Bearcats then had their best chance to score in the first half when Cavan Cooper hit Beau Blankenship for a long pass play. But as Blankenship was running towards the end zone, Loar stripped the football and Burton recovered to preserve the goose egg.
Piketon's offense then took just under two minutes to piece together a 97-yard scoring drive, which was culminated by a three-yard rushing touchdown from Gullion, making it 18-0.
The mistakes continued to pile up for Paint Valley.
With 44 seconds remaining in the first half, Carter Williams picked off a pass to give the Redstreaks yet another chance to score. With 22 seconds left, Gullion scored again, this time from six yards out, to make it a 24-0 tally at halftime.
"We've been practicing so well," Tyler Gullion said. "When you put up great practice after great practice, that's what happens. It shows on Friday nights. Since practice the Wednesday before Zane Trace, we didn't practice well that night, since then, we've had great practices. We're starting to see that pay off. We haven't been getting turnovers, either. We did that tonight."
Following another turnover early in the third quarter, an interception from Levi Stanley, Piketon made it a 31-0 lead when Gullion hit Burton for a 64-yard touchdown pass at the 8:39 mark.
Paint Valley finally got into the scoring column when Cooper ran it in from 31 yards out to cut Piketon's lead to 31-8. The Bearcats then tacked on another score with 11:52 left in the fourth, coming on a 19-yard run from Cooper, to make it 31-14.
But Piketon put a stop to any hopes, however dire, of a comeback when Gullion logged a 51-yard touchdown run on the next play from scrimmage to make it 37-14.
The Redstreaks' final score came on a 30-yard touchdown run from Gullion, making it 43-14, while Paint Valley added a late touchdown, coming on a 26-yard pass from Cooper to Cordell Grubb.
Gullion ended the night with 205 yards rushing and six touchdowns on 16 carries. He was 13-of-19 passing for 203 yards and a score. Jayden Thacker added 34 rushing yards, Burton had eight grabs for 112 yards and a score, and Loar ended with three catches for 54 yards.
Cooper led the Bearcats with 20 rushes for 141 yards and two touchdowns while finishing 9-of-21 passing for 121 yards and a touchdown. Grubb added seven rushes for 25 yards while adding 34 receiving yards and a score.
Piketon is still searching for next week's opponent after its Week 7 contest with Southeastern was cancelled. Meanwhile, the Bearcats look to get back on track at Huntington.
"That was a big win for us. But we have three SVC games left, so we can't slip up. We can't take anyone for granted," Gullion said. "We have to go out and play well."