Derrick Webb, Staff Writer
JACKSON — A game of inches. Literally.
That's what Friday's outcome between Jackson and Wheelersburg came down to, proving the old gridiron cliche to ring true yet again.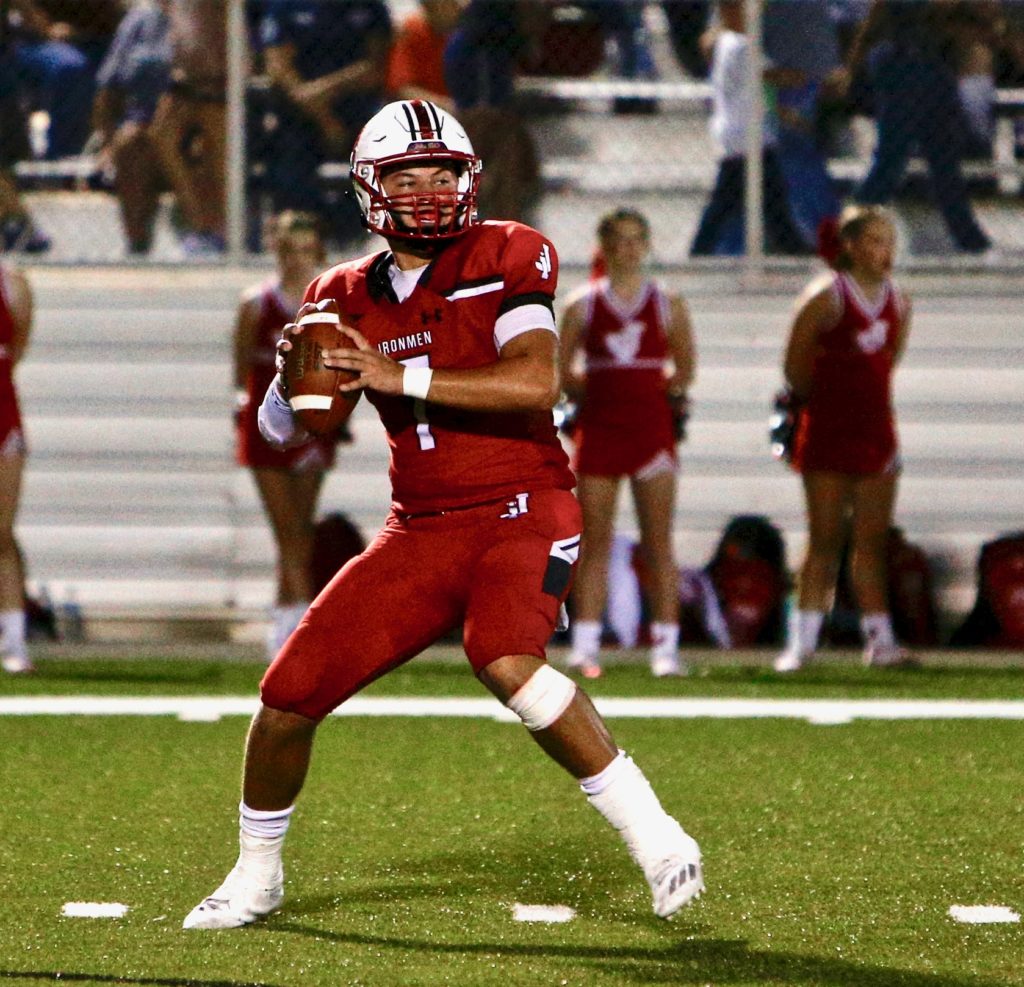 In overtime, and with a 21-20 lead, the Ironmen lined up with their heels on their own goal line. Wheelersburg, which had just matched a touchdown in the extra frame, lined up for a two-point conversion — trying to steal a win on the road.
But Jackson would have none of it.
The Ironmen, according to senior Jacob Winters, saw what was coming their way.
"We figured they were going to come out in that [formation] and run that [play]," Winters said. "So we see the backfield and when they had been running that on film, wherever the backs go, the play goes there. AJ Denny blew up the hole and made him bounce it, Xander [Karagosian] got his legs and I finished it up."
The goal line stand sealed an important 21-20 non-league win — one that follows a 33-28 loss to Western Brown — while allowing Jackson to breathe a deep sigh of relief.
"I think it's huge for us just to get back on the right side of things," senior Grant Mastin said. "We now just have to focus on the rest of the conference and take this one week at a time. That's our biggest thing this year, just taking things one week at a time. The work is done on Fridays and then we worry about the next."
The Ironmen (3-2) wasted no time getting on the scoreboard, thanks to a heads-up defensive play from Drew Bragg.
On Wheelersburg's first offensive possession, the Ironmen punched the ball loose. Bragg scooped it up at the Pirates' 33-yard line and returned it for a touchdown and a 7-0 lead.
But Wheelersburg (2-3) answered with 2:35 left in the first quarter.
Following a lengthy, well put together drive, Ethan Glover punched the ball into the end zone from three yards out to force a 7-7 tie.
The game's next score came at the 9:40 mark in the second when Jackson's Evan Spires found a wide open Eli Broermann for a 17-yard touchdown toss, putting the Ironmen ahead 14-7 — the eventual halftime tally.
---
---
However, just before halftime, the tides turned when Spires stayed on the ground after being hit by a defender. The senior's night ended there and Winters was asked to step in under center.
"I saw his knee and knew it was bad and was just like, 'I have to step this up. I can do this. I've been here before. I'll do this for Evan,'" Winters said. "When we broke that huddle after halftime stretches, we said. 'Do it for [Spires].' We wanted to go out there and win this game."
Late in the third quarter, Winters made his only mistake of the game.
An errant pass landed in Wheelersburg's Eli Swords' arms before Swords ran it back to Jackson's one-yard line. On the next play, with 5.1 seconds remaining, Glover found paydirt for a second time to force a 14-14 tie.
Throughout the final 12 minutes, defense stepped into the forefront. Both teams forced multiple punts before the Pirates finally found a rhythm with the game clock dwindling.
With 2:08 left, Wheelersburg pieced together an eight-play, 41-yard drive that came to a climax when Braxton Sammons lined up for a game-winning 51-yard field goal try.
Sammons' heroic attempt doinked off the front of the crossbar and fell to the turf, signaling OT.
A game of inches.
"51 yards. How does that happen in high school? That kid is a fabulous kicker," Jackson coach Andy Hall said. "But I give our kids credit. We had four touchdowns called back tonight. We could've just thrown in the towel, folded and pouted about how many penalties we had. But we kept fighting."
The Ironmen got the ball first in overtime and scored on a 12-yard touchdown pass from Winters to Cade Wolford, taking a 21-14 edge — a score that came on a fourth down play call.
Wheelersburg answered with a four-yard touchdown from Glover to make it a 21-20 count.
When the Pirates lined up for a two-point conversion, Jackson called a timeout. And, out of the break, 'Burg hadn't changed its mind.
That set up the goal line stand that sealed Jackson's third win this fall.
"When we went into that timeout, we all just kind of looked at each other like, 'We've got to get it done here,'" Mastin said. "Either they were going to score and win or we stop them and come out on top. We've had a few tough losses this year so we definitely wanted to come out on the upper half of the scoreboard tonight. We decided to strap it up a little together and make a play."
Spires finished the night 6-of-7 passing for 84 yards and a touchdown while Wolford tallied 75 receiving yards, 63 rushing yards and a score. Winters racked up 38 yards rushing and Broermann's only catch went for the 17-yard touchdown.
Glover led the Pirates statistically with 12 rushes for 60 yards and three touchdowns. Eric Lattimore added 79 rushing yards and 23 receiving yards while Bryson Stamper finished 6-of-12 passing for 40 yards.
Jackson will begin Frontier Athletic Conference play next week at Hillsboro while Wheelersburg travels to Minford, beginning its Southern Ohio Conference slate.
"We can definitely improve on the offensive side of the ball, limit turnovers, limit holding calls … we just have to get the job done," Winters said. "If we do our part, I think we'll be fine."
| | | |
| --- | --- | --- |
| Wheelersburg | | Jackson |
| 6-14, 39 yards | Passing | 8-14, 101 yards |
| 47 rushes, 180 yards | Rushing | 39 rushes, 124 yards |
| 12 | First Downs | 10 |
| 3 | Turnovers | 2 |
| 5 – 40 yards | Penalties | 12 – 104 yards |