Tate Erkenbrecher, Contributor
CHILLICOTHE — While Chillicothe's defense bent on Friday, the Cavaliers' unit didn't break.
Meanwhile, a ground and pound mentality stopped Logan in its tracks at Herrnstein Field as the Cavaliers (2-2) rode their running backs to a 23-21 non-league win.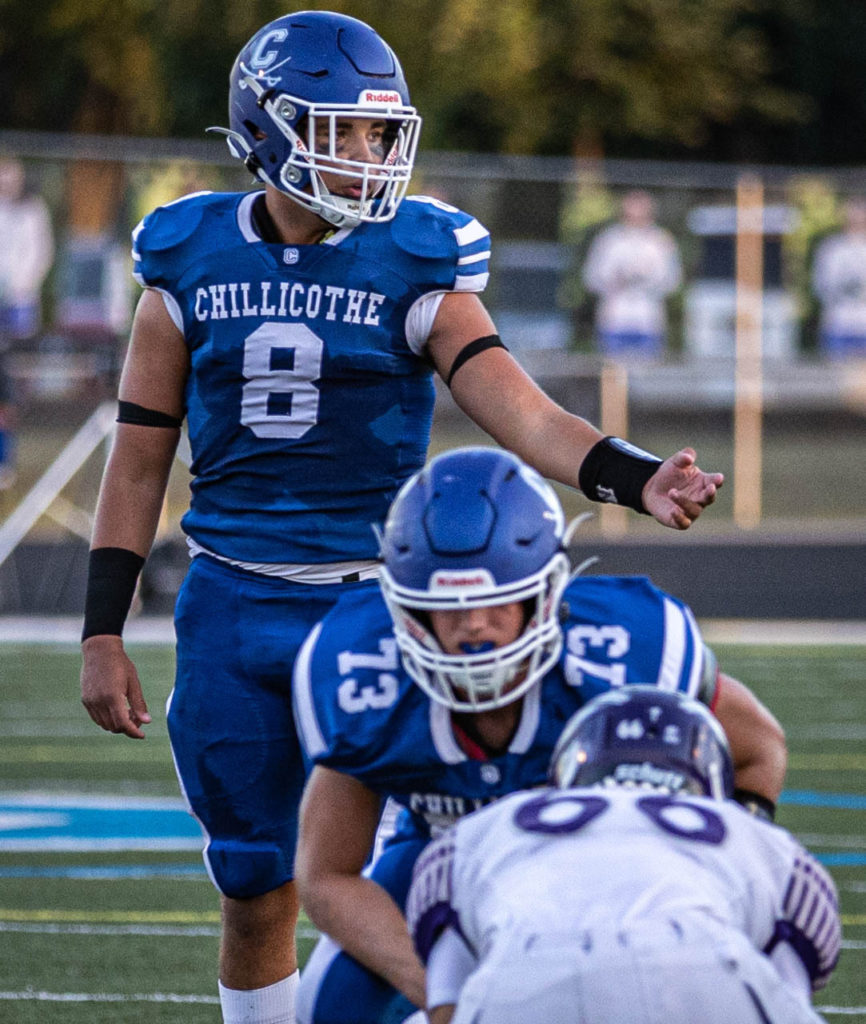 "We really just wanted to show that we could dominate up front," Chillicothe's Maxwell Lee said. "We thought we were better up front and that's where ball games are won. I think we did a good job of showing that and we ran the ball well."
Logan had a very beneficial night running the ball as well, an attack led by Traten Poling. The senior carried the ball 14 times for 78 yards and a touchdown but, ultimately, penalties made it challenging for the Chieftains (0-4) to take control of the game.
Lee and Chucky Thomas were given the go-ahead to take Logan's defense by storm, combining for 23 carries, 113 yards and a touchdown between the two.
"We're here to make a statement," Thomas said. "We want to let everybody know that we're here. There were a couple of plays that we let out of our hands. But we came back, we held them and we got a win."
Chillicothe scored the game's first touchdown, thanks to a two-yard touchdown run from Thomas with 5:49 left in the first quarter, making it 7-0.
But Logan fought back in the second with two touchdowns to take the lead.
Poling scored the first time on a six-yard run to force a 7-7 tie with 10:46 left, capping a six-play, 74-yard drive. Then, with 7:11 to go in the first half, Brayden Sturgell logged a 40-yard touchdown rush to give the Chieftains a 15-7 lead — a successful two-point try.
The Cavaliers, however, were quick to answer.
With 1:43 left in the second, quarterback Mason Doughty finished off a 12-play, 55-yard drive with a two-yard keeper. Chillicothe then got a two-point try, sending the game into halftime at 15-15.
"They broke some big plays," Lee said of Logan's offense. "But we came back, we balled, and we never gave up."
Coming out of halftime, both teams showed signs of life but struggled to move the ball.
The next score didn't come until the 10:03 mark in the fourth when Doughty found Xzavier Doss from 30 yards out to give the Cavs a 23-15 lead, following another two-point conversion.
The Chieftains had a counter-move, though.
---
---
Brayden Sturgell found Kaiden Patton for a 71-yard touchdown toss, making it a 23-21 game with 8:25 remaining. But on the ensuing two-point try, the resilient Cavaliers' defense made a stop to keep the two-point lead alive. 
The Chieftains got the ball back with just under seven minutes left, before embarking on a 12-play drive to Chillicothe's 22-yard line.
But on the 13th play of that sequence, on a 4th and 11 play, a pass attempt fell just short of moving the chains, handling Chillicothe the ball with just seconds left on the game clock.
"We knew about Logan. We knew what they came here to do," Thomas said. "It was all about physicality and we came out on top."
Sturgell ended the game 6-of-8 passing for 116 yards and a touchdown alongside 67 rushing yards and a score. Poling tallied 14 rushes for 78 yards and a score, and Patton led the Chieftains in receiving with three catches for 91 yards and a touchdown.
Leading Chillicothe statistically was Lee with 87 rushing yards on 14 carries while Thomas had nine rushes for 26 yards and a touchdown. Doughty was 5-of-13 passing for 80 yards and a touchdown while Doss had two catches for 59 yards and a score.
Chillicothe will begin Frontier Athletic Conference play next week at Miami Trace while Logan continues to search for its first win, hosting Athens.
| | | |
| --- | --- | --- |
| Logan | | Chillicothe |
| 6-10, 116 yards | Passing | 5-13, 80 yards |
| 41 rushes, 254 yards | Rushing | 32 rushes, 130 yards |
| 13 | First Downs | 11 |
| 2 | Turnovers | 2 |
| 9 – 80 yards | Penalties | 4 – 25 yards |