SOSA Staff
LUCASVILLE — Lucie Ashkettle is built different.
Not because she's a girl on Valley's boys soccer team, but because of how effortless she makes everything look on the soccer pitch.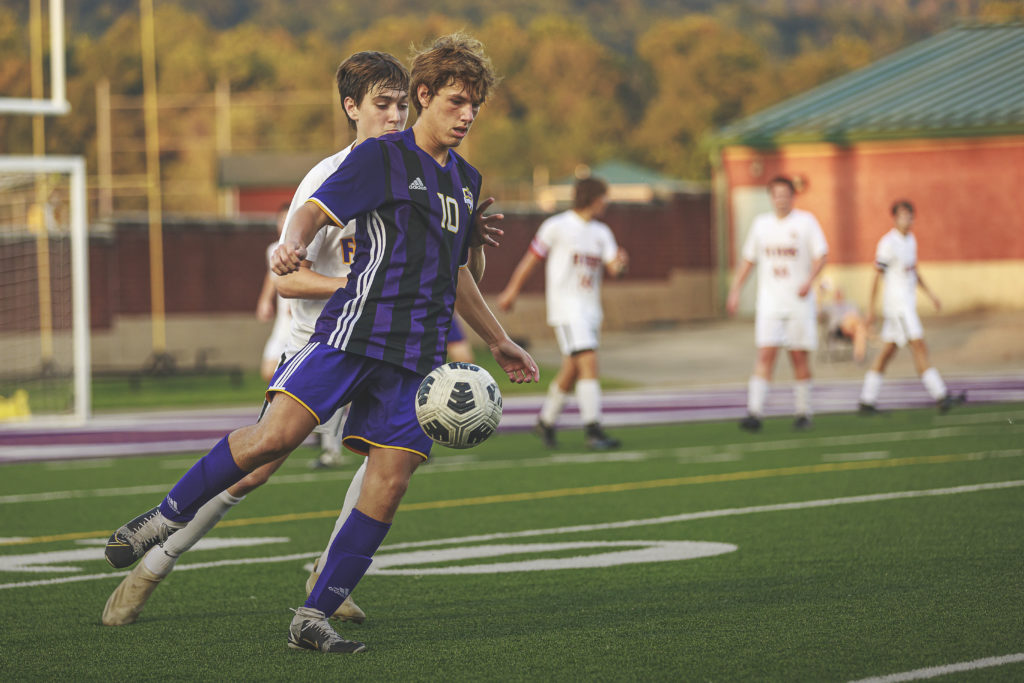 The junior wing displayed patience and flawless timing with every movement she made on Thursday while showing off her ability to score. She netted a hat trick to lead the Indians to a 6-1 victory over Ironton St. Joe.
"Lucie is incredibly technical with the ball and possesses it better than anyone on our team," Valley coach Jacob Perry said. "She sees the field excellently and has a soccer IQ that is second to none. Her value on this team is indescribable. She's not a girl just playing to play. She's the real deal."
However, Ashkettle wasn't alone in the attack on the night.
Though it took some time, Austin Sommers eventually made his impact felt with a pair of goals and an assist on the evening.
"Austin is very quick and physical. He likes to get into the mix," Perry said. "He has a great shot and sense of the game. Him and Lucie work very well together up top and are always moving. Any team would be ecstatic to have them, but luckily we do."
Despite just nine wins last season, it was evident there was something potentially special with Valley's roster coming into this fall, considering nearly everyone was returning.
Thursday's win marks a 6-0 start for Valley, its best start since 2012 — a season in which it made a district final.
"We're a heavy upperclassmen team and most of them have been starting since they were freshmen, so they've been building something for the past two or three years," Perry said. "This start makes all the mornings we were here practicing at 6:30, putting in the work, completely worth it. There's still a lot of soccer left, but I think they're seeing that the work does pay off."
Valley's first shot attempt was whiffed just a few feet in front of the goal, but it didn't miss its second chance.
The Indians found an opening in the Flyers' defense, and Bryce Stuart found the back of the net off a perfect cross from Chase Powell for a 1-0 lead.
A few minutes later, a mad dash for the ball resulted in a collision in front of the goal with Ironton St. Joe's keeper.
But Ashkittle was trailing and stayed with the play, ultimately connecting on a goal to put the Indians ahead 2-0.
Though the scoring slowed down after that, the Indians kept rolling.
Whether it was their offense continuing to apply the pressure, or their defense putting the clamps on the Flyers' attack, it was evident they were a step, or two ahead, of ISJ all night.
"At halftime, I told the team that they were working too hard, which sounds weird. But we possessed the ball so much in the first half," Perry said. "That's how you win games, with ball possession. Make them chase you."
The Indians sustained momentum well into the second half, and that's when Sommers decided it was time to strike.
With the ball at his feet, he found a clearing through the right side and found the back of the net to push the lead to 3-0.
But the Flyers answered 16 seconds later when Zach Johnson took the play in, weaved his way through three defenders and stuck a bullet with his left foot past the keeper for the goal.
Not to be outdone, Sommers scored his second goal just 30 seconds later, which was essentially the final gut punch to the Flyers.
"I realized that I had to take control of the ball a little more, instead of waiting for it to come to me," Sommers said. "I had to play as hard as possible and create some opportunities."
Sommers later found Ashkettle in the box for her second goal of the night before she completed the hat trick, sending a perfect shot over the goalie's outstretched arms from just under 20 feet out to put the finishing touches on an Indian victory.
"I was looking for an overlap in the corner, and coach was telling me to cut it in and look for the shot," Ashkettle said. "The very next play, I was in that position to do so, and I took it. It felt amazing seeing the ball go in."
Valley returns to the pitch on Monday for a battle at Minford while Ironton St. Joe hosts West Union on Thursday.