Derrick Webb, Staff Writer
CHILLICOTHE — In the midst of absolute bedlam Friday night, Unioto sophomore Connor Dollison stood in the end zone with the football in his hands.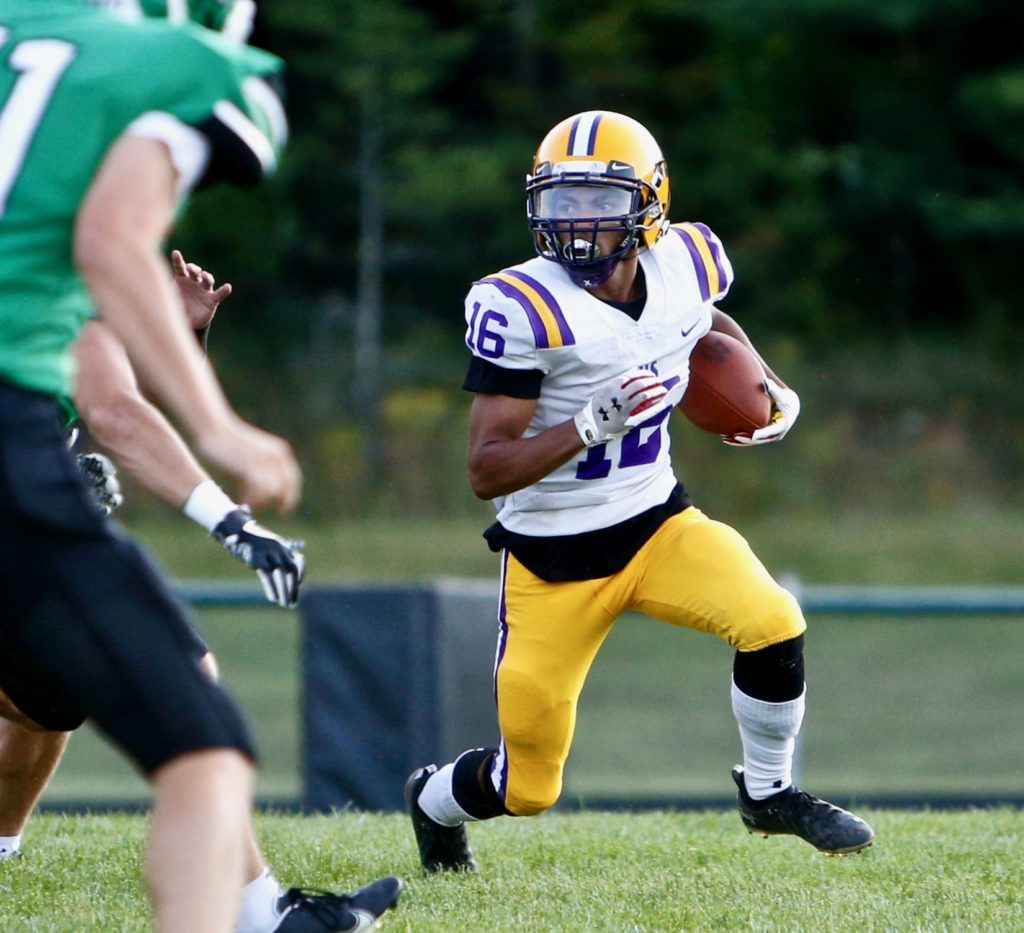 It was after one of the most heads-up plays in recent memory.
After his Shermans, who trailed Huntington 30-27, had attempted a game-tying field goal as time expired, Dollison was the only player — or person for that matter — who noticed something was awry.
Unioto's 34-yard field goal attempt was blocked by Huntington's Dalton Black near the line of scrimmage. The Huntsmen, thinking they had won the game, rushed the field in celebratory fashion. But as that was happening, a lightbulb turned on in Dollison's head.
"I heard it get blocked and everybody ran away," Dollison said. "I knew it was a live ball. So I picked it up and ran it into the end zone. I made sure to talk to the refs, made sure they knew I went in and made sure they knew it was a live ball."
And, with Dollison standing in the end zone, officials gathered to sort things out. Eventually, after a discussion that seemed like it took forever, they signalled for a touchdown — and it was Unioto's turn to rush the field after a victory.
"With two seconds on the clock, it's an easy call for us. We lined Lucas [Hanes] up to kick a field goal," Unioto coach Matt Hoops said. "We were playing for that and got in position to do it. [Huntington] made a heck of a play to get a block on it. But as we were all either mourning a loss or celebrating a win, Connor had enough wherewithal in him to pick it up and run it in."
Some will say they heard an inadvertent whistle when the field goal attempt was initially blocked. Some will argue that the play was dead when two referees ruled the field goal attempt no good.
Both could be strong arguments.
But, for now at least, regardless of anyone's feelings on one of the most controversial endings the Scioto Valley Conference has seen in quite some time, all that matters is that Dollison was standing in the end zone when the clock hit triple zeroes.
Unioto 33, Huntington 30. Final.
"We had to find a way to get a win," Hoops said. "When you're playing as many young guys as we're playing, this is game four for them, they've got to grow up sometime sooner or later. Tonight, they did. They grew up a lot. They stayed within the fight and found a way to win. We're proud of our guys and we're thankful to get a win tonight, no matter how it happened."
---
---
The Shermans (1-3, 1-0 SVC) got on the scoreboard first, thanks to a five-yard touchdown plunge from Cody Tuttle at the 7:49 mark in the first quarter.
Huntington (1-2, 0-1 SVC) answered quickly with a three-play, 70-yard scoring drive — one that ended with a 22-yard run via Seth McCloskey. The Huntsmen then used Dalton Haubeil to convert a two-point conversion, taking an 8-7 lead with 4:26 remaining in the opening frame.
The game's next score came with 9:01 left in the second when Unioto quarterback Newton Hoops found a way in from a yard out, putting the Shermans back in the lead at 14-8.
Then, with five minutes left in the half, Quinlan Netter played add-on with a 41-yard touchdown run, giving the Shermans a 20-8 advantage.
"Quinlan Netter is an outstanding running back, and he's only going to get better," Matt Hoops said. "He's also another sophomore we're relying a lot on. That's kind of a theme right now."
With 2:33 left in the second, Huntington threw a counter-jab with a 73-yard touchdown run from Haubeil for a 20-16 halftime score — following another two-point try.
The Huntsmen then retook the lead at 24-20 with 7:51 left in the third on a 41-yard rush from McCloskey.
For the majority of four quarters, the Huntsmen had their way with Unioto's defense. The two-headed backfield monster of Haubeil and McCloskey paced the Huntsmen' offense, gashing their way to 311 combined rushing yards.
That trend continued when McCloskey scored his third touchdown of the evening, this time from 22 yards out, making it a 30-20 tally at the 6:21 mark in the fourth.
But that's when Newton Hoops and company went to work.
Hoops led his Shermans on a late scoring drive that ended with a nine-yard touchdown pass to Maddox Fox at the 3:26 mark.
Huntington, with a 30-27 lead, went backwards on its next drive. After a series of penalties, the Huntsmen were forced to punt, giving Unioto the ball back with 1:15 left.
And that was a minute and 13 seconds too long.
Hoops and Fox hooked up again for a long pass play that put the ball deep in Huntington territory. Three plays later, with two seconds left on the clock, the Shermans lined up for the game-tying field goal.
And, well you know what happened next.
Field goal try. Block. Pandemonium. Dollison with the game-winning touchdown.
"It's obviously not how we wanted to win," Newton Hoops said. "But I love how we didn't give up. Huntington never gave up either. I'm just proud we were able to execute through that and finish it."
Hoops ended the game 16-of-30 passing for 208 yards and a score alongside 54 rushing yards and a touchdown. Netter tallied 18 rushes for 134 yards and a touchdown while Fox finished with 14 catches for 183 yards and a score.
McCloskey led Huntington's attack with 192 yards rushing and three touchdowns on 17 carries. Haubeil finished with eight carries for 119 yards and a score while adding 48 receiving yards.
The Shermans will host the undefeated Piketon Redstreaks next Friday while Huntington is back in the Township for a matchup with Zane Trace.
"We have to have another good week in practice," Matt Hoops said. "[Piketon quarterback] Levi Gullion is the best player in this conference. No doubt about it. He's able to run and throw. We're going to have our hands full."
| | | |
| --- | --- | --- |
| Unioto | | Huntington |
| 18-32, 219 yards | Passing | 8-14, 44 yards |
| 32 rushes, 257 yards | Rushing | 28 rushes, 313 yards |
| 25 | First Downs | 15 |
| 1 | Turnovers | 1 |
| 16 – 152 yards | Penalties | 10 – 78 yards |