John Bruce, Contributor
FRANKFORT — It isn't every day that you have two undefeated teams matching up just after the opening week of the season. It also isn't every day when the hype surrounding said match actually exceeds its billing.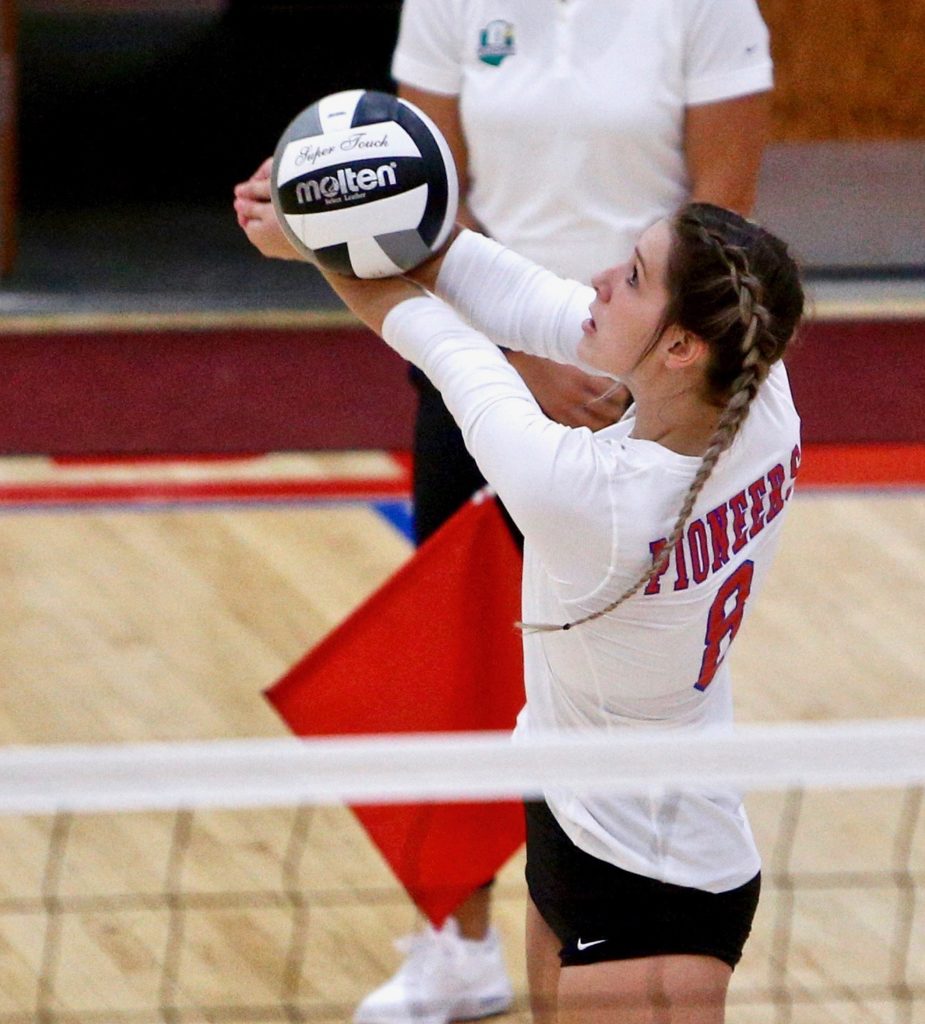 On Thursday night at Adena High School, an important early season battle between Zane Trace and Adena far exceeded any expectations.
Adena handily won the opening two sets before Zane Trace (7-0, 4-0 SVC) stormed back to win the next three to shock the hosts and take over control of the Scioto Valley Conference title race — topping the Warriors by a 17-25, 14-25, 27-25, 28-26, 15-13 final.
The Warriors (7-1, 3-1 SVC) took advantage of a mismatch at the net in the opening set with Jenna Martin and Sydney Foglesong using their length and power to dominate. A back and forth set was sitting at 19-15 Adena when Emma Curry buried an ace to give the Warriors all the momentum they needed to seal a 25-17 win.
In the second, it appeared as if fans would see more of the same after two kills from Martin and an ace from Makenna Lovely to open things up.
But the Pioneers stormed ahead 10-5 behind Lexi Scott and Alexis Farley at the net before an Adena timeout changed the set's course. The attacking of Makenna Lovely and Hannah Burns, along with the defensive prowess of Camryn Carroll and Hope Garrison, allowed the Warriors to take complete control of the set and the match.
The Warriors won 20 of the set's final 24 points, taking a commanding 2-0 lead.
When trailing 2-0 to the defending SVC, sectional and district Champions, most teams would fold up their tents and prepare to head home. Zane Trace is not one of those teams.
"These girls are a family. They love one another, they fight for one another," ZT coach Cyndi Davis said of her Pioneers. "Coming into Adena and being down 2-0, I asked them, 'Do you want to go home in three?' They said no, and I said that you have to give it your all. And they went out and fought. It was a hard five, but they did it."
It would not be easy for the Pioneers to complete the comeback as they trailed 23-20 late in the third before fighting off two match points. A kill from Emily Allen put them ahead at 26-25 before they eventually won a 27-25 final.
It should be noted that a key portion of the set came when Kinley May rattled off three consecutive aces to bring the Pioneers ahead in the early goings.
The fourth is when the match was taken to a whole other level.
Eight ties, including deadlocks at 21, 22, 23, 24, 25 and 26, brought the crowd to its feet multiple times. Scott fought off two consecutive match points with monster kills, served up by Delaney Berry, before Farley's kill put the Pioneers up 27-26, forcing a timeout from Adena.
Coming out of the timeout, May rang up her fifth ace of the match, this one crashing off the top of the net before falling harmlessly to the floor, tying the match at two sets apiece.
The fifth and final go-around would be a race to 15, which like the previous two sets, would be a battle.
The teams traded points before a monster solo block from Gracey McCullough gave the Pioneers a 10-8 lead, a lead they didn't give back.
With a 14-10 edge and only one point from an epic comeback victory, Zane Trace was forced to use its last timeout. Coming out of the timeout, Adena's Jenna Martin rattled off three consecutive kills to give the Warriors a chance.
However, a kill, fittingly, from Scott would send the visitors home happy and alone in first place in the SVC.
"It's a crazy feeling," Scott said. "We knew we had to come back. We knew they were a good team. I'm not really sure what we were doing in the first two sets, but we definitely pulled our composure together and made it work."
Scott logged a game-high 23 kills alongside 19 digs while Farley added 12 kills and 14 digs for ZT. Allen also helped the Pioneers' efforts with 11 kills and 13 digs, Berry added 30 assists and 14 digs, May finished with 20 assists and 19 digs, McCullough had 16 digs, and Brynlee Viney had 20 digs.
Statistically for Adena, Martin had 20 kills while Foglesong added 14. Harper had 13 kills and 16 digs, Hannah Burns added 12 kills, Camryn Carroll finished with a game-high 28 digs, Makaela Lovely ended the night with a game-high 37 assists, Brooke Bossert posted 23 digs, and Garrison added in 15 digs and 18 assists.
Zane Trace will try and stay perfect on Monday at Canal Winchester while Adena attempts to bounce back on Tuesday, traveling to Westfall.