Derrick Webb, Staff Writer
BAINBRIDGE — When opportunity knocked on Friday, Washington backup quarterback Raleigh Haithcock sprinted to answer the door.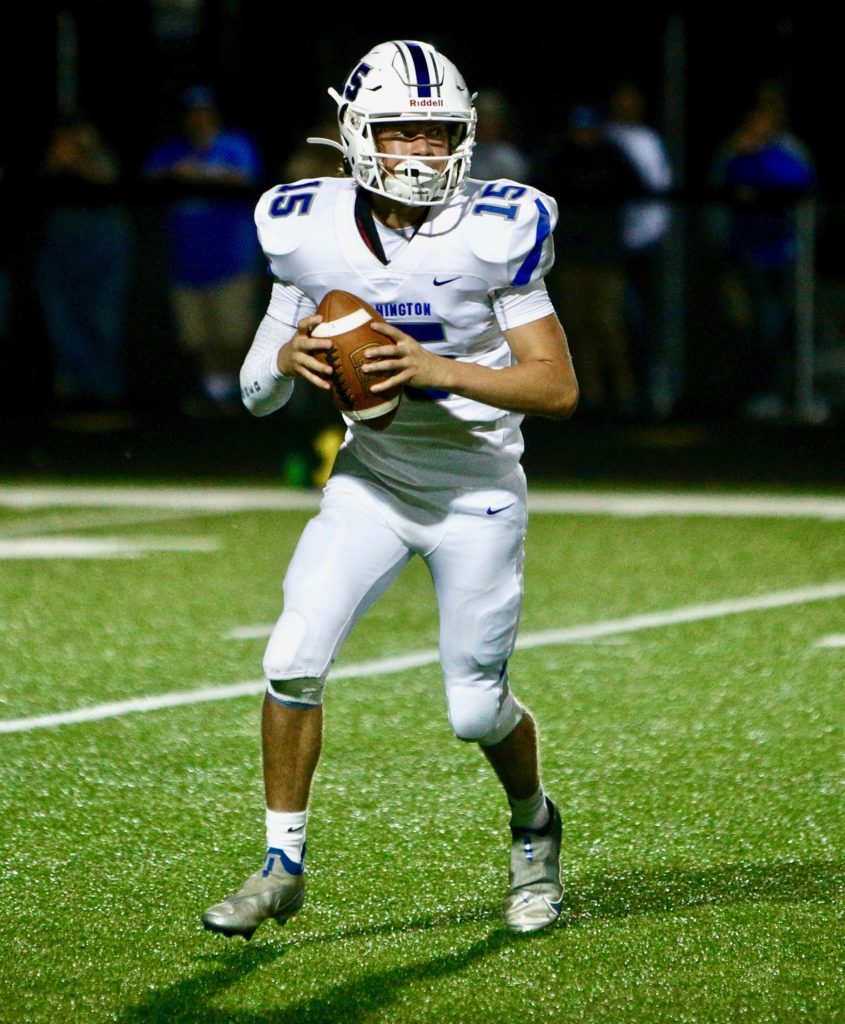 After a tightly-contested position battle that lasted throughout camp, Haithcock surrendered the starting job to teammate Troy Thompson. He had no idea whether or not he would see playing time in the Blue Lions' Week 3 matchup at Paint Valley.
But what he did know was that opportunity doesn't knock twice.
Late in the second quarter, Thompson was sidelined with an injury. That's when Haithcock heard the knocking, answered the door and said hello to destiny.
With his Blue Lions trailing 29-12 with less than 10 minutes to play in the fourth, Haithcock helped mount an improbable comeback, leading his Blue Lions (2-1) to 20 unanswered points and a stunning 32-29 victory over the Bearcats.
"I can't say enough about Raleigh," Washington coach Chuck Williamson said. "He was in a tight quarterback battle over the summer and Troy beat him out by a hair. We told him, 'Raleigh, just prepare like you're going to play.' Troy went down and man, he just came out and played lights out. He made a couple of early mistakes but he said, 'I've got this coach.' He was right. He got it."
Williamson was quick to point out that his team had been in a similar position before.
In a Frontier Athletic Conference matchup with its rival last season, Washington erased a 27-point deficit to steal a 38-33 decision. Friday's win had remnants of that victory.
"We did this last year. We were down 27-0 to Miami Trace and everybody wrote us off," Williamson said. "Our kids just believe. They believe in our system, they believe in what we do. Our message at halftime was to keep fighting. We talked about Buster Douglas getting knocked down and then coming back with a purpose. We told them you're never out of the fight."
The Blue Lions got on the board first with 6:23 left in the first quarter. Thompson hit AJ Dallmayer for a 22-yard touchdown pass to make it a 6-0 ballgame — the PAT was blocked.
But Paint Valley (1-2) answered — after several defensive stops — at the 10:51 mark in the second when Dax Estep found a streaking Dillon McDonald for a 38-yard touchdown pass to put the Bearcats in front, 7-6.
Washington put together a lengthy drive late in the second quarter but PV's Cole Miller picked off a pass at his own 3-yard line and returned it into WCH territory. 18 seconds later, Estep found Trent Mettler open in the end zone for a 15-yard touchdown toss that gave PV a 15-6 halftime lead after a successful two-point try.
---
---
With 8:38 left in the third, and Haithcock in at quarterback, PV's Cavan Cooper jumped a route and returned an interception 55 yards for a touchdown that gave the Bearcats a 22-6 edge.
After Washington's offense went three-and-out, Blue Lions defensive lineman Rishaun Burns recovered a fumble on the ensuing PV drive. He scooped the ball into his breadbasket and ran it back 73 yards for a touchdown, cutting the deficit to 22-12 with 7:11 to go.
"Our defense flies around," Williamson said. "They're ballhawks. Rishaun's scoop and score was huge, Trevaughn's [Jackson] pick, Mason's [Coffman] touchdown got called back but it's still a turnover. I couldn't be more proud of these guys."
But at the 10:08 mark in the fourth, Cordell Grubb punched it in from 14 yards out to cap a long scoring drive and give the Bearcats a 29-12 advantage — what looked to be the knockout blow.
That's when Haithcock and company polished off their lunch pails and went to work.
With 8:33 remaining, Washington's Rocky Jones scored from five yards out to make it 29-18. Then, with time ticking, Haithcock found Isaiah Haithcock for a 40-yard touchdown pass at the 3:17 mark, making it a one-score game.
Still, things looked dire.
But after getting a stop and using their timeouts wisely, the Blue Lions got the ball back at midfield with 2:07 left and Haithcock decided to write a storybook ending.
With 33 seconds left on the game clock, Haithcock ended a 51-yard scoring drive with a five-yard touchdown pass to Dallmayer — giving the Blue Lions a 32-29 lead after a two-point conversion on a pass to Tanner Lemaster.
Paint Valley, now desperate, couldn't move the chains on its next possession. On 4th & what seemed like forever, the Bearcats fumbled and the Blue Lions recovered to steal a win in a hostile environment.
"This team is pretty much known for coming back in big games like this," Lemaster said postgame. "This game is really going to help us. Getting this win was huge and the way we got it was huge. I'm just so proud of everyone and how we didn't give up. This team does not give up."
Haithcock finished the night 16-of-33 passing for 203 yards with two touchdowns and two interceptions. Calum Brown led the Blue Lions in receiving with five catches for 83 yards while Dallmayer ended with six receptions for 57 yards and a pair of scores.
Paint Valley was led statistically by Cordell Grubb, who totaled 27 rushes for 98 yards and a score. Estep was 7-of-17 passing for 137 yards with two touchdowns and three picks, McDonald finished with five catches for 89 yards and a score, and Mettler had two catches for 48 yards and a touchdown.
Washington will now host Minford while Paint Valley starts SVC play, hosting Westfall.
"Every year, my seniors laugh at me because I do a pregame speech called, 'Dog Soldiers,'" Williamson said with a smile. "I only use it once a year. It's usually the biggest game of the year. I used it tonight. We've gone five years and never lost with that speech. They believe. It's about these 60 kids coming together and working their butts off. It would've been easy to give up tonight. They didn't. They believed and got it done. I'm proud of them."