Dewey Dailey, Contributor
LUCASVILLE — Levi Gullion is a certified playmaker.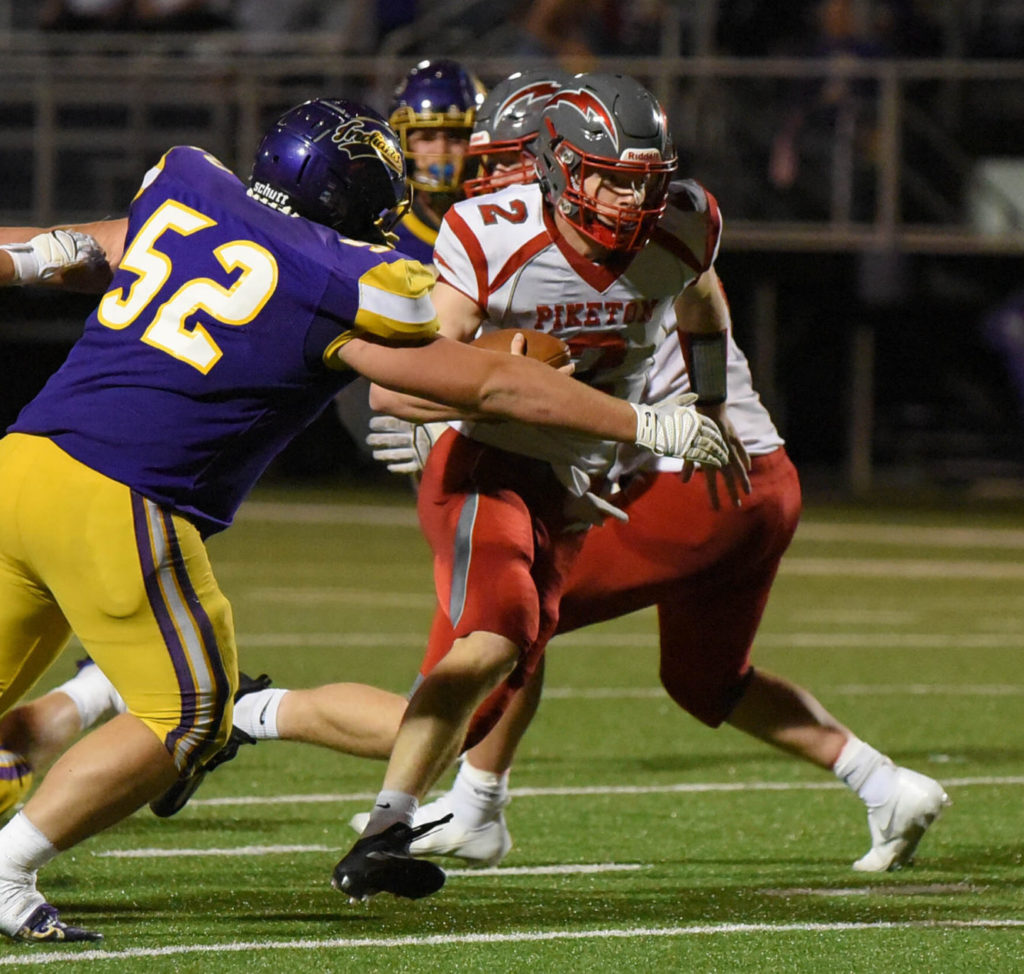 Piketon's senior signal caller accounted for eight touchdowns and over 400 yards of total offense in Piketon's 62-36 win over Valley.
But what else is new?
Gullion had help in providing the night's fireworks and it came from the usual suspects.
Cameron Loar posted seven catches for a team-high 154 receiving yards and three touchdowns, including a nasty one-handed grab in the back of the end zone to end the third quarter.
Meanwhile, Johnny Burton also eclipsed the 100-yard mark, posting seven catches for 114 yards and a touchdown, marking his third consecutive 100-yard game.
And the beat goes on for the Redstreaks (3-0).
"It's very important to have guys like Cameron and Johnny," Gullion said. "Defenses have to worry about both of them, which opens things up more often."
Piketon started the game on defense, surrendering a touchdown to the Indians (1-2) after a long and successful drive that was led by running back George Arnett — who capped off the drive with a 10-yard rushing score to put Valley ahead 7-0.
However, Piketon struck back immediately when Loar took a screen pass 70 yards to the end zone on the Redstreaks' first play from scrimmage — giving the 'Streaks an 8-7 lead after Gullion hit Burton for a two-point conversion.
"Practice first," Gullion said. "What we work on in practice helps every little bit of what we do, making those reads, getting the edge … that's the big thing that helps us."
Piketon jumped ahead 16-7 — a successful two-point try — when Gullion found Brayden Leeth downfield for a 22-yard touchdown.
Valley would answer, however, with another steady drive. Arnett once again capped it off with a rushing touchdown, this one from seven yards out, to cut the lead to 16-14.
But Piketon put up two more unanswered touchdowns before halftime, giving itself a 30-14 advantage heading into halftime — thanks to a 13-yard rushing touchdown via Gullion and a 45-yard pass to Loar.
Gullion picked up in the second half where he had left off the first, leading the way on a 90-second drive down the field. He capped it with a 15-yard touchdown run, making it 38-14.
---
---
The two teams traded scores throughout the second half, including touchdowns from Chase Morrow and Carter Nickel, and Piketon's duo of Gullion and Loar. But the Indians couldn't close the gap with a stop on defense.
On the final play of the game, Morrow dodged and weaved his way into the end zone from 15 yards out as time expired. No PAT was attempted, which cemented the final score at 62-36.
Gullion finished the game 17-of-21 passing for 336 yards and four touchdowns. He also managed to rack up 136 rushing yards alongside four rushing touchdowns.
Arnett finished the night with 67 rushing yards and two touchdowns on 17 carries while Morrow added two rush touchdowns.
For the first time since 2005, Piketon is heading into league play at 3-0.
The Redstreaks will host Zane Trace in Week 4 while Valley attempts to get back on the winning track at Eastern Pike.
"It gives us all the confidence in the world," Gullion said. "It helps us believe that we can accomplish things that we never thought we could before."