Derrick Webb, Staff Writer
KINNIKINNICK — Ask any of Zane Trace's coaches or players and the Pioneers will readily admit that they experience lapses of concentration here and there.
You can word it however you want.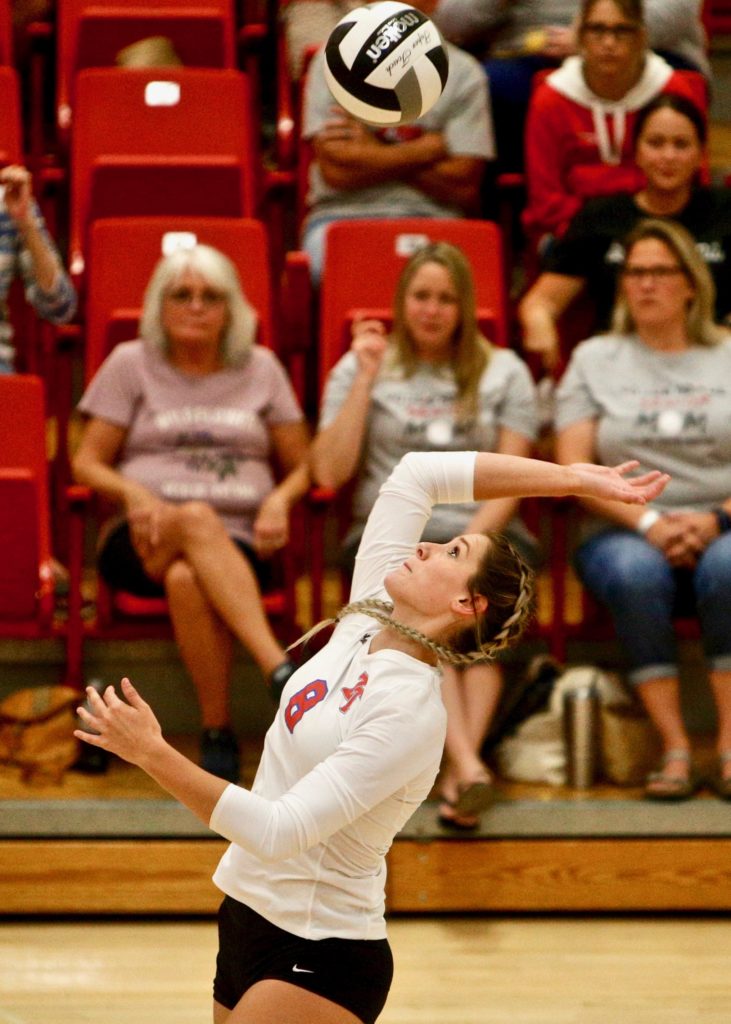 Zane Trace sometimes takes its foot off the gas pedal, the Pioneers play without a sense of urgency with a lead, or coach Cyndi Davis' crew displays overconfidence from time to time.
But there's one thing that cancels out all of those issues — when the Pioneers are playing to their potential, they're one of the best teams in Southern Ohio. And it's not even close.
All of the above were on full display on Thursday as Zane Trace (5-0, 2-0 SVC) handed Huntington a four-set loss — the Huntsmen' first loss and a 25-20, 10-25, 25-18, 25-19 final.
"That second set, that was all serve-receive errors," Davis said. "We were throwing our setter into the net, we weren't making good passes, that was the biggest thing. Sometimes, after they win a set, they sometimes just get too comfortable. We talk about that all the time. I'm still proud of them for fighting back because that second set, that was a smack in the face."
Let's pretend for an instance that the second set never happened. If you erase that sequence, the Pioneers were pretty dominant from start to finish.
For the most part — Zane Trace's defensive game plan against Huntington's Allison Basye and Megan Steele — who are by all accounts two of the top players in the conference, had its intended effect.
"We knew Megan likes to hit lines on us. That's what got us the last few times we've played," Davis said. "I knew [Huntington] is running a little differently. Megan is setting now and, to me, she's a great passer. So we knew we could utilize that a little more and, of course, Allison is getting set some with Megan and some with others. She has to make a lot of adjustments sometimes. So we just told the girls to stay on her. But those two are definitely strong."
The first set saw a back-and-forth affair until the very end. With the score tied 8-8, Steele and Carly Dyer led Huntington (4-1, 1-1 SVC) on a 4-0 run to give their bench a 12-8 lead.
But ZT's Lexi Scott and Gracey McCullough led a comeback effort in the form of a 6-1 run to put the Pioneers ahead 14-13 and force Huntington into a timeout. The Huntsmen took a 16-15 edge but Scott powered a 3-0 burst to give ZT an 18-16 advantage.
---
---
That lead grew to 20-17 before the Pioneers shut the door on a 25-20 win.
However, in the second, everything changed.
Basye and Steele teamed up to give Huntington a 9-3 lead out of the shoot. Then Dyer got involved, helping to extend the lead to 12-4, before Harmony Henneberger made a long service run that capped an 8-0 run to make it 18-4. The end result was a 25-10 match-tying victory.
Zane Trace, however, climbed back into things.
The Pioneers took leads of 2-0, 9-7 and 15-13 before Emily Allen got involved late. The Pioneers' middle hitter logged two blocks and a pair of kills to push the Pioneers to a 22-16 lead and, eventually, a 25-18 win.
"Sometimes, Emily will get wrapped up in it if she's made an error or a mistake. But she's doing a lot better this year getting off that," Davis said. "She's getting out of her own head and doing what she needs to do. She made a little change on her blocking. I told her to take a step back and keep her body away from the net. She made that adjustment and it worked out well."
In the fourth, Zane Trace never trailed.
After going ahead 7-3, Scott later made it 14-5 with a thunderous kill before repeating the process three serves later for a 16-7 lead. That lead swelled to 21-13 before the Pioneers put Huntington away for good to stay unblemished.
"I tell the girls they have to fight hard for every point. The SVC is tough and it doesn't matter who you're playing," Davis said. "Every Tuesday and Thursday night is going to be tough. We have to be ready to come in here and play five sets because that's what it might take. We can't count anyone out, look ahead or look behind."
Scott led the Pioneers statistically with 17 kills and 17 digs while Allen finished with seven kills and 14 digs. Delaney Berry added 17 assists, Kinley May finished with three kills and nine assists, McCullough had four kills and 14 digs and Alexis Farley tallied two kills and six digs.
Zane Trace will now looks towards a home matchup with Paint Valley on Tuesday while Huntington tries to get back to its winning ways on Saturday, hosting South Point.