John Bruce, Contributor
WILLIAMSPORT — A home-court advantage can come in a variety of ways and Westfall opened Scioto Valley Conference play by taking advantage of just about every single one of those ways on Tuesday.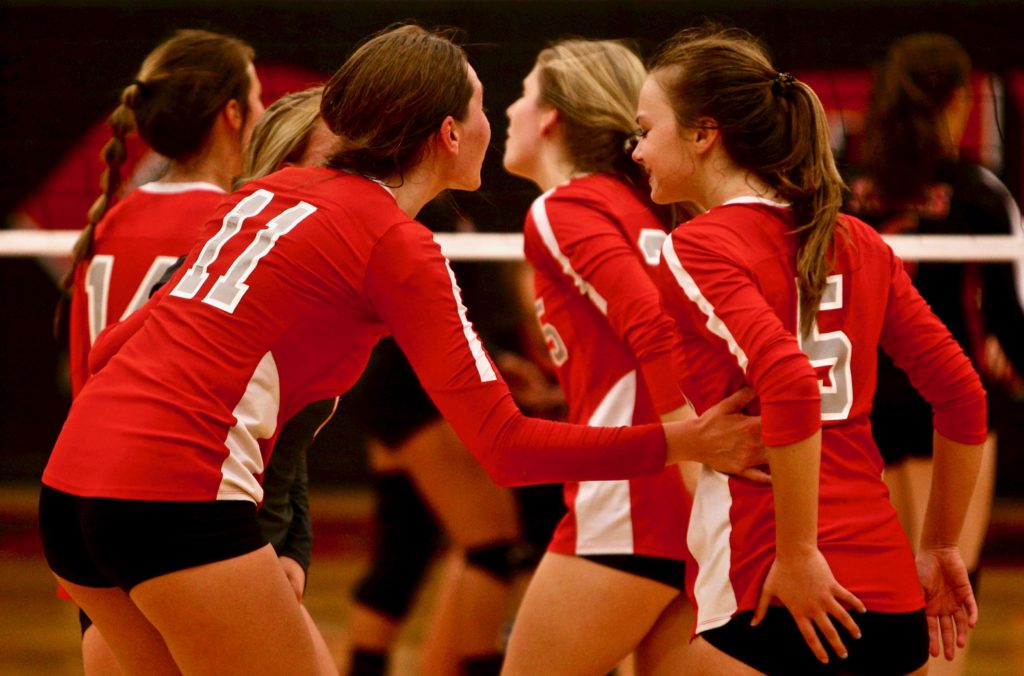 In a steamy gymnasium and with a raucous crowd behind them, the Mustangs (3-1, 1-0 SVC) rolled to a three-set victory over Paint Valley. 
The match opened with an extended rally that saw both teams battle hard to get an advantage, which would ultimately go to the Mustangs — a microcosm of the night's action. The Bearcats (1-2, 0-1 SVC) took an early 3-1 lead in the set before serving the ball out of bounds. That was important because it would be the first of PV's 11 service errors in the match, compared to only four for the Mustangs. 
Westfall's Madi Brown took over at the service line, serving five consecutive points, including an ace, to take control of the set. Mustangs setter Claire Latham set up teammates Marissa Mullins, Hailey Young, and Ashley Hegarty for kills throughout the opening game. Latham, a senior, read the Bearcats' blockers with consistent precession to put her teammates in the best position possible.
"Madi and Claire bring a lot of energy to our team, I don't think we realized that until we didn't have them and then had them back," Mustangs coach Stacy Caudill said of her returning players. "Madi does a really good job of covering our back row, while Claire is literally our quarterback. We put the ball in her hands and she puts the ball wherever it needs to go for our hitters."
Behind a tenacious attack from Olivia Smith, Abbi Stanforth and Averi McFadden, Paint Valley didn't give in.
Each took their turn taking big swings and finding the ground with kills to keep the Bearcats afloat in the opening set and Kendall Dye had a massive block to cut the Mustangs' lead to 20-16 late. However, Westfall had a big-time ace up its sleeve to finish the Bearcats off.
Reigning Scioto Valley Conference Player of the Year Marissa Mullins began her takeover late in the first, including ending the set with an emphatic cross-court spike to give the Mustangs a 25-18 win.
In the second, Mullins completely took over, piling up seven kills and multiple blocks. In effect, the Mustangs cruised to a 2-0 lead with a 25-13 win. 
Paint Valley fought against an early Westfall lead in the third before climbing back in the match and forcing a timeout after a Smith kill. But, the service errors would rear their ugly heads again following the timeout, leading to the next two Westfall points and all but ending the Bearcats' chances at a comeback. 
With the Bearcats' defense starting to lean towards Mullins, that's when Latham was able to pick up Young and Lauryn Blackburn for kills to push the Mustangs towards the finish line. Apropos of how the Bearcats' night at the service line went, a service error finished their night and gave the Mustangs a 25-17 set victory for the win.
Statistically, Smith led Paint Valley with 10 kills and 12 digs while McFadden added six kills and nine digs. Stanforth had four kills, five assists and seven digs, and Caitlin Potts totaled seven assists and 10 digs.
For Westfall, Mullins led all players with 13 kills alongside six blocks and seven digs while Latham totaled 31 assists and 10 digs. Young added 10 kills and seven digs, and Hegarty had seven kills and five digs.
Westfall will host Unioto on Thursday while the Bearcats will be on the road again as they travel to Piketon the same evening.