Derrick Webb, Staff Writer
ASHVILLE — If you don't know already, Teays Valley has two goals this season — the Vikings want to win a conference title and follow that up with a district championship.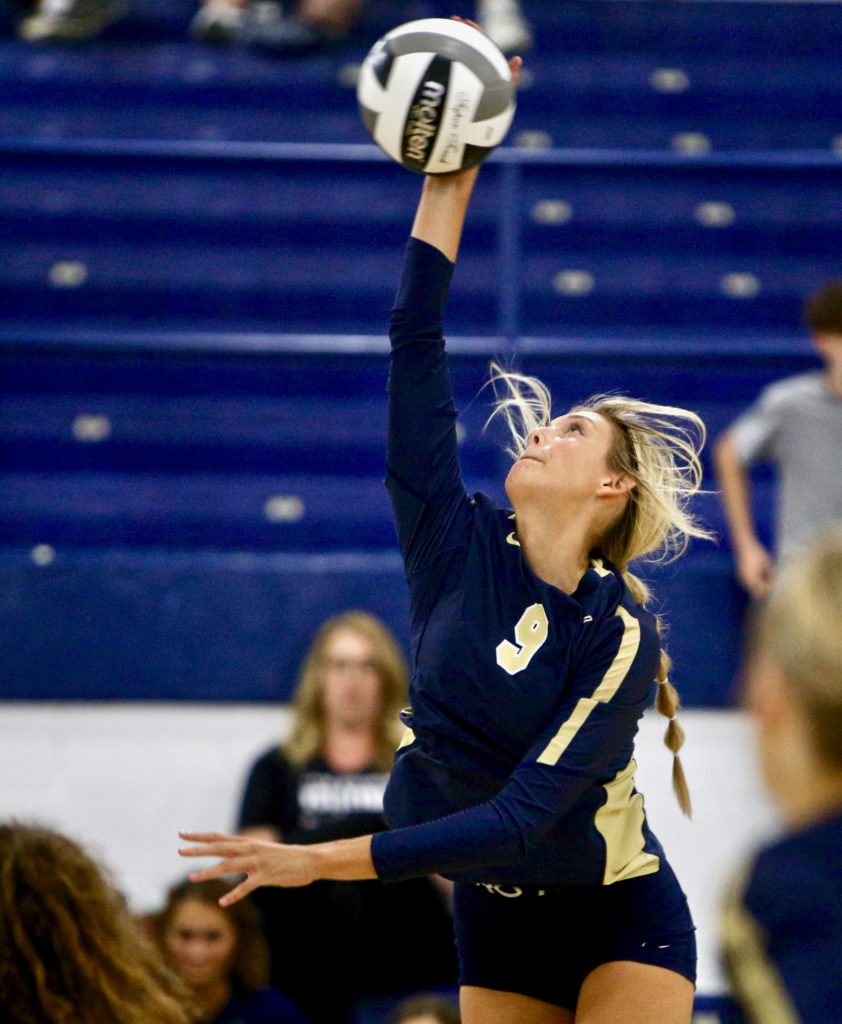 By the way they played Tuesday in their Mid-State League opener, they're well on their way to both.
In dominant fashion, Teays Valley (3-1, 1-0 MSL-Buckeye) broke out the brooms with an impressive sweep of Logan Elm by a 25-19, 25-15, 25-14 final.
"I definitely scouted Logan Elm and the word on the street was that they were scrappy and that they were aggressive on their serves," Teays Valley coach Bailey Walker said. "So we spent all of practice yesterday working on serve receive. That was our goal, to make sure we were efficient and get out of system balls, as well as in-system balls, with that. We were prepared."
And, on the opposite end of that spectrum, the Vikings were lethal from the service line.
Between Brenna Kauffeld and Kamryn Withrow, as well as a host of others, Teays Valley consistently gave Logan Elm's defense problems with well-placed, aggressive serves.
"The biggest thing I tell my girls is that aggressive errors are good errors," Walker said. "I want to be aggressive. So if we're trying to do that and get [the opponent] out of system, and we hit the outside line a little, I'll take that. There's still a chance they're going to touch the ball. That can set us up better on offense."
Behind Kauffeld at the net and Withrow at the service line, Teays Valley built an 8-4 edge in the first set. However, Logan Elm (2-2, 0-1 MSL-Buckeye) fought back to tie the game at 14-14.
But the combination of Kauffeld and Kylie Wohnhas was too much to overcome. After Kauffeld gave the Vikings the lead, Wohnhas extended it to 17-14 and later made it a 22-19 score. TV then ended the match with a 3-0 burst to take a 1-0 match lead.
While Logan Elm was able to stay in the match, the Braves had trouble all set hitting around Kauffeld, Withrow, Megan Evans and Garyn Orahood — the perfect recipe for Teays Valley.
---
---
"Logan Elm is very smart and being able to tool our blocks, we really focused on being together up at the net," Walker said. "That way, our defense can set up around [the blockers] to pick up what's left."
More of the same took place in the second set. Teays Valley's blockers kept frustrating Logan Elm's hitters while Vikings setter Morgan Keel continued to find her hitters.
A Kauffeld kill and an ace from Wohnhas made it a 6-2 lead before Keel found Kauffeld, Evans and Withrow to extend the advantage to 20-13. From there, the Vikings walked to a 25-15 win.
"We work day in and day out with [Keel]," Walker said. "That connection with our hitters is key. We want to be able to run a quick offense, whether it's in or out of system. She's the star of that. She's very smart. Her volleyball IQ is very high. People underestimate her greatly."
Withrow logged an ace to give Teays Valley a 4-1 lead in the third before Kauffeld logged three aces in four serves to make it a 13-4 score midway through. That was enough momentum for the Vikings to sail their way to a match-clinching 25-14 victory.
Statistically, the Braves were led by Arowynn Savage with eight kills and three aces while Kaiya Elsea had 16 digs. Breanne Williams added six digs and Alex Heeter added four digs and four assists.
Teays Valley's final statistics were not immediately available after the match.
Logan Elm will try to get back in the win column on Thursday, hosting Hamilton Township. Meanwhile, the Vikings travel to Amanda-Clearcreek before going to Bishop Watterson on Saturday.
That's the two next steps on their journey — one they hope ends with a district championship trophy in hand.
"The girls have said from the beginning that their goal is to get two numbers on our banners — one under MSL [champions] and one under district [champions]. I think it's possible," Walker said. "We've got Bishop Watterson on Saturday and that's a game that can prepare us for the district tournament."