SOSA Staff
FRANKFORT — Statement made. And all it took was three sets.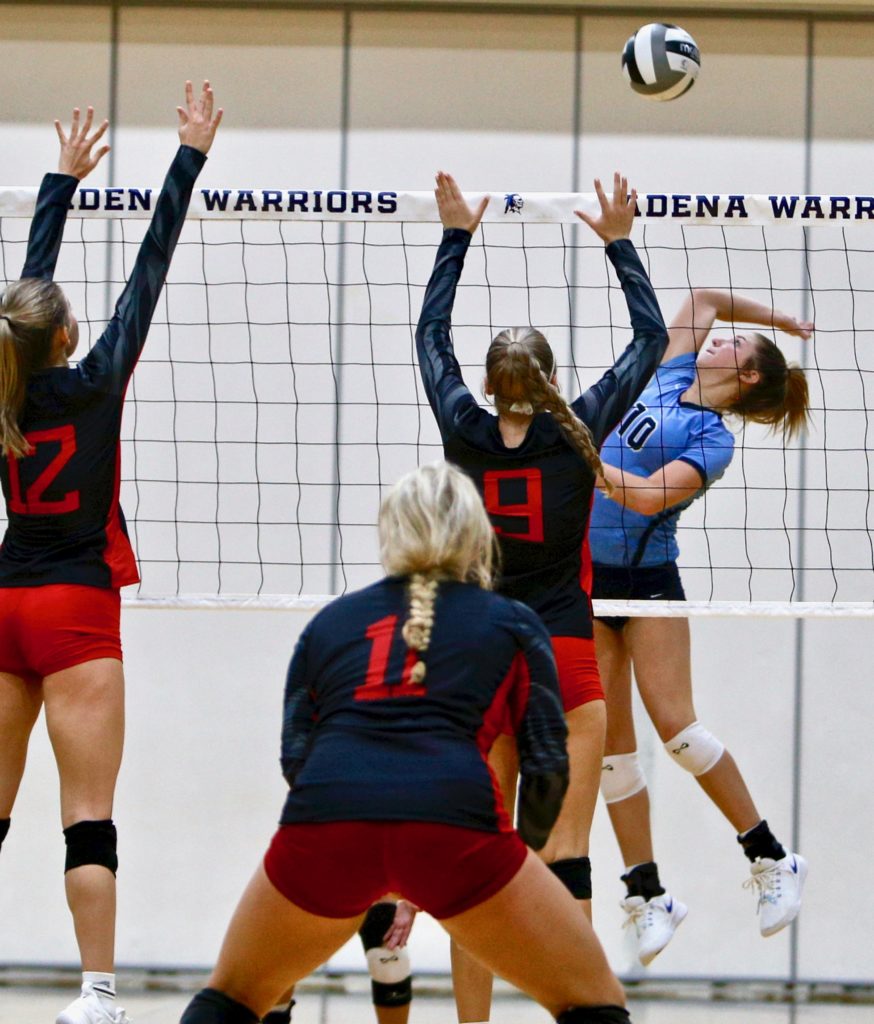 Eager to make its season debut, Adena (1-0) wasted no time in flexing its muscles Saturday en route to a three-game sweep over South Webster by a 25-17, 26-24, 25-22 final.
"Honestly, I wasn't exactly thrilled with how we warmed up. But once the game started, we picked right back up where we left off," Adena coach Laura Smith said. "South Webster is a really good team and they have a great chance to make another deep playoff run. This was a good first test for us and I was very pleased with how we played and started the season."
It's no secret what the motivation for the Warriors is this season. They want to right their wrongs from last fall after being just points away from advancing to a Division III state semifinal before ultimately falling in five sets.
Save the loss of setter Ari DaRif from last season and Adena returns every single roster member from last year's team. So the experience is there. Now it's about executing.
"The way last season ended left a horrible taste in our mouths, even more so because we were up and should have taken that last match. But we blew it," Smith said. "We have everyone back, and we're determined to make sure that doesn't happen again. I've been very happy about how we've been practicing, and we've talked about if every girl gets one percent better, then we're 13 percent better as a team."
The Warriors jumped on the Jeeps early and raced out to a 5-0 lead following an ace from MaKenna Lovely. The lead went to 8-3, but South Webster (3-1) answered with a 6-0 run behind Faith Maloney and Bri Claxon to jump ahead 9-8.
That's when the Warriors' height began to come into play. Between Jenna Martin and Sydney Foglesong, the blocks and kills began to pile up. It resulted in a 9-2 run for the Warriors to put them up 19-12 — a lead that remained intact for the rest of the set.
"In the offseason and in practice, it's always me and Jenna against one another which helps me a lot," Foglesong said. "Even when she's on the bench, she's always telling me about what spots are open. So she's played a big part in helping me improve my game."
South Webster (3-1) switched up its plan of attack at the net in the second set. Realizing that swinging for a kill wasn't quite working out, the Jeeps opted for tips instead.
---
---
Though Adena started with an early lead, a kill and block from Natalie Adkins put the Jeeps ahead 9-8. Later in the set and while holding a 14-12 lead, they put a little more distance between themselves and the Warriors with a 6-0 — behind Claxon's serving and Maloney's play at the net — for a 20-12 lead.
Maloney came up with a kill, followed by an ace, and Rylee McGraw powered a kill for a 24-17 lead, just one point from victory.
However, putting the Warriors away is much easier said than done.
The lead dwindled to 24-20, then back-to-back kills from Lovely and Ellie Harper suddenly made it a two-point game. Lovely powered another kill to tie the game, followed by a kill each from Foglesong and Harper to complete a 9-0 run to steal a second set win.
"Honestly, it all started with Brenna [McQuiniff] at the serving line. Although she was nervous, she handled it really well," Makaela Lovely said. "Just seeing her continuing to come through got us going and everything ended up falling together for us."
With all the momentum on the Warriors' side, it was time to finish.
Foglesong notched another kill to put them ahead 8-5 in the third before kills from MaKenna and Makaela Lovely extended the lead to 14-7.
"MaKenna helps me a lot with telling me what spots on the floor that she sees are open," Makaela said. "I just try to take advantage of that and change things up a little bit which helps as well."
However, the Jeeps continued to hang around and eventually made their move down 21-17. Three kills from Claxon followed by one from Bella Claxon tied the game at 21-21.
But it was Adena's day to bask in the glory of victory as a serving error, back-to-back kills from Foglesong and a hitting error by the Jeeps closed out the victory.
Foglesong led the team with 13 kills while Martin added eight kills, two blocks and two aces. Harper finished with three kills and 11 digs, Makenna Lovely added seven kills and 11 digs, Makaela Lovely logged five kills and 16 assists, Hope Garrison had nine digs and 15 assists, McQuinniff had 17 digs and Camryn Carroll had a team-high 22 digs.
"We were just ready to finally start the season since we've been waiting a while for this game to get here," Lovely said. "We're in a good spot right now, but there's still a lot to improve on. A win like this only gives us more encouragement for future games."
Adena returns to action on Tuesday as it opens SVC play against Piketon. Meanwhile, South Webster travels to play at Eastern on Wednesday.