Tyler Hart, Contributor
CIRCLEVILLE — Don't look now, but the Circleville Tigers are 2-0. And it's been awhile — 2015 to be exact.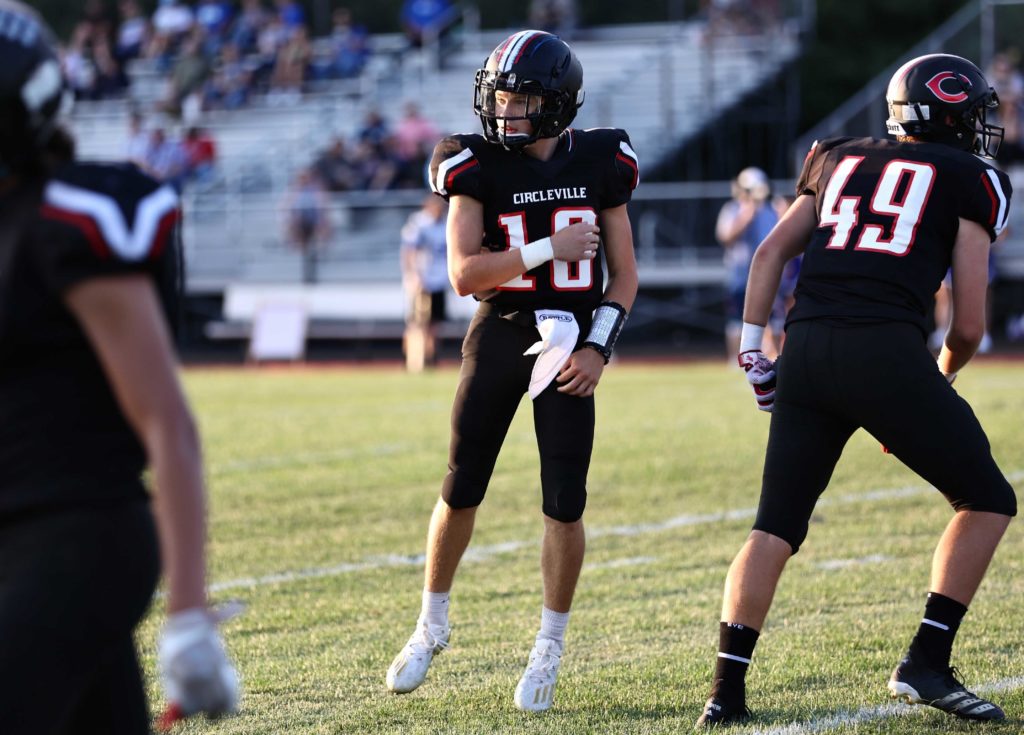 After handing Huntington a loss in Week 1, the Tigers stayed undefeated on Friday with a dominant 39-8 win over Southeastern in a non-league matchup.
"We're going hard. It's been forever since we were 2-0," Circleville quarterback Scott Moats said. "I think that motivated us enough to come out, play hard, and try to go 3-0 next week."
Southeastern (0-2) controlled the clock for much of the opening quarter and held Circleville to only five offensive snaps.
But late in the first quarter, after Circleville's defense once again kept Southeastern's run game
in check and forced a punt, the Tigers' offense broke through.
On the second play of the possession, Moats was able to find green and broke off a 35-yard touchdown run without being touched. That gave Circleville a 7-0 edge with 17 seconds left in the first and the Tigers never looked back.
With 8:26 left in the second, Angelo Travis kept the Tigers on the right track. The running back scratched off his first of two scores on the evening with a six-yard rush to make it a 13-0 ballgame.
"The atmosphere here, when we have everybody here, is unbelievable," Travis said. "Everybody here bleeds red and black and they cheer for us. There's nothing like hearing the Tiger pride roar. Nothing like it."
On the ensuing SE possession, the Panthers' offense stalled and was forced to punt. But after being caged in at its own 13-yard line, a high snap spelled trouble. The snap bounced out of the back of the end zone, giving Circleville a safety and a 15-0 advantage.
---
---
Circleville continued to play add-on when Colin Michael punched it in with a one-yard rushing touchdown to make it a 22-0 score. Later, Tigers kicker Nick Burns capped the
first half with a 29-yard field-goal, giving Circleville a 25-0 advantage heading into halftime.
The halftime break was elongated due to a weather delay as lightning was noticed by game
officials. But after an approximate 90-minute wait extended break, both teams got back at it.
Southeastern's defense came out ready to stop Circleville and forced a three-and-out after RJ Cartwright sacked Moats on third down. The Panthers started their first offensive drive with a 55-yard carry from Eli Ramey to set them up at Circleville's 23-yard line.
Caleb Cutright then scored on a 4th and 11 play from Circleville's 25-yard line. Following a two-point conversion via Josh Lee, the Tigers' lead had been cut to 25-8.
But despite losing a potential shutout, Circleville's defense continued to bear down.
Meanwhile, both Moats and Travis scored their second touchdowns of the night. Travis scored with a late push by his supporting cast on an eight-yard rush while Moats punched in a one-yard play-action keeper to contribute to seal a 39-8 victory.
Moats accounted for 149 yards of total offense and two touchdowns while Travis had 17 carries for 64 yards. Circleville's defense held Southeastern to just 131 yards of total offense.
Southeastern will try again to get in the win column in Week 2 when the Panthers host Eastern Pike. Meanwhile, Circleville — outscored its opponents by a 74-8 margin this season — will travel to Westfall.
"It's about winning the week for us," Travis said. "We'll go in tomorrow and watch film from this game. Then, come Monday, this game will be over and we'll prepare for Westfall. Hopefully that takes us to 3-0. We just have to trust in ourselves."