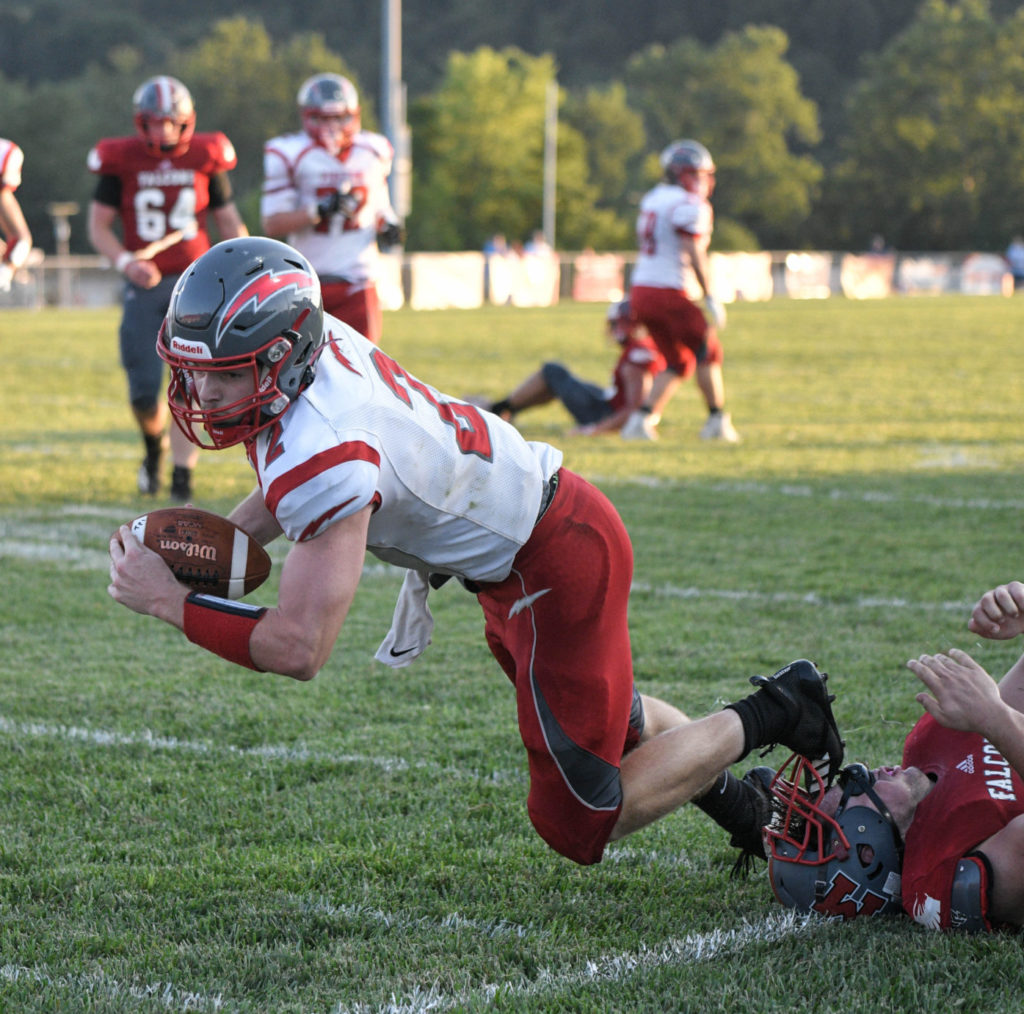 That feeling of being under the Friday Night Lights is something that just can't be replicated in any way, shape or form.
Football was back and what an opening week we saw. Star performances, new talents being discovered, losing streaks snapped, blowouts and nail-biters.
With action happening on the gridiron, you know what time it is. Let's welcome back this weekly column, one that's sure to keep the conversation going.
Here are the first SOSA Power Rankings of the season:
1. Ironton (1-0)
Week 1 result: 40-6 win over Wheelersburg
This program is just different. It's a factory. A well-oiled machine that just reloads, plugs and places and keeps on rolling. The Tigers scored 40 unanswered points in their rout of Wheelersburg. Forty. And that was without starting quarterback Tayden Carpenter. There's a reason they've gone to back-to-back state championship games, which could absolutely happen for a third straight time this season.
2. Jackson (1-0)
Week 1 result: 42-7 win over Logan
It took about three series for Jackson to wake up. But once it did, it was game over. The Ironmen rode the legs of Jacob Winters offensively and completely dominated defensively by holding Logan to just 103 total yards. Jackson is on a mission and believes this is the year to make a long playoff run. They'll get a taste of that playoff competition on Friday when they head to Ironton.
3. Waverly (1-0)
Week 1 result: 42-3 win over Miami Trace
Wade Futhey just threw another touchdown. That's how spectacular he was in his first career start, throwing for 351 yards and four scores as the Tigers eased by Miami Trace. Here's a nice little extra tidbit — the Tigers were the only team in the SOC II to win on Friday. They simply picked up right where they left off last season.
4. Paint Valley (1-0)
Week 1 result: 35-7 win over Blanchester
The Bearcats have a number of injuries, but it's always next man up and adjust as needed. Dax Estep steps in at quarterback, Cavan Cooper moves to running back and not a single beat was missed. Whether that remains the case on Friday remains to be seen. But it must be somewhat nice to know that if Plan A doesn't work, you have a solid Plan B. Bring on West Jefferson.
5. Wheelersburg (0-1)
Week 1 result: 40-6 loss to Ironton
It most definitely wasn't the cleanest of starts to Wheelersburg's season, but then again, adversity is what the Pirates are built on. It's why they've been so successful. Though it was a loss, they're still one of the top teams in the area. It might take a little more time for things to click, but it was also the same way in the 2019 season. They'll be fine.
6. Wellston (1-0)
Week 1 result: 28-6 win over Oak Hill
The Golden Rockets are going through an adjustment period where they're finding who the next wave of playmakers are. However, their run defense is still top-notch. They held Oak Hill to just 43 rushing yards … on 37 carries. Do the math on that. Meanwhile, Jeremiah Frisby went 24-of-28 under center for 213 yards and three scores. Maximum efficiency.
7. Piketon (1-0)
Week 1 result: 28-6 win over Minford
Let's break this down really quick … Levi Gullion was 16-of-22 for 215 yards (13.4 yards per pass) and ran 15 times for 140 yards (9.3 yards a carry). So no matter what he did, it was a near guarantee that a first down was the end result. Or a touchdown, since he ran for three of them in a victory over Minford. The Redstreaks will face a stiffer test as Wellston comes to town Friday.
8. Vinton County (1-0)
Week 1 result: 12-7 win over Unioto
It won't go down as the biggest win in Vinton County history, but it might crack the top 10. Snapping an eight-game losing streak and starting the season 1-0 for the first time since 2013 is the perfect way to usher in a new coaching era. The Vikings have experienced seniors across the field who have been playing since they were freshmen and sophomores. Keep an eye on this team.
9. Northwest (1-0)
Week 1 result: 40-0 win over Southeastern
The defending SOC I champions wasted little time getting back to championship form with a shutout victory over Southeastern. It's one thing to put up 40 points in a season opener. But maintaining the focus, intensity and executing defensively for 48 minutes is quite impressive. McClain will bring some underrated speed on Friday, so that Mohawk defense better be ready.
10. Portsmouth (1-0)
Week 1 result: 34-3 win over Valley
The Trojans have already matched last season's win total, so things are already looking up. It also helps to have Drew Roe back slinging the ball and Dariyonne Bryant on the outside catching those passes. Roe threw for 218 and three scores while Bryant caught six passes, two of which were touchdowns. Now for a city battle with Portsmouth West. Things could get interesting.