Derrick Webb, Staff Writer
SARDINIA — For the entirety of Monday's first 40 minutes, Eastern Brown's offense pressured North Adams and threatened to score. But the Warriors couldn't quite find the back of the net.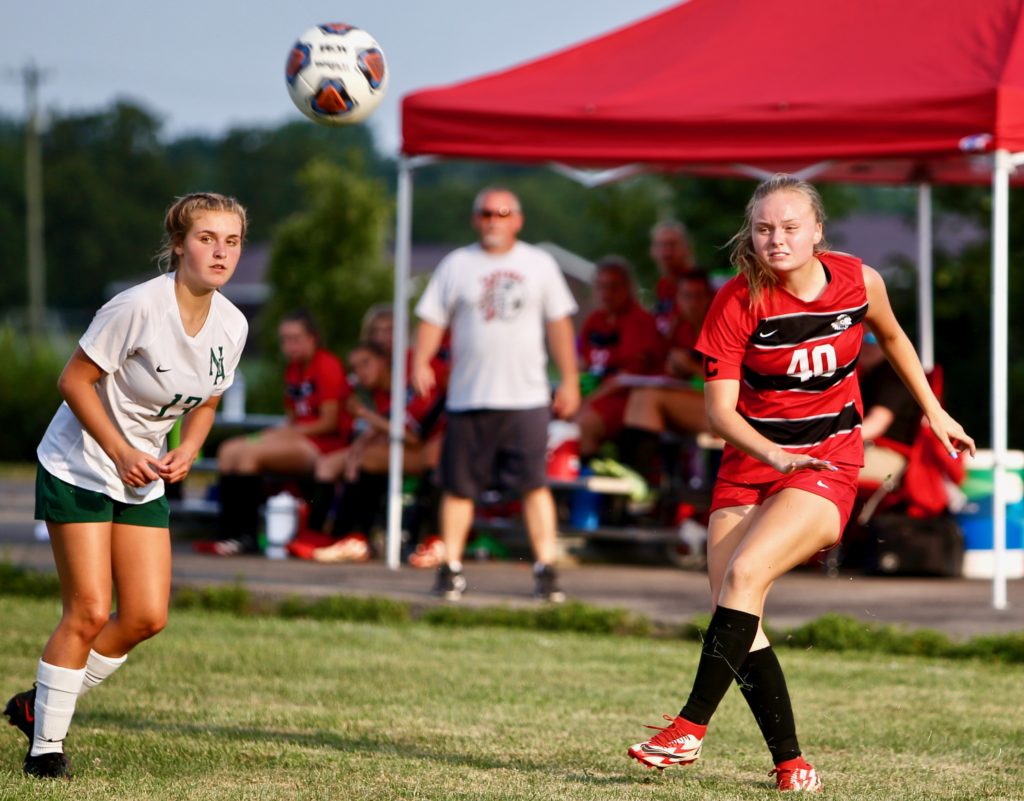 And then, the dam broke.
Powered by the striker trio of Rylee Leonard, Torie Utter and Mary Litzinger, as well as captain Bailey Dotson, the Warriors sealed an early, yet pivotal 3-0 win over the Green Devils.
"I'm so proud of my team," Dotson said. "We preach possession and we don't try to do anything fancy. Goals will come. And they did. It took us almost the entire game to score, but we just passed it, kept possession, and had them worn out by the end of the game. I'm just so proud."
After tallying five shots on goal during the first half, the Warriors (3-0, 1-0 SHAC) baragged Devils keeper Harlee Brand in the final stretch. And while Brand played valiantly, Eastern's offensive attack was simply too much to overcome.
"We changed our lineup from the first to the second half," Litzinger said. "Rylee was playing in the back and it's something [North Adams] wasn't expecting. She plays well back there. But [in the second half], she came in and she's just so much faster than everybody else. When she's up there, everybody plays a whole lot better."
Eastern coach Dan Silvis' decision to make that switch paid off.
With Leonard garnering attention, Utter graced the scoreboard first at the 30:08 mark.
In the middle of the box, the senior sent a header towards the goal that ricocheted off the post and trickled back to her own feet. She then lodged a bullet into the right side of the net to put her Warriors up 1-0.
---
---
Then, with 10:44 remaining, Litzinger provided an insurance policy with a beautiful floater from the left side that graced the top right corner of the net, making it 2-0 and providing the dagger.
"It was just being patient and being us," captain McKinzie Dotson said. "It's what we practice everyday and it's what coach [Silvis] preaches. Feet. Feet. Movement. Find the next person."

With 3:31 left, Leonard capped the night with a goal of her own to provide the final and give Eastern an early boost of momentum in the SHAC title race.
"Early on, we were playing the through ball and [North Adams'] Tatum Grooms was playing the back line," Litzinger said. "She's great back there and we realized we couldn't just play the through ball because they were right to her every time. So we started playing it out, back in and then back down."
North Adams (1-1, 0-1 SHAC) will try to get back in the win column on Thursday at Williamsburg. Meanwhile, the Warriors will be back in action on Aug. 31, hosting Fairfield.
"It means a lot," captain Lacey Dunseith said. "It's really exciting to get the win. We stepped up as a team. We're one step closer to a SHAC title."