Trevor Arnett, Contributor
WAVERLY — Replacing possibly the best quarterback in your school's history is a tall task. Apparently, no one told Waverly's Wade Futhey that.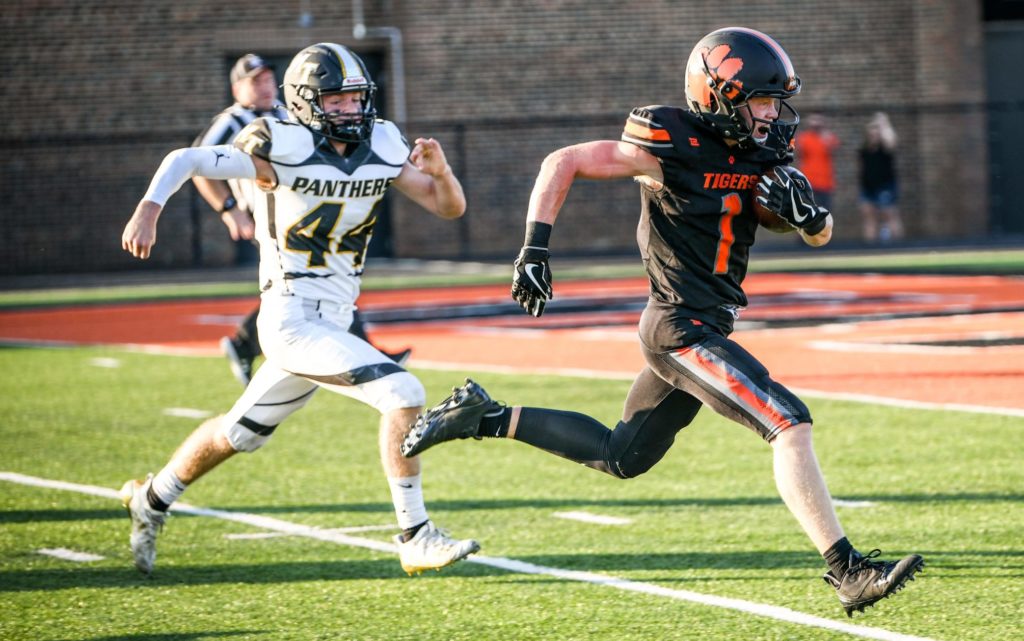 Futhey and his Tigers (1-0) rolled on Friday night, racking up 469 yards of total offense en route to a 42-3 drubbing of Miami Trace.
"I wouldn't say jitters. I've been waiting for this for a while," Futhey said. "I think my word would be excitement, super-excited to throw and be out here with everybody."
Futhey's new-look offense was definitely worth the price of admission. The signal caller racked up 351 yards and four touchdowns through the air on 19-of-26 passing.
"Wade did a nice job spreading the ball around and getting it to a lot of different people," Waverly coach Chris Crabtree said. "Our running game is coming along. This was a good opponent to start out with, because it wasn't an easy one. They were well-coached, and they played really hard."
But he wasn't the only Tiger to put together a big night.
The utility of Wyatt Crabtree was also on full display. Crabtree, a junior defensive end and tight end, led the Tigers with eight tackles, 2 1/2 sacks and a fumble recovery. On offense, he made the most of his only catch, taking it 31 yards for a score.
The only person who may have been busier than Crabtree was Mark Stulley, a senior receiver and defensive back, who amassed 130 yards and a touchdown on five catches to go along with six tackles, including two for loss.
Oh, and he also had a sack and returned a fumble recovery 30 yards for another score.
Miami Trace (0-1) actually started the scoring on the night. The Panthers drove methodically down the field behind strong running from Jayden LeBeau. However, the drive stalled Waverly's 20-yard line and the Panthers were forced to settle for a 37-yard field goal from Zachary Warnock.
Waverly took full control from there, scoring 42 unanswered points as its defense found their footing while the offense stepped on the accelerator.
It took Waverly's offense just over one minute to answer. Futhey hit junior Alex Boles on a screen pass to the left and the speedster did the rest, taking it 35 yards to the house. Keagan Smith's point after was good and Waverly took a 7-3 lead.
Miami Trace's offense again moved the ball on their second drive but Crabtree tracked down MT quarterback Weston Melvin for a sack, forcing a 3rd and 15. On that play, the Tiger defense again came for Melvin, this time in the form of Sam Paynter and Chris Delgado, who combined for the sack to force a punt.
Waverly's next drive made effective use of the screen game once again as Futhey hit Stulley on a tunnel screen coming across the middle. Stulley bounced off a few would-be tacklers and scampered 52 yards for a touchdown, extending the lead to 14-3 at the end of the first quarter.
After the teams traded multiple possessions, the Tigers capitalized on good field position, starting at MT's 33. Futhey hit Penn Morrison on an out route and Morrison rumbled down the sideline through contact into the end zone on the very first play of the drive, stretching the lead to 21-3.
On the ensuing kickoff, Miami Trace fumbled and Crabtree was able to come away with the ball at the bottom of the pile. Futhey rewarded his tight end on the very next play, finding him in the seam for a 31-yard touchdown, swelling the lead to 28-3 with just over six minutes to play in the first half, the eventual halftime score.
Early in the third quarter, with Waverly's offense pinned inside its own 10-yard line, the unit responded with a 92-yard scoring drive. It was capped by a 16-yard touchdown run from Jase Hurd, which made it a 35-3 count and sent the game into a running clock protocol.
On the next Miami Trace drive, Stulley put his final exclamation point on the night as he scooped up a Miami Trace fumble and trotted 30 yards into the end zone to bring Waverly's lead to 42-3, where it would remain as time expired.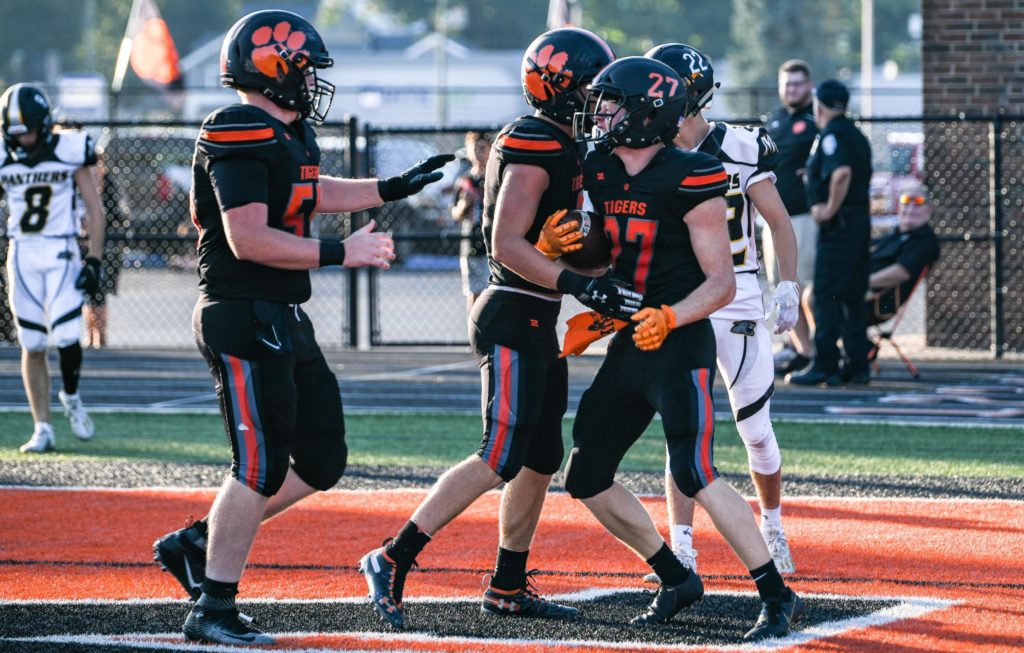 "I just made plays when I had the opportunity," Stulley said after the game.
Boy did he ever.
Led by Futhey and Stulley, the Tigers amassed 469 yards, while the defense, led by Crabtree, allowed only 159.
Offensively for the Tigers, to go along with Wade Futhey, Stulley and Crabtree, Will Futhey had four catches for 58 yards, Morrison had three catches for 54 yards and a touchdown, and Boles also had three catches for 48 yards and a score. Jase Hurd put together a 106-yard all-purpose night with 76 yards on 13 carries and 30 yards receiving on three catches.
For Miami Trace, Melvin was 5-for-13 for 36 yards passing while LeBeau led the Panthers with 94 all-purpose yards with 85 yards rushing and nine receiving.
"I thought they came out and hit us on defense early and we bent a little bit, and gave up the field goal," Chris Crabtree said. "But from that point on, I thought we did a good job mixing things up. Once we settled in defensively, I thought things went our way."
Waverly welcomes Johnstown-Monroe to Raidiger Field next Friday for a 7:30 kickoff. The Johnnies fell to Division II Licking Heights on Friday night by a 42-14 final. Miami Trace will host Wilmington in its home opener, still looking for its first win.
"Traditionally, they are a very strong program, in the playoffs year in and year out," Crabtree said. "This will be one of those weeks with a lot of preparation and focus. We'll put this win behind us, move on to the next one and not get complacent."
| | | |
| --- | --- | --- |
| Miami Trace | | Waverly |
| 6-15, 45 yards | Passing | 19-26, 351 yards |
| 34 rushes, 114 yards | Rushing | 24 rushes, 118 yards |
| 49 plays, 159 yards | Offense | 50 plays, 469 yards |
| 3 | Turnovers | 1 |
| 9 – 77 yards | Penalties | 6 – 57 yards |